These 'Rogue One' Memes Are On Point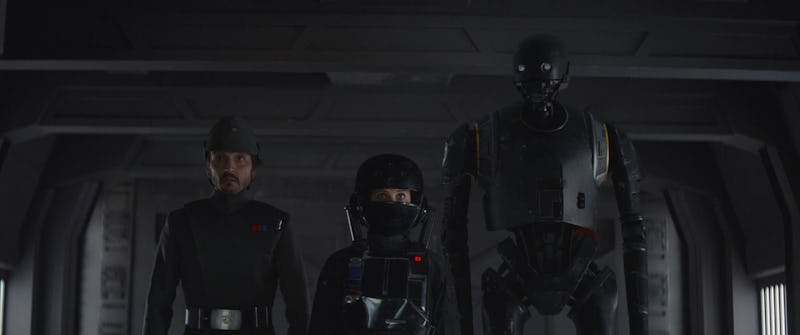 So, a little independent film was released over the weekend called Rogue One: A Star Wars Story and it seems to be the hottest ticket in town. Oh, you've heard of it? Then you need to be made aware of all the amazing Rogue One memes and jokes that are currently out there on social media. Bonus: They are non-spoilery, which means the funny factor gets doubled. The newest batch of memes and jokes are great because they are rooted in the Star Wars universe, but aren't afraid to poke a little fun at that universe.
Each of these memes or jokes, naturally fan-made, perfectly sum up the feelings that go into watching Rogue One. If you are still on the fence about whether or not to see this movie, or you have somehow magically managed to already see it nearly a dozen times since it opened on Friday, Dec. 16, these Rogue One memes and jokes will leave you in stitches. Here are the best of the best, courtesy of the Star Wars fandom on Twitter, that perfectly sum up why Rogue One is the perfect meme fodder. These are definitely the memes you're looking for, guys.
1. When Are We Going To Get That Leia Standalone Film?
Millie Bobby Brown deserves her next great sci-fi project and I think I know where she can find one.
2. Of Course, There's A Trump/Rogue One Meme Out There
Because what would 2016 be if your favorite thing wasn't ruined, just a little bit. That said, this "Trump vs. Star Wars" commentary is on point.
3. When You Can Channel Vader In The Group Chat
The Rogue One version of Darth Vader is fired up and ready to conquer. Plus he has the best entrance in the entire film. It's incredibly relatable, if I'm honest.
4. No Spoilers, Kermit, No Matter How Much You Want To Sip Your Tea
You may be tempted to turn to the "Kermit sipping tea" meme for your Rogue One jokes, but your friends may not appreciate your efforts. Yet.
5. Let's Be Real: Some Characters Deserve Their Own Memes
K-2SO and Chirrut Imwe definitely get some great one-liners that would be perfect for memes, but there's also some hilarious jokes that could be made in connection to Jyn and Luke Skywalker's tense relationships with their dads, respectively.
6. C-3PO Better Watch His Back
No shade but K-2SO had the best design of all time.
7. This Joke Takes A Second To Get, But It's Worth It
The most low-key of memes, but definitely one of the best. I see what you did there.
8. John Boyega Understands Your Rogue One Final Scene Feelings
Only a Star Wars cast member can truly understand the shock and awe that a Star Wars fan feels during the final moments of Rogue One .
9. Rogue One Actually Has Some Curative Properties
If you were hoping for Rogue One to restore you back to full health after a crazy week, you'll be totally satisfied.
10. Here's What Happens When Two Droids Meet
K-2SO doesn't hold back in telling the truth, which means that BB8's charms are thoroughly lost on him.
11. When Your Expectations Definitely Meet Reality
It all comes together so perfectly.
12. We Know Who Actually Deserves The Credit
We see you, Luke Skywalker, and we'd like to give you a gentle reminder the Jyn Erso and Cassian Andor did a better job of saving the galaxy.
13. Rogue One Gave A New Hope A Whole New Meaning
The prequel to Star Wars Episode IV: A New Hope gives a ton of meaning to its successor and that means the stakes are so high, it could leave you an emotional wreck.
14. We Should Probably Expect This Misspelling To Happen ... A Lot
In all of the hustle and bustle to type out your Rogue One jokes, it's only natural to have a typo or two. Luckily for us, when you misspell "Rogue One," the results are pretty funny.
15. We Didn't Need An Opening Crawl In Order To Feel All The Feelings
Just because Rogue One left out the opening crawl, aka one of the most iconic aspects of any Star Wars film, doesn't mean you weren't feeling a huge range of emotions in the film's first moments.
16. Are You Seeing Rogue One On Opening Weekend?
It's definitely hard to contain the excitement when you know you're going to see one of the most highly anticipated films of 2016.
17. How Could You Forget The Most Important Star Wars Character, Rogue One?
Because what is a Star Wars film without Jar Jar Binks? C'mon, Rogue One. I expected more from you.
Just because Rogue One is a little light on the jokes doesn't mean it isn't full of meme-worthy potential. What aspects of Rogue One do you think deserve a little ribbing over?
Image: Walt Disney Pictures