The 'Little Women: Dallas' Cast Has More To Share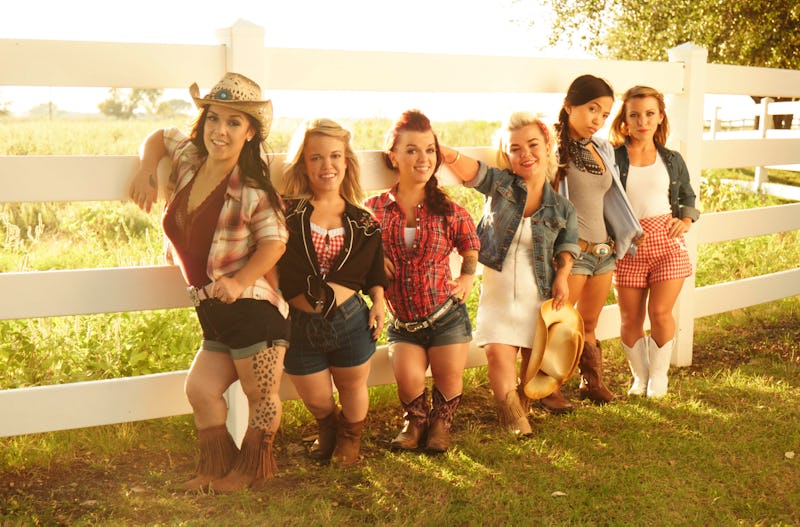 Another month, another one of Lifetime's Little Women franchises is about to come to an end for the season. This time, Little Women: Dallas will be airing its Season 1 finale on Wednesday, Dec. 21 at 10 p.m. ET. So will Little Women: Dallas return for Season 2 and let us follow the adventures of this group of fierce Lone Star State females some more?
Well, the fate of Little Women: Dallas is still unclear. Lifetime has yet to officially announce whether or not the series will be renewed for Season 2.
However, I have a pretty good feeling that this won't be the end of Little Women: Dallas. For one thing, Lifetime has yet to cancel a franchise of Little Women after only one season. Though the ratings for Little Women: Dallas have been lower than what franchises like Little Women: LA and Little Women: Atlanta have experienced, they have still remained solid and even saw an increase as the season went on, according to data from the Nielsen Company, as reported by Screener, which could make Lifetime optimistic about its chances to perform well given an additional, new season.
If Little Women: Dallas does get the green light for Season 2, we're likely to see it premiere within the next two-and-a-half to three months since these series tend to have an especially quick turnaround. I mean, Season 2 of Little Women: Atlanta wrapped up at the end of October, and Season 3 is already set to premiere on Lifetime on Jan. 4, 2017 at 9 p.m. ET.
Hopefully, Lifetime does bring back Little Women: Dallas for another season because the ladies in this cast lead extraordinary lives, and they haven't stopped being fascinating since the cameras stopped rolling on Season 1, either. Once you see what the cast has been up to since filming on Season 1 ended, you'll have your fingers crossed for a second season of Little Women: Dallas, too.
Amanda Loy
It looks like Amanda has continued to do what she loves since filming Season 1 of Little Women: Dallas: hanging out with her closest friends and training for her next fitness competition, according to her Instagram profile. It's unclear what the status of Amanda's much-talked-about love life is these days, but with the Season 1 finale set to show her getting serious with her ex after reuniting, according to the episode description from TV Guide, we'll hopefully soon have the answer.
Asta Young
Despite whatever drama may have transpired between Asta and her best friend Amanda this season of Little Women: Dallas, it looks like the two are as close as ever these days, according to Asta's Instagram profile. Other than that, Asta has kept up with her cosplay and is still loving married life. She has also continued to pursue her passion for art, even holding her very own art show earlier this month.
Bri Barlup
When Bri isn't still doing the Left Cheek-Right Cheek thing with her bestie Emily, which now includes an official T-shirt available for purchase, she's adoring her son, who was the real breakout star of this season of Little Women: Dallas , if you ask me.
Caylea Woodbury
Since filming on this season of Little Women: Dallas ended, Caylea has continued to hang with the ladies, especially Bri and Emily, according to her Instagram profile. She has even started making appearances with the Left Cheek-Right Cheek duo. Since Caylea has worked as a go-go dancer that goes by the name of "Lil' Twerk," her official show bio says, it makes sense that she's ready to join these two in the spotlight in a major way.
Emily Fernandez
This season of Little Women: Dallas, we saw Emily cope with the loss of her nearly 3-month-old son JJ in August and try to move on with her life. "It's definitely been a struggle," she told Wetpaint in advance of the series premiere of Little Women: Dallas. "[Boyfriend] Lontel and I had a rough first couple months. And now we're doing OK. We talk to each other about it and that's how we get through it." Emily continues to remember her late son by paying tribute to him on social media, as well as showing all of the love she has for her daughter Eva and Bri's son Malik.
Luckily, Emily has the love and support of friends like Bri, Caylea, and Little Women: LA 's Terra Jolé to help her get through these tough times. She's also been back at work making appearances as one-half of Left Cheek and Right Cheek, even if she expressed some hesitation to get the act back together earlier this season of Little Women: Dallas.
Tiffani Chance
Tiffani's relationship with Austin has caused some controversy this season of Little Women: Dallas. The episode description for the Season 1 finale provided by TV Guide even says that she breaks up with him. However, it looks like the couple is as strong as ever these days, according to some recent romantic pics of the two of them on Tiffani's Instagram profile and the fact that his name is prominently displayed in her Twitter bio, along with a heart emoji. Austin has returned the favor by featuring Tiffani's name in his Instagram bio with that diamond ring emoji that definitely has me wondering if the two decided to make things official and get engaged.
Whether or not Tiffani is actually engaged, the fact that she's back with Austin is sure to make for an interesting Season 2 of Little Women: Dallas, in addition to all of these exciting developments in the lives of this dynamic cast.
Images: Lifetime; Zach Dilgard/Lifetime (6)