Beauty Products For The Ardent Jane Austen Fan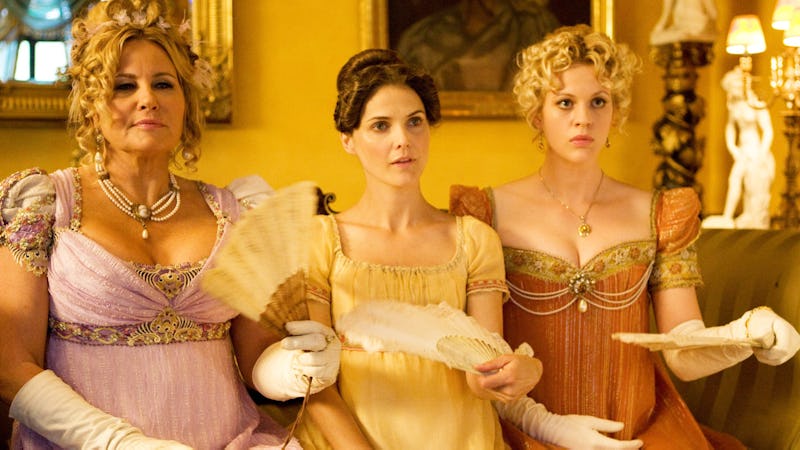 Makeup trends come and go, but everything eventually comes back into style, right? For our sake, we should probably hope that's not true, because some makeup trends from the past were actually downright dangerous. But don't worry: these Jane Austen-inspired beauty products are much safer than the ones Lizzie and Jane Bennett had to use.
In Jane Austen's era, popular makeup looks included using eye drops made from belladonna (AKA poison) to make one's pupils appear larger and more attractive. Eyebrow darkener was sometimes made with soot, and red lipstick was considered scandalous. Sometimes ladies had to buy raw ingredients and make their beauty products themselves, which would be great for women who are awesome at crafting, but not so great for those of us who can barely add the right amount of milk to boxed macaroni and cheese.
Overall, though, the Regency era did have some good trends in makeup. The natural look was considered the best look, and sometimes a beauty routine included a nice walk outdoors to brighten the complexion. So while we probably wouldn't want to use any of the actual tonics or rouges from the era, because of their questionable ingredients, the spirit of Jane Austen-era beauty routines might have some positive things to offer.
For the Jane Austen fan who is obsessed with beauty products, there are actually plenty of items out there that you will ardently admire and love. No need to use soot — the following will accentuate your natural beauty.
Mrs. Bennet Pocket Mirror
This pocket mirror, complete with Mrs. Bennet's quote about the Jane, is the perfect size to slip into your reticule.
Mrs. Bennet Pocket Mirror, $3.21, BookLoverGifts on Etsy
Pride & Peppermint Lip Balm
Prep your lips for proposals with this Pride & Peppermint beeswax lip balm. It's made from natural ingredients such as coconut oil and shea butter, so even sensitive lips will be soothed.
Pride & Peppermint Lip Balm, $3.95, ReadMyLipsApothecary on Etsy
Jane Austen Nail Art Decals
Add some Austen to your nails with these decals, complete with Austen's signature, Elizabeth and Mr. Darcy, teacups, and bonnets.
Jane Austen Nail Art Decals, $9, JanesTinyThings on Etsy
Pride And Prejudice Lavender Lotion
This Pride and Prejudice inspired lotion comes in the scent of lavender, so you can feel as if you're Elizabeth Bennet strolling through the fields, reading a book on a mild English afternoon.
Pride And Prejudice Lavender Lotion, $6, TheMacBath on Etsy
Miss Bennet Nail Lacquer
Feel as beautiful as Jane with this pink nail lacquer in the "Miss Bennet" shade. You'll be ready to catch your Mr. Bingley — or at least inspire a sonnet or two.
Miss Bennet Nail Lacquer, $12, LiteraryLacquer on Etsy
Jane Austen Books Cosmetic Case
Store your makeup and brushes in this Jane Austen-inspired cosmetic case, featuring an image of all her novels.
Jane Austen Books Cosmetic Case, $12, VeronicasShowcase on Etsy
Jane Austen Soap
This shea butter and oatmeal book-themed soap smells of sweet linen and honeysuckle, so you'll feel as if you're taking a stroll through an English garden with Jane herself as you use it.
Jane Austen Soap, $6.95, WillowGroveCandles on Etsy
Pride And Prejudice Pouch
It is a truth universally acknowledged that you can never have enough makeup pouches. This makeup pouch looks like the original cover of Pride and Prejudice, so you can store your beauty products inside the work by the author of Sense and Sensibility — "a lady."
Pride And Prejudice Pouch, $14, MothandRustHandmade on Etsy
Cream Of Roses
If you can't help being a bit curious about actual Regency-era cosmetics, this cold cream is a fun product to try. It's called "cold" cream because of the feeling it gave the face when applied. It will give you soft, clean skin, and don't worry — there's no soot in this one.
Cream of Roses, $12, LittleBits on Etsy
Image: Sony Pictures Classics (1)