'SNL' 'Love Actually' Parody Has A Political Twist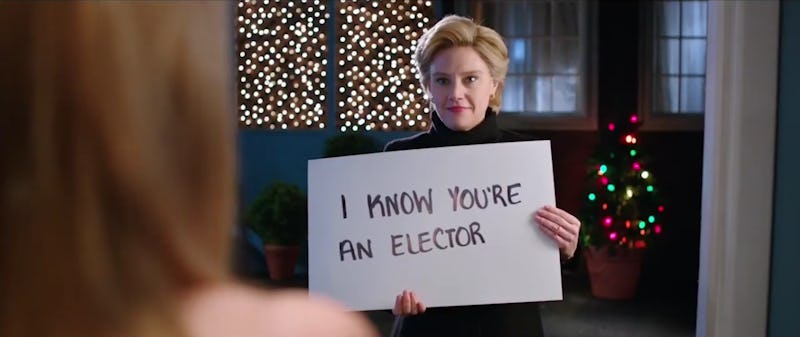 It's the holiday season, which means that someone somewhere is watching the Christmas movie Love Actually. The 2004 romantic comedy includes the now-iconic and much-parodied "To Me, You're Perfect" cue card scene between Keira Knightly and Andrew Lincoln (who now stars on The Walking Dead). On Dec. 17, Saturday Night Live decided to combine that scene with the upcoming electoral college vote. The result was a hilarious Love Actually parody on SNL featuring Hillary Clinton and her resilient nature. Much like Clinton in real life, Kate McKinnon's Hillary has stayed quiet in SNL sketches throughout the past few weeks, and in this one, she lets the cards do the talking.
The parody starts off looking just like the movie scene. SNL castmember Cecily Strong plays an unnamed blonde woman who rushes to answer the door and finds Clinton standing outside, holding a boom box and a stack of cue cards. As it turns out, the woman who Clinton is visiting is an elector and this is Hillary's way of trying to convince her to vote against Trump when the Electoral College casts their votes on Dec. 19. While Clinton may stay silent, she has a lot written down on the cards to try to sway the elector.
Check out some of Clinton's card-speech below:
Hi...It's me...Hillary Rodham ClintonIn the '70s, I worked for the Children's Defense Fund...(drops cards to skip ahead)Let me just sayBecause it's Christmasand at Christmas you tell the truthI know you're an electorOn Dec. 19th, you're supposed to vote for Donald TrumpBut bish...he cray.
Clinton's cue cards go onto list her many reasons that Trump is unfit for the presidency, and she even has cue cards that fold out and expand to keep her list going. "Listen, I know I lost the election and we may never know why *cough* Russia *cough*," her cards continue. "But I still care about this country. You don't even have to vote for me. I'm coo. Just vote for literally anyone else." (Yup, McKinnon's Clinton wrote "coo.")
McKinnon truly captured the essence of Clinton's spirit without saying a word — and with some masterful facial expressions. Check out the full sketch in the video below.
Images: NBC; Giphy (2)