15 of 2017's Most Anticipated Fiction Books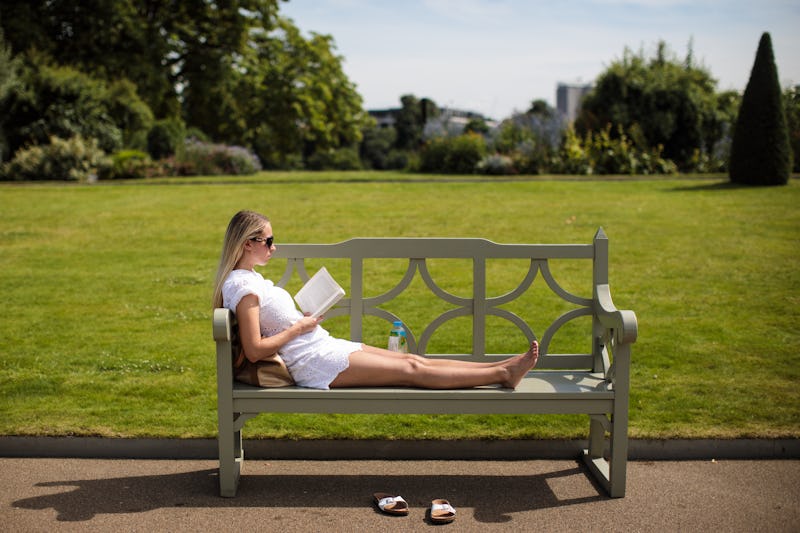 Jack Taylor/Getty Images News/Getty Images
With a fresh new year comes a fresh new selection of books. And let me tell you, 2017's fiction books are going to be a-freakin-mazing. With some of literature's biggest rock stars dropping new titles — alongside some seriously compelling debut authors — we've got so much to look forward to in the coming months.
2017 may very well be the year of the short story. So many superstar novelists are publishing short story collections, including Roxane Gay, George Saunders, Haruki Murakami, and Viet Thanh Nguyen. I am personally on the edge of my seat to see these legendary authors explore the unique playground of short fiction.
And we've also got some delicious novels coming our way, too. From futuristic, tech-filled adventures to heart-searing emotional rides, so many of this year's books will leave you absolutely stunned. Creativity and originality are in high supply, which is great news to any book-lover's ears.
So as we're closing out 2016 and moving on to the bright days of 2017, it's time to get amped up for all the reading we have coming our way. Ready your bookshelves, grab your library cards, and let's read in the New Year.
1. Difficult Women by Roxane Gay (January 3; Grove Press)
Yes, Roxane Gay is delivering a collection of stories this January! (As well as a much-anticipated nonfiction book, Hunger , in 2017.) The jacket copy calls this a collection "of rare force and beauty, of hardscrabble lives, passionate loves, and quirky and vexed human connection."
2. Human Acts by Han Kang (January 6, Portobello Books)
After winning the Man Booker International Prize this year for The Vegetarian , Han Kang is giving English-speaking audiences another amazing novel, Human Acts — already a best-seller in Korea. Set in Gwangju, South Korea in the aftermath of a student uprising turned violent, this fierce book explores feelings of intense grief and trauma.
3. Lucky Boy by Shanthi Sakaran (January 10: G.P. Putnam's Sons)
Solimar Castro Valde is 18 years old and pregnant when she crosses the US-Mexico border to build a new life in California. Kavya Reddy is a chef in Berkley, overcome with a desire to have children but unable to. When Soli is detained, her infant son is put in Kavya's care in this brilliant novel that offers an introspective exploration of life that is not to be missed.
4. Universal Harvester by John Darnielle (February 7; Farrar, Strauss, and Giroux)
You may be a fan of John Darnielle's work as the front man of the popular band The Mountain Goats, or you may have been taken on intense ride while reading his previous book Wolf In White Van . Either way, his new book is worth getting pumped about. Set at the local Video Hut in a small town in the late '90s, this novel gets really dark, really fasts when the cassettes in the store get corrupted by a mysterious, unexplainable recording.
5. Swimming Lessons by Claire Fuller (February 7; Tin House Books)
In this beautiful novel, a woman writes letters to her husband about the truth of their marriage and leaves them hidden his books before disappearing. Twelve years later, he thinks he sees her in a book shop, but isn't sure and their daughter, Flora, finds herself searching for answers.
6. The Refugees by Viet Thanh Nguyen (February 7; Grove)
After winning the 2016 Pulitzer Prize for his novel The Sympathizer , Viet Than Nguyen is dropping another remarkable work of fiction: a collection of short stories that has been cultivated over 20 years, filled with stories about both Vietnam and America.
7. The Impossible Fortress by Jason Rekulak (February 7; Simon and Schuster)
Set in 1987, The Impossible Fortress is the story of three geeky teenage boys who concoct an elaborate plan to steal Playboy magazine, which includes "seducing" the daughter of the local convenience store owner. But the plan hits a kink when young love blossoms.
This debut novel is set in a futuristic world that looks how the 1950s imagined the future — complete with flying cars. But the protagonist, Tom, can't quite find a place in this idealistic world, and after a time-travel mishap, he finds himself in our version of 2016.
9. Lincoln in the Bardo by George Saunders (February 14; Random House)
Celebrated short story author George Sauners is finally giving fans a novel with Lincoln in the Bardo. Set over the course of one night —February 22, 1862 — this book begins when Abraham Lincoln visits the crypt of his son, Willie, who has died two days earlier, and decides to spent the night with his body.
10. All Grown Up by Jami Attenberg (March 7; Houghton Mifflin Harcourt)
Andrea Bern is thirty-nine years old, single, and childfree. Follow along as she — and everyone in her life — struggle to define what being an adult really means.
11. The Leavers by Lisa Ko (May 2; Algonquin Books)
This excellent book has already won the PEN/Bellwether Award for Socially Engaged Fiction (selected by Barbara Kingsolver). One morning, eleven-year-old Deming Gao's mother is unexpectedly deported to China. Deming is then adopted by a white family and renamed Daniel Wilkerson. But as he grows up, he struggles to reconcile his new life with his former one.
12. Men Without Women by Haruki Murakami (May 9; Knopf)
Another Murakami book coming our way! he author of The Wind-Up Bird Chronicle, Norwegian Wood, and other modern classics brings us a short story collection this year about men who live their lives alone.
13. Woman No. 17 by Edan Lepucki (May 9; Hogarth)
After the radical success of Lepucki's California , we've all been on the edge of our seat for what she has coming next. This noir follows a woman, Lady, who hires a an assistant, known as S., to help her take care of her children while she finishes her memoir. But when her teenage son takes a destructive turn, S. and Lady are led down a twisted journey.
14. House of Names by Colm Tóibín (May 18; Viking)
The superstar author of Brooklyn is delivering another delectable read in 2017 — this time, the book is rooted in Greek mythology. The day of his daughter's wedding, Agamemnon orders her sacrifice and marches off to war. Three years later, he returns, and is forced to deal with the fall-out within his own house.
15. Winds of Winter by George R.R. Martin
While there is no confirmed publication date, rumor has it that the highly anticipated sixth volume of the A Song of Ice and Fire series is on its way to us in 2017. Fingers crossed!
Images: Jack Taylor/Getty Images, Handout/Getty Images