Where Can You Buy The Clarins 4-Colour Pen?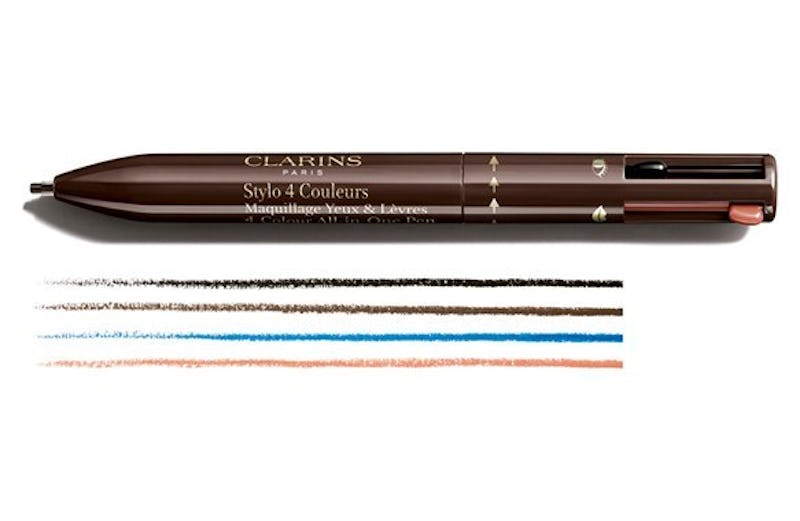 There's probably not much a person would like to bring back from their middle school days — just thinking about those emo CDs and questionable graphic tees can make a girl cringe. However, this new makeup tool could make you change your mind. The Clarins 4-Colour All-in-One Pen mimics the clicky '90s pens that let you turn your notes into a rainbow of colors, this time bringing that range to your face. But where can you buy the Clarins 4-Colour All-in-One Pen? Even though it's limited edition, it might not be that hard to nab.
According to Allure, the Clarins 4-Colour All-in-One Pen will be available the first week of January at clarins.com.
Even if you already own a plethora of eyeliners, this is still a pretty clever tool: It keeps all your makeup essentials compact and in one place.
"Instead of barrels full of multicolored ink, you'll find three smooth, creamy eyeliners in black, rich brown, and royal blue, plus a lipliner in the perfect neutral shade," Refinery29 reported.
You can easily use the black liner to create and touch up a cat eye throughout the day, create a daytime, smoky eye with the brown shade, or create an electric evening look with the deep blue color. And while the lipliner might be limited to only a nude shade, it still will be handy for the days when you do leave the red lippie at home and go for a subtle lipstick color.
4-Color All-In-One Pen, $30, Clarins
The pen also appears to be available online from Macy's and Nordstrom's, but given the reported January launch date, it's unclear whether or not these items are simply listed for pre-order. Mark your calendars and be prepared to be transported back to middle school in the chicest possible way.
Images: Nordstrom (1)