BuzzFeed's Radical Fashion Photo Series Is Amazing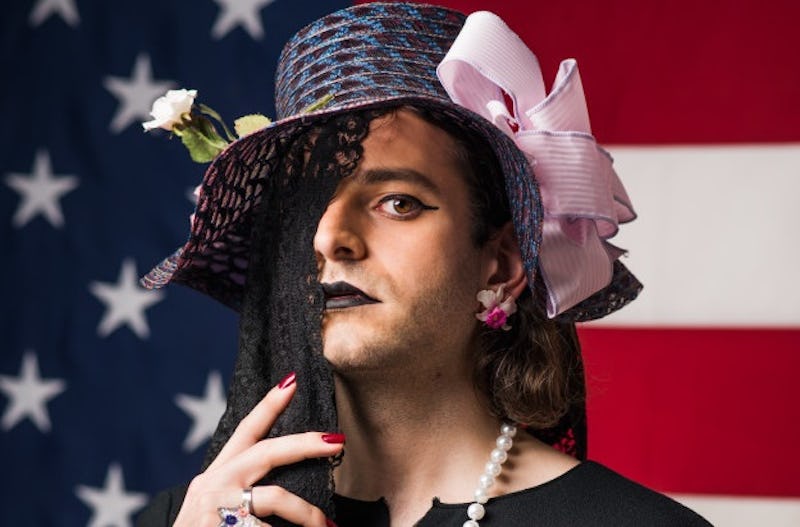 For marginalized activists, social justice work is an integral part of everyday life — and sometimes, it can even influence daily style choices. BuzzFeed staff writer Nora Whelan's newest visual project, "13 People Prove That Style Can Be Radical," went live on BuzzFeed on Dec. 16. The project spotlights 13 activists who mix fashion with commitment to social change.
"This project grew out of my very favorite thing in the world to talk about/cover, and something that's always on my mind: the intersection of self-expression (namely, fashion/appearance), bodies, and other social justice issues," Whelan explains in an email to Bustle.
Thee project came together quickly, taking inspiration from the conversation surrounding this year's election.
"Considering so much of the rhetoric around this election was about attacking people's bodies (including but not limited to race, gender and sexuality, dis/ability, and sexual assault and reproductive rights), it felt like the right time to try and confront those issues in an accessible way," Whelan says. "I wasn't born to be a straight-up political reporter or war correspondent, but this is how I can add to the conversation and help audiences like me find a way in."
The photo shoot involved: Bukky Ojeifo, a social entrepreneur at Hair on Purpose; Marquis Neal, a blogger and body-positive activist; Sana Rashid, a blogger at ModHijabi; Hannah Stoudemire, a fashion stylist; Magdalena, a blogger at Pretty Cripple; Hortencia Caires, a blogger at StyleFeen; Sarah Chiwaya, a blogger at Curvily; Jacob Tobia, writer and host of NBC News' Queer 2.0 ; Jason DaSilva, a filmmaker and the creator of AXS Map; Jimmy Levar, a model and recording artist; Aimee Fleck, an artist and publisher; Corey Kempster, a trans femme advocate, writer, and community builder; and Jarrid Jones, a black trans-femme artist and fat-positive advocate.
"I use fashion as political resistance, so I've committed to wearing higher heels than ever," Tobia told BuzzFeed in one particularly frank excerpt. "Five-inch heels won't cut it in Trump's America; I'm going to need at least nine. It feels important, in moments like this, to double down on who we are; I want to commit to myself that I'm not going to change how I appear or move through the world."
Wheelman explained the motivations behind this project, and others she's done before, including her recent "We Gave 16 Trans People Makeovers To Honor Their Idols. "I want to play a part in reorienting a media landscape that historically has ignored a huge chunk of the population — but I want to be conscious of avoiding this self-congratulatory, surface-skimming, tokenistic thing that many people/outlets do," she says. "That's why it feels important to have both elements: photos of people to give overdue basic visual representation, and words from those same people to move beyond 'look at this novelty' and instead to tell their truths, rather than my editorialized version of those truths."
Marginalized folks are often the unwilling stars of thinkpieces by nonmarg people, but Whelan's approach allowed interviewees to present their authentic selves, the way they want to be viewed — not framed by how someone on the outside wants them to be seen.
"I want participants to walk away knowing they've said something crucial, something that will resonate with readers who've had similar experiences but who may until now have felt alone — or with readers who didn't realize they'd have common ground with someone who looks so different from them or practices a different religion — or even something that may open the door to more empathy from those who haven't experienced such things," Whelan says.
As her interviewees blend activism and fashion, Whelan blends activism and her work. "That's obviously not all it's going to take to change the world, but so much of the media we consume is consistently aiming for shorter, simpler, faster," she says. "More caricatured and less three-dimensional humans! That seems counterproductive right now, to say the least; I want to resist that."
Going forward into an uncertain 2017, with a Trump presidency looming, Whelan will continue to produce social justice-oriented shoots to invite viewers to take a look at others' experiences, and to inspire change.
"I have a project coming next month that was inspired by corporatized ideas around 'body positivity' and how brands should be doing better if that's a label they want to claim," she says. "Like I mentioned, media outlets seem to be growing increasingly hostile to the kinds of projects that feel most urgent to me right now — but I will fight to keep doing them for as long as I can."
Images: Jon Premosch/BuzzFeed