A Day In The Life Of 2 Badass Hollywood Producers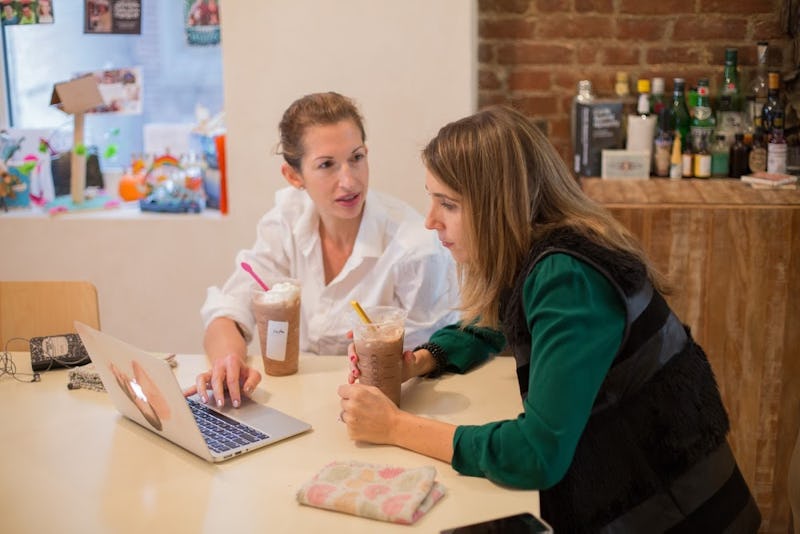 Ever since Wall Street hit theaters in 1987 and announced to the world that "Greed is good," financial dramas have become as commonplace in Hollywood as rom-coms or horror flicks. From Margin Call to The Big Short to The Wolf of Wall Street, the last few decades have seen dozens of thrillers set in and around the trading floor. Yet in addition to sharing a setting, all of these movies had one disturbing fact in common: every single one of them starred men. Not a single major financial drama had a female-led cast, or even a true leading woman in its ensemble — until last August, that is, when Equity , the first Wall Street-set film starring a predominantly female cast, came to theaters and changed the financial drama genre for good.
A Sundance darling that made waves for its its smart plot and nearly entirely female cast and crew (practically everyone involved, from director Meera Menon to screenwriter Amy Fox to producers Alysia Reiner and Sarah Megan Thomas, is a woman), Equity, out on DVD now, earned rave reviews upon its release. So it came as no surprise when it was announced back in October that the film would be adapted into a TV show for 2017. Reiner and Thomas, who both starred in and produced the movie, are working as producers on the show through their Broad Street Pictures company, getting the pilot ready for its eventual ABC debut — all while balancing their other careers as actors (Reiner is best known as Fig on Orange is the New Black ), writers (Thomas starred in and penned the film Backwards), and moms (both women have young children).
Clearly, both Reiner and Thomas are big believers in getting sh*t done, and it's especially true when it comes to making Hollywood a better place for women both on- and off-screen. Broad Street Pictures is devoted to creating films and TV shows that promote fair, realistic representations of women, with female leaders both in front of and behind the camera; Equity, the TV show, has an entirely female production team and is planned to feature a largely female cast. These days, Reiner and Thomas are working hard to get the show off the ground, and on a sunny day in December, the duo let Bustle visit their "office" (aka Reiner's New York home) to see how it all gets done.
Starting Off The Day Right
"We always start our day with protein shakes," explains Reiner. Immediately after settling down for a meeting at Reiner's apartment, the two take out their laptops and get going — but not without their shakes in hand.
Supporting Pizza Rolls, Not Gender Roles
The next thing on their to-do list this day is picking out holiday gifts for members of their 15-person Broad Street production team. One theme the ladies keep coming back to is unicorns — the term for start-up companies valued over $1 billion, a goal that (obviously) they'd both like to achieve. Other possible gifts include mugs with sayings like "F*ck your patriarchal bullshit" and "who needs gender roles when you can have pizza rolls???"
"Our team is 100 percent women," says Reiner, before conceding, "Well, the lawyers are two men." "But they're good!" Thomas adds with a laugh.
Getting Glammed Up
Since Reiner and Thomas are speaking at a Citibank panel this evening, a hair and makeup team comes in to get the ladies ready for the event. Even as they're getting glammed up, though, the women are busy taking notes and making calls about Equity. Explains Reiner, "We tend to have multiple devices going at all times."
Talking Equity With The People Making It Happen
Mid-afternoon, Thomas calls up Rachel O'Connor of Pascal Pictures, an executive producer of Equity the TV show, and puts her on speaker so Reiner can join in. The trio discuss changes to the pilot script, which they're hoping to deliver to ABC before the holidays, in order for the show to be ready for the TV upfronts in May. Reiner voices her concern that the series, which follows the film's premise of Wall Street women balancing successful careers and demanding personal lives, is not "socioeconomically diverse enough." Adds Thomas, "We don't want it to be just rich people." They chat with O'Connor about revising the draft and working with showrunner Regina Corrado on a new version, one that, as Reiner will say later at the Citibank panel, reflects a more human collection of characters. "My entire mission in producing and acting is creating roles for strong women onscreen whether or not they're likable," says Thomas.
Prepping For The Panel
Reiner's 8-year-old daughter helps her get dressed for the Citibank panel. At the event, Reiner and Thomas will speak alongside Equity screenwriter Amy Fox to discuss the movie's themes of empowerment and female solidarity in the workforce for a (mostly female) audience of Citibank employees. Although the duo have done many finance-focused panels in the past, the Citibank event is their first one after the presidential election, and "it feels so different," says Reiner, adding that she's now "curious how people will react to women in power." The fact that Donald Trump is our president-elect, however, just makes Reiner more motivated to make a project like Equity. "More than ever, I feel such a deep responsibility to women in this world," she says.
Taking A Quick Snap
Before heading to the panel, Reiner and Thomas stop for a quick photo for Twitter. These days, their schedules are packed — tonight, they're speaking at the panel before Thomas attends an after-event and Reiner preps for a 4:30 a.m. Orange is the New Black call time. But neither of them mind, of course, and it's still calmer than last year, when "we were bazonkers getting ready for Sundance," Reiner recalls. Back then, they were worried only about getting Equity seen by festival-goers; now, they're promoting the movie's DVD release and getting its TV version ready for its 2017 debut. It's all come full circle in the best way possible, and both Reiner and Thomas are happily prepared for the even bigger things set to come.
Images: Kenny Suleimanagich/Bustle; Matt Fugate for Exclusive Artists Management using Kerastase Paris