Michelle Obama's Fans Don't Want To See Her Go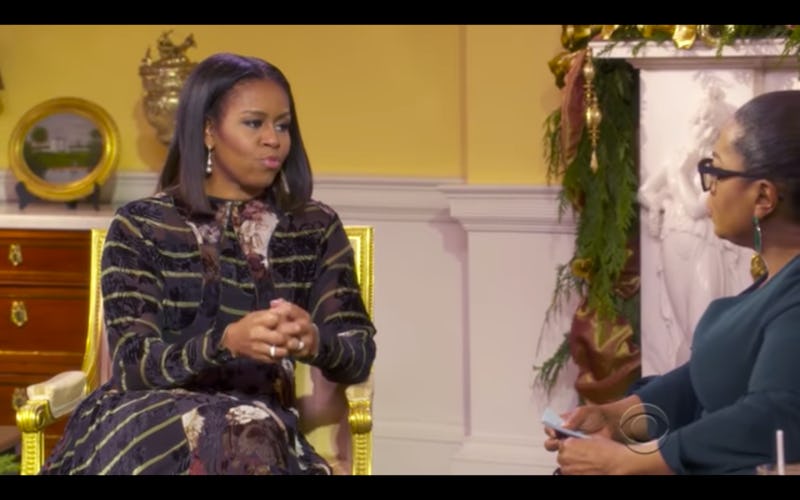 On Monday evening, the first lady's much-anticipated final interview in the White House aired on CBS. It's only natural that Twitter would strongly react to Oprah's interview with Michelle Obama. After all, it reminds Americans that the current administration is ending, and that a new, highly controversial one will inevitably take its place.
Though Mrs. Obama didn't directly refer to Donald Trump, she encouraged the nation to remain hopeful, even if the election, as she described it, was "painful." And the election was indeed painful for a majority of voters, who watched Hillary Clinton lose even though she won at least 2.8 million more votes than Donald Trump. But judging by the reaction tweets, viewers appreciated Obama's radiating positivity, which was accompanied by a hint of realism. Referring to the period following the election, Obama explained:
We feel the difference now. See, now we are feeling what not having hope feels like. Hope is necessary. It's a necessary concept, and Barack didn't just talk about hope because he thought it was just a nice slogan to get votes.
No, Mrs. Obama isn't ready to jump back into the whirlwind of politics to restore hope — she set the record straight on that one. But it doesn't mean Americans shouldn't hold her message close, even after inauguration day comes and goes.
So Much Class
This isn't the first time Obama refused to mention Trump by name. While campaigning for Clinton in October, she told the world exactly how she feels about the GOP nominee without uttering his name once.
Eight Whole Years
As she stated during her interview, living in the White House requires the first family to make sacrifices that aren't widely recognized.
This Is A Nonpartisan Issue
You shouldn't have to identify with the Democratic Party in order to respect Mrs. Obama.
Hope Lives On
Obama's positivity is appreciated.
She'll Be Missed
Again, eight years is a significantly long period of time. Her legacy is clearly here to stay.
Just, Yes
Remember that super in-style rose gold dress she wore to the final state dinner? But it's also about so much more. Her activism and community engagement has inspired the nation.
It's Getting Real
The transition is approaching and it's going to take some time to sink in.
Here Come The Tears
Oprah and Obama didn't waste time getting to the root of more serious issues.
And More Tears
Her advice to women will bring the happiest, most inspiring tears to your eyes:
Live out loud, and understand that what's in your brain is really useful. Do not hide it. Don't dumb it down. Don't apologize for it. Just put it on the table and let people deal with it.
Whether you're a Republican, Democrat, or somewhere in between, it's hard to deny the current first lady's poised intelligence and positivity. Her farewell interview is sad for those who don't want to see her go, but the takeaway from her words will last forever.
Image: CBS/YouTube