Estee Edit Liquid Eyeshadows Redefine Heavy Metal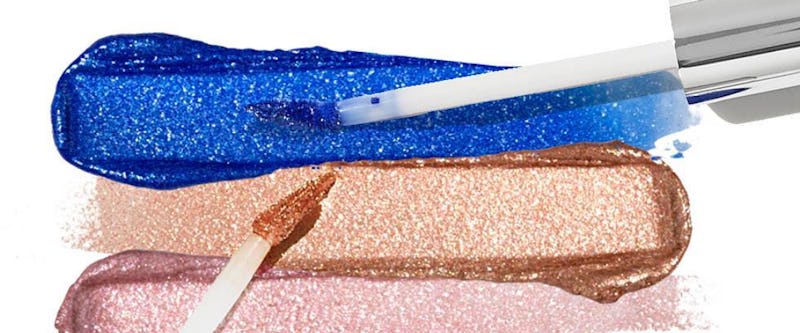 The metallic trend isn't going anywhere when its comes to lips and lids. Milk Makeup just launched its Lip Metals, which gleam and look uh-mazing. Now, The Estee Edit is bringing it with Fluid Metal Eyeshadows. There are six shades in jewel tones (check out that sapphire shade) and neutrals (pretty in pink, yo!) and they slay all day. Once you peep the swatches, you will sooooo want to rock the metallic sparkle on your lids this holiday season and beyond. The Estee Edit's Fluid Metal Liquid Eyeshadows can be applied with the accompanying wand or you can even smudge them with your fingers... carefully so. These glossy eyeshadows land at Sephora.com on Tuesday, Dec. 20.
Milk Makeup Lip Metals, $24, Sephora
Are you ready to have a closer look at the colors in this collection? Trust me, you are. But it will also result in a #ByeMoney moment for you. You will want to scoop up all six shades because they add dimension, depth, and glow to your peepers. You can use them as a wash for lids, pop in the inner corners for a little extra somethin' somethin', or you use them along your upper and lower lashlines. I personally think these babies are best suited as a lid wash.
Rewrite the makeup rules. Get some inspo when you check these swatches out.
Check out that sparkly plum! The same says it all — Don't Be Afraid... to play with these creamy shadows as you wish. There is such a richness in the pigmentation and you can swipe several coats on your lids to build depth and/or coverage.
Truth! Sparkle is indeed a neutral during the holidays. Seriously, how gorg do those metallics look on her lids? I am loving every inch of her eye look.
You also get a look at the tube and wand packaging here. Sparked is certainly a lit color. I cannot wait to see how Kendall Jenner rocks these eyeshadows, since she reps The Estee Edit and will no doubt be pimping these.
It's not just about metallic lids! The lips are metal and major, too. Check out this Milk Makeup Lip Metal.
Images: The Estee Edit/Instagram (3); Milk Makeup/Instagram (1)