Kylie Cosmetics Offers Another Holiday Freebie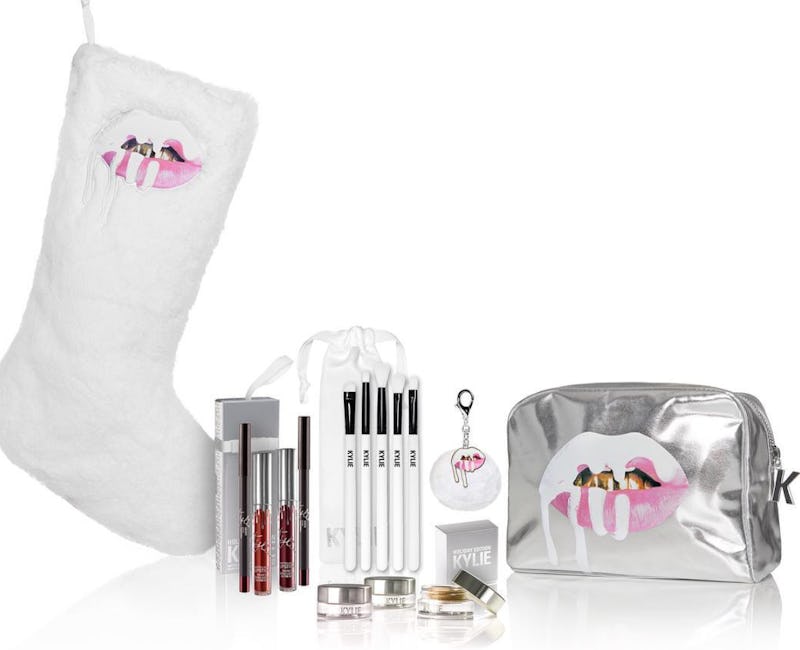 It has been incredible time for Kylie Cosmetics this holiday season, beyond her silver-dipped, 2016 Holiday Edition Collection, which is limited edition. The makeup mogul has really and truly made it a season of giving and has generously treated customers and fans to a variety of extras, from a free Kylie Cosmetics stocking with purchase or a free holiday Lip Kit with purchase. Jenner and her brand also offered free shipping and much more. There were several days of shopping surprises and even a vault of her hero product, the matte liquid lipsticks. So what's the latest Kylie Cosmetics holiday freebie and seasonal surprise? Actually, a favorite item is back as a free gift with purchase.
The plush white, faux fur Kylie Cosmetics holiday stocking, which is limited edition and normally has a $40 price, is back as a freebie with every single purchase. Yay for free!. You seriously can't beat that. The brand did not note how long this particular free promo lasts.
Last week, it was the rich red Merry Lip Kit that was included, free of charge, with each customer's purchase.
The Kylie Cosmetics stocking features the brand's signature dripping lips logo, with white liquid lipstick coating the familiar pink pout. It's a fun, modern, and thoroughly Kylie take on a Christmas decoration classic.
With Christmas just five days away, it's doubtful that your free Kylie Cosmetics stocking will arrive to hang by the chimney with care in 2016. However, you can easily store this pretty piece of holiday decor and have it ready for your 2017 celebrations. It's certainly cozy and cute, and appropriate for 340-something days from now!
The stocking is also timeless. It won't go out of style.
There's still plenty of Kylie Cosmetics holiday stock available. You may as well grab the Lip Kits or bundles, since most of these products won't be back... at least not in this festive and wintry packaging.
You never know if Jenner will have additional stock to liquidate after the holidays or if she will bring any of these items back as permanent additions to her repertoire.
It has certainly been an enthralling holiday season, thanks to Kylie and her cosmetics offerings.
Images: Kylie Cosmetics/Instagram (4); Courtesy of Kylie Cosmetics (1)