18 Last-Minute Gift Ideas For Guys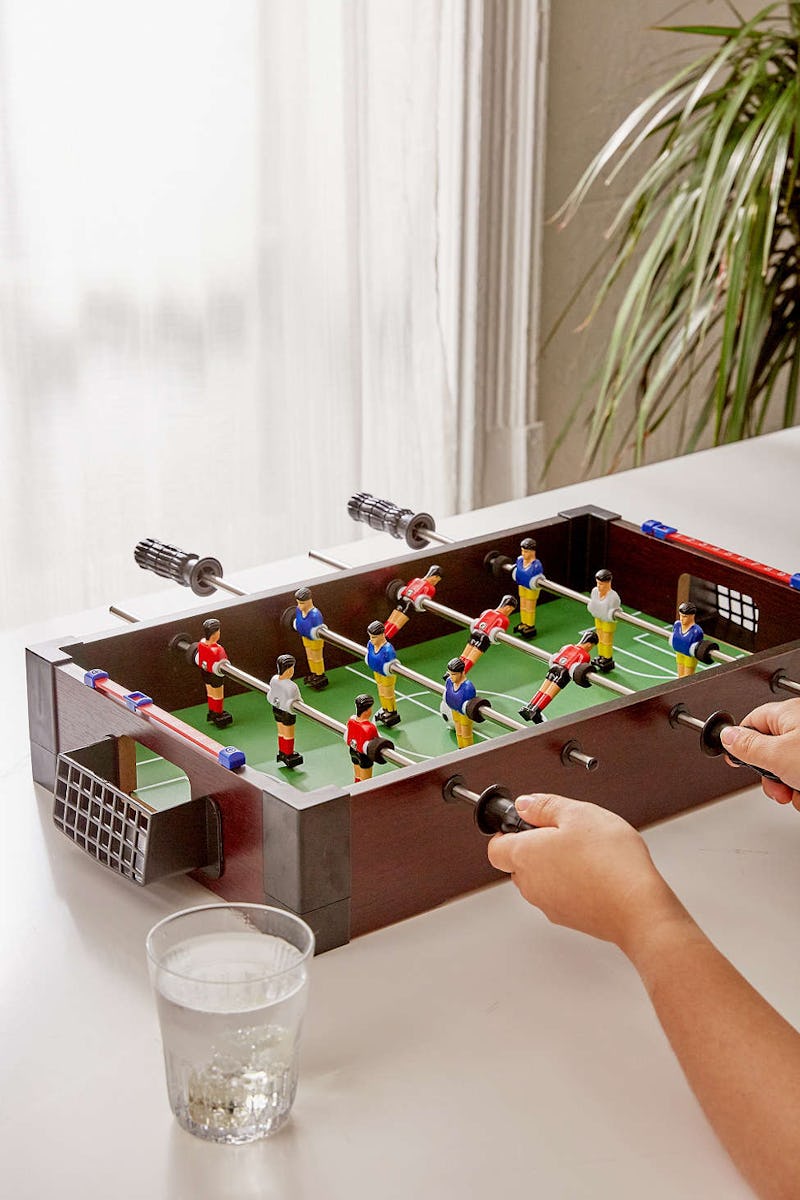 The clock is seriously ticking, people, which doesn't help if you're still stuck on getting your guy something for the holidays, or even something for your brothers. Be stuck no longer, my friend, because these last minute gift ideas for guys are about to be your new favorite thing in the whole world. Cue the sigh of relief.
If your guy is anything like mine, then getting a gift for him is seriously the worst. It's hard to find something that he not only needs, but will actually enjoy using. The trick is to find things in his life that need an upgrade. For example, if his wallet is starting to fray around the edges or, for heaven's sake, has Velcro…then that leather wallet in the list is absolutely the gift you need. Or how about his haphazard packing skills? Help him with a little organization by getting him a new travel bag for his toiletries.
Getting the perfect gift means really paying attention to the things in his life that, although he feels no need to buy himself, you know that he needs a bit of an upgrade. Even if this gift is a bit last minute, it will still look like you put a lot of thought into it!
1. Foldable Headphones with In Line Mic
Foldable Headphones, $12.99, TJMaxx
Not only are these headphones soft on the ears, but they also are stylish for being so cheap! These headphones fold nicely to fit in a bag, and include an in-line microphone.
2. Round Sunglasses
Round Sunglasses, $18, Urban Outfitters
These sleek looking sunglasses are the perfect upgrade to the drugstore glasses your guy wears (and tries to convince others that they are way more expensive than five dollars).
3. Wool Scarf
Wool Scarf, $59.50, J.Crew
Help the guys in your life stay stylish this winter with these simple scarves from J.Crew. Patterns come in grey lavender green, camel burgundy navy, and dark navy plaid.
4. Incase Cargo Backpack
Incase Cargo Backpack, $39.97, Nordstrom Rack
This sleek looking pack has a hidden front and back zip pocket, along with having a laptop sleeve on the inside carrying up to a 15" screen. Plus, this bag is a sweet deal — which sounds like the perfect time to swap out the ripped up backpack that your guy is currently using.
5. GQ Men Book
GQ Men Book, $49.99, TJMaxx
Perfect for the guy who agrees with the term: "Look Sharp. Live Smart." This book is filled with different well-dressed icons, such as Ryan Gosling and even Paul Newman. This book was originally priced at $150, but now available at a much cheaper price!
6. Skullcandy Earbuds with Mic
Skullcandy Earbuds, $10.13, Walmart
If your guy is more into earbuds instead of headphones, get him a pair of these Skullcandy earbuds! Available in multiple different colors and designs.
7. Tabletop Foosball Game
Tabletop Foosball Game, $36, Urban Outfitters
For all the guys who seriously want a foosball table in the apartment, but you know there is no way you could fit one in your tiny space…this is the perfect solution.
8. Clinique for Him Collection
Clinique for Him Collection, $47.50, Nordstrom
If your guy cares a lot about keeping his skin looking good, Clinique is always a good option for any skin type. This kit comes with a face scrub, shave gel, face wash, and a broad spectrum SPF 21 moisturizer. Plus, it all comes in a small travel case!
9. Microstriped Socks
Micostriped Socks, $14.50, J.Crew
Some guys are seriously picky about their sock game, so keep their feet warm and stylish with these microstriped socks, which come in multiple colors.
10. Stainless Steel Beverage Bottles (2 pack)
Stainless Steel Bottles, $19.99, TJMaxx
Need to get something for the workout buff who constantly drinks protein shakes and downs bottles of water? Give his drink game a bit of style with a set of the two stainless steel bottles, which can hold cold drinks for 24 hours and hot drinks for 12.
11. Mobile Lens Kit
Mobile Lens Kit, $22, Urban Outfitters
If your guys is a complete iPhone nerd, then this mobile lens kit will upgrade his Insta-game. Includes a fisheye lens, a wide angle lens, and a macro lens!
12. Timex Andros Watch
Timex Andros Watch, $118, J.Crew
This nautical inspired watch is water-resistant up to 100 meters, has a stainless steel case, and a comfortable navy nylon strap.
13. Hooded Henley Tee
Hooded Henley Tee, $29.97, Nordstrom Rack
Want to give the guys you love the gift of style, but not look like you're casting judgment on their usual fare? This comfortable hooded tee will look comfortable enough for them to enjoy without feeling bad about their wardrobe, and certainly won't be an eye sore for you.
14. Cufflinks
These classy looking cufflinks are perfect for the guy who always has to dress up for work (or just likes to dress up in general). Plus, the design has a rich history! These cufflinks are Benson & Clegg, who in the 1940s actually became the tailors for King George VI. Basically, it's the perfect time to make a pun about how your guys makes you feel royal, or something along those lines…
15. Rawlings Leather Bi-fold Wallet
Rawlings Leather Bi-fold Wallet, $24.97, Nordstrom Rack
This leather bi-fold is a simple upgrade for the wallet currently falling apart in your guy's back pocket. This wallet features four card slots, two slip pockets, an ID window, and two bill slots. Simple, slick, and has enough pockets for all of his needs.
16. Minnetonka Fleece Slippers
Minnetonka Fleece Slippers, $50, Urban Outfitters
It's getting cold, y'all, so keep his feet warm! Plus, these are just classy enough that nobody will blink if he accidentally-on-purpose wears them to the grocery store.
17. Ebbets Field Brooklyn Bushwicks Ball Cap
Ebbets Field Ball Cap, $49.50, J.Crew
If your guy is a complete baseball nerd, then give him a small history lesson (but knowing him, this is stuff he already knows). The Ebbets Field Flannels is actually named after a field in Brooklyn that used to host games back in the day. The B stands for Brooklyn Buchwicks, a semi-pro team that played in Brooklyn's Dexter Park.
18. Nylon & Leather Travel Kit
Nylon & Leather Travel Kit, $59.97, Nordstrom Rack
Is your guy still shoving his toiletries in a plastic bag every time he travels? Or worse, just throwing them on top of his clothes without any care of an explosion in his bag? Help him out a little with this nifty solution.
Images: Courtesy of Brands