24 Amazing Gifts That Don't Seem Last Minute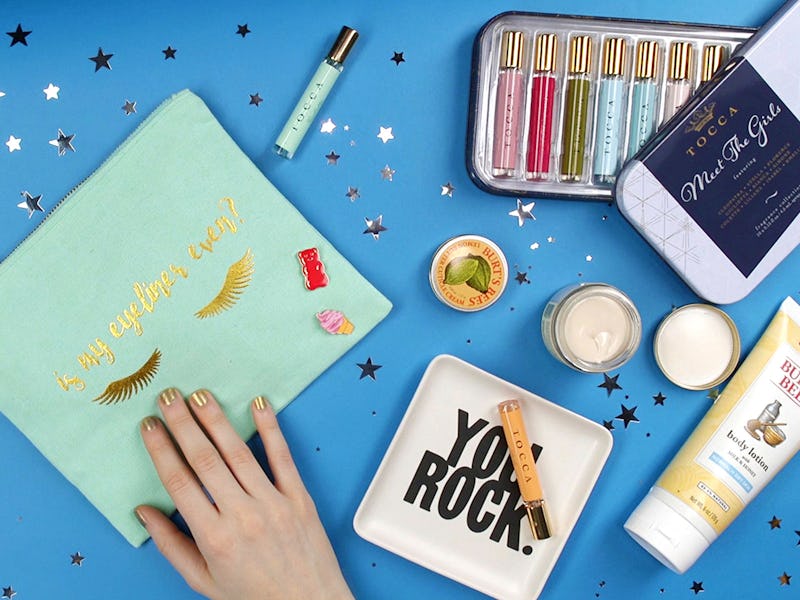 Ah yes, the holidays are upon us, and you've been so absorbed in your visions of sugar plums and figuring out what to wear to your office holiday party that, uh, you completely forgot about the whole ~buying friends and loved ones presents~ thing. It's the most wonderful time of the year, until you find yourself frantically rushing from store to store looking for last-minute gift ideas two days before you're supposed to catch a flight home. You briefly wonder if "OMG I'm so sorry, your gift didn't ship in time" will work again as an excuse this year when you show up to your parents' house empty handed. How does this always happen?
Relax. You still have a few days to go before going into full melt-down mode, and there are plenty of gifts you can snag that will make it seem like you had your act together all along. Just because you're doing your shopping at the last minute doesn't mean you can't get creative. Here are 24 gift ideas that are small, but still thoughtful. They're perfect for siblings, best friends, cousins, and everyone in between. Seriously, no one will guess that you spaced out on gifts this year.
And if these ideas don't work, remember this very important holiday gifting hack: gift cards. Everyone loves gift cards.
For People Who Love To Read And Write:
First: (Left to right) 12 Months Limited Edition Planner Peanuts Weekly Notebook, $18, Amazon; Girls Rule Notebook, $15, Amazon; Harry Potter Limited Edition Notebook,$25, Moleskine; Thug Kitchen Party Grub: For Social Motherf*ckers by Thug Kitchen, $16, Amazon
Second: (Left to right) Syncing Positively 2017 Wall Calendar, $25, Modcloth; Glop: Nontoxic, Expensive Ideas That Will Make You Look Ridiculous and Feel Pretentious by Gabrielle Moss, $20, Amazon
Third: Sweet Talk Pens (3 PC), $14, Amazon
Have a friend who never leaves the house without a book in her purse, and is constantly pulling out her phone to jot down ideas in her Notes app? A pretty notebook, cute pens, and a funny read combine to make the best gift ever. Throw in an inspirational wall calendar so that she can make 2017 the most productive year yet.
For People Who Love To Stay Trendy:
First: (Left to right) Eyeliner Canvas Pouch, $12, Dormify; I Flaunt Candy Enamel Pin Set, $20, Modcloth; Quotable You Rock Dish, $11, Dormify; Best of Burt's Bees Holiday Gift Set (3 PC), $19, Amazon; TOCCA Meet The Girls Fragrance Collection, $53, Amazon
Second: (Left to right) BKR Melt Heart 500 ml, $35, Mybkr; Swell Turquoise Water Bottle, $29, Amazon
Third: Threshold Faux Fur Eye Mask, $10, Target
Fourth: Merona Women's Blanket Scarf, $14, Target
Your sister has a million beauty products, but what she doesn't have is a place to put them all. A quippy makeup pouch filled with roll-on bottles of her soon-to-be signature scent hardly feels last minute. Add a fluffy eye mask so she can get her beauty sleep, and a pretty water bottle to help her stay hydrated. Looking for something a little more cozy? A comfy blanket scarf does just the trick.
For People Who Love To Eat:
First: (Left to right) Godiva Assorted Chocolate Gold Gift Box 19 pc., $29, Godiva; On My Grinds Travel Mug, $11, Modcloth; Starbucks Christmas Blend Vintage 2016, Whole Bean, $20, Amazon; Starbucks Decaf Christmas Blend Vintage 2016, Whole Bean, $15, Starbucks
Second: (Top to bottom): Kate Spade New York Gold Confetti Coasters, $20, Amazon; Red Gradient Infuser Mug, $15, Teavana; Teavana White Chocolate Peppermint Rooibos Tea, $17, Amazon
Third: Apothic California Red, Winemaker's Blend, $16, Amazon
No matter who you're buying for, food makes the perfect gift. Give someone's morning cup of tea or coffee a seasonal twist with festive holiday flavors, and don't forget to throw in a cute mug for good measure. And if you're totally stuck on what to get someone, go for something universally loved, like a luxurious box of chocolates, or a bottle of red wine.
See? Shopping isn't hard at all. Now, it's time to start planning for next year.
Images: Abbey Adkison/Bustle; Bry Crasch/Bustle