17 Gift Ideas For Any Kind Of Roommate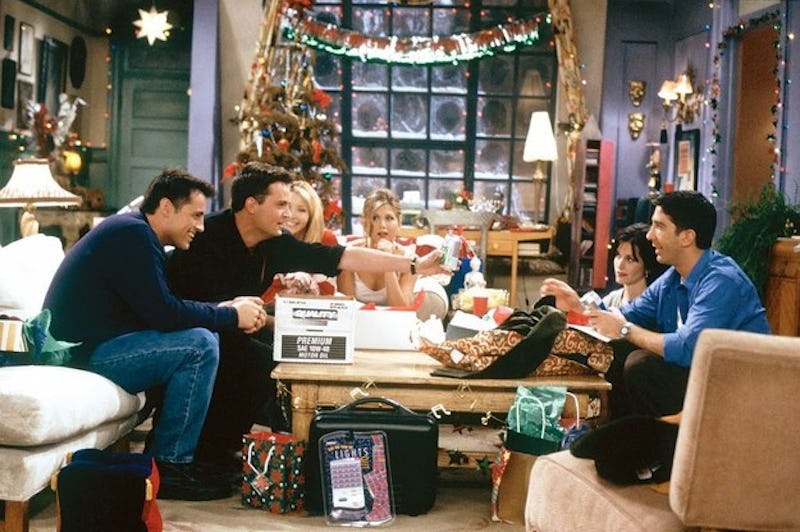 You are probably facing one of the two following situations. Either you have until after the holidays to come up with some roommate gift ideas but know deep down you'll probably procrastinate buying something till the very last minute (aka, you just have no idea what in the world to buy them). Or, you're exchanging in a few days and need some serious last minute gift ideas.
Either way, you know that buying a gift for your roommate is a completely different ball game compared to buying something for your family, friends, and significant others. Some people have great relationships with their roommates with tons of inside jokes, which can make buying a gift extremely easy. Or, maybe you fall in the category of people that are relatively friendly with your roommate, but don't know enough to get them something super sentimental. Whatever that relationship may look like, this list was still created for you.
Plus, these gifts range for any roommate type — no matter how well you know them or how long you've been roomies. From the Bob's Burgers fans and pizza lovers, to daily horoscope readers and makeup artists, this list will cover all of your bases. Oh, and of course, some of these gifts may subtly be something that you will enjoy having in your apartment as well...
So don't feel like you have to rack your brain for a gift idea, just pick something below!
1. Agate Bookends
Agate Bookends, $44, West Elm
This is for your book nerd roommate who, evidently, has books everywhere and you just want them to look pretty in your apartment. These bookends will make them look like a beautiful display. Comes in green, natural (gray), and blue. You can also buy one of each color to mix and match!
2. Partners in Wine Glasses
Partners in Wine Glasses, $27.97, Amazon
It's Friday night, and you and the roomie are sitting on the couch, drinking wine, and watching through Gilmore Girls again. Sound familiar? Then you probs need these.
3. Bob's Burgers Coloring Book
Bob's Burgers Coloring Book, $13.40, Barnes & Noble
OK, I'm not kidding, this coloring book was actually put together by the creator of Bob's Burgers, Loren Bouchard! So if your roommate watches Bob's Burgers non-stop, give them some extra entertainment while binge-watching.
4. Unicorn Light
Unicorn Light, $17.99, ModCloth
For your quirky, fun-loving roommate — guaranteed to match the rest of their mismatched collection.
5. Succulent Candle
Succulent Candle, $28 - $32, Anthropologie
For the plant loving-roommate, this gift kind of has it all. This soy wax candle actually gives off different scents to match the succulent purchased, such as rosewater, Moroccan mint, and peach currant.
6. The Roommate Book
The Roommate Book, $9.78, Amazon
This book is filled with drawings, quizzes, and an optimistic sense of humor in order to show your roommate the advantage of having him or her around.
7. E.L.F. Brush Collection
E.L.F. Brush Collection, $19.88, Walmart
Is your roomie a complete beauty product nerd? Get her a whole new set of brushes with this 11-piece collection!
8. Crab Multi-Tool
Crab Multi-Tool, $18, Urban Outfitters
Is your roomie the fixer-upper of your apartment? Show them how much you appreciate their fixing abilities with this adorable multi-tool, complete with a mini scissor, bottle opener, 3/16 flat head screwdriver, can opener, mini knife, and rope saw.
9. Pour and Shoot Mug
Pour and Shoot Mug, $17.99, ModCloth
For the photography nerds — this lens mug can serve both as an at-home mug and a travel mug!
10. Canvas Tote Bag
Canvas Tote Bag, $20, West Elm
If you and the roommate share the tasks of grocery shopping, then help them grocery shop for you in style! This particular artist has created multiple canvas bags for different locations including Brooklyn, Boston, San Francisco, Seattle, Portland, and more.
11. Portable Pizza Pouch
Portable Pizza Pouch, $8.50, Amazon
Is your roommate always wanting to order pizza? Then this will probably be their favorite gift of all time.
12. Virtual Reality Headset
Virtual Reality Headset, $15, Urban Outfitters
This is for the roommates that are constantly freaking out about those 360 videos on Facebook, or any other virtual reality trend. This headset holds a smartphone and allows the user to watch 3D movies, play simulated games, and watch virtual simulations.
13. Best Roommate Ever Mug
Best Roommate Ever Mug, $13.99, Amazon
Just want to give your roommate something simple and sweet? This will certainly do the trick!
14. Eero Wifi System
Eero Wifi System, $199 - $399, Eero
In case you were thinking about seriously splurging on your roommate, or just need a new WIFI system in general, upgrade your pad by getting your roomie this home WIFI system!
15. Astrologer Necklace
Astrologer Necklace, $44, Anthropologie
Does your roommate wake up every morning obsessed with reading her daily horoscope? Then she is going to flip over this necklace.
16. Geo Salt + Pepper Shakers
Geo Salt + Pepper Shakers, $17.99, West Elm
Give your bare table a little bit of décor flare by gifting your roommate with these fun salt and pepper shakers!
17. Double Trouble Care Package
Double Trouble Care Package, $59.97, Amazon
I mean, it would be kind of obvious after opening this one up that half of this is for you…so basically you are also gifting yourself.
Images: Warner Bros. Television; Giphy; Courtesy of Brands