I Let My Dad Do My Makeup & It Was A Journey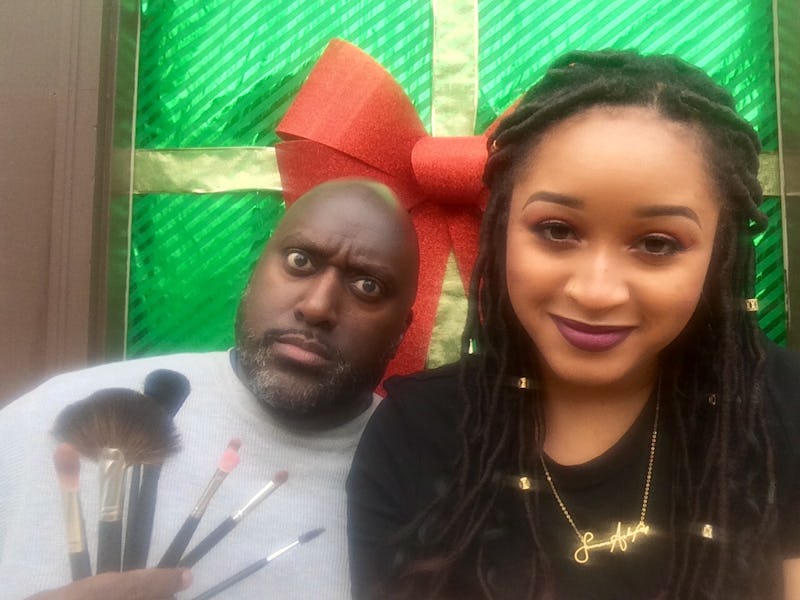 As an aspiring makeup artist, it's a bit of an understatement to say that I take doing my face seriously. Needless to say, the decision to let my dad do my makeup was quite terrifying to make.
Had I recruited another person in my family for the job, I wouldn't have gone into such a panic. I know my mom could have slayed an everyday look. Even letting my grandma do my makeup wouldn't make me think twice, though I doubt she would go with any of the bold colors I'd choose for myself.
Trusting my dad with bright pigments and tools near my eyes was a totally different monster to handle. I don't think the man has ever picked up anything remotely close to makeup in his life, let alone ever really witnessed a woman putting on product in the first place. Let's just say I thought my poor face was doomed before we even started.
As contradictory as it sounds, part of me expected him to really show my makeup skills up. This wasn't my first rodeo when it came to giving my dad free reign over my look. I let my dad dress me for a week before, and to my surprise, he proved that an inner stylist is hidden within him. But I should have known that taking fashion advice from my dad and trusting him as an MUA aren't nearly the same thing. Scroll on with caution to see how our wild makeup session went down.
The Setup
I couldn't exactly let my dad go into it cold turkey. A week prior, I gave him a front row seat to a full face demo on myself, adhering to my usual routine. Although I didn't give him any instructions, I allowed him to see my products up close and ask questions about where they go on the face. I'm a makeup hoarder with several foundations, concealers, contour kits, and over 80 lipsticks, so I had to let him get the initial shock of how much he could work with out of the way before we really dove into the experiment.
Once it was show time, I let him scroll through my Instagram for makeup inspo, something I never ever thought I would be doing with my dad. Talk about quality father-daughter bonding. He choose a bronze eye look with red undertones, full of glow to help inspire his own artistry.
1. Brows
After priming my face with Benefit's POREfessional primer, my dad attempted— key word, attempted— to construct my brows with the Anastasia Beverly Hills Dipbrow Pomade. The little voice in my head told me tweeze the few scraggly stray hairs I had growing in, but I assumed my dad would pay those creepy crawlers no mind. He didn't!
I immediately scolded my dad for this monstrosity, asking if paid any attention whatsoever to the image he chose to copy. That's when he informed that he didn't know whether he should factor out my stray hairs or include them in his brow filling. He settled with including them, which is why my brows are 10 times bushier than they should be. And I guess sculpting me a beautifully defined arch was too much to ask of my Pops too!
Just when I thought it couldn't be done, he managed to butcher my poor brows even more when he went in with Lorac's POREfection concealer to clean them up. "A" for effort, but definitely an "F--" for failure, dad!
2. Eyes
We were off to a good start when he applied tape to the outer corners of my eyes before going in with eyeshadow. I would have done the same. Was my dad going to do the impossible and construct a flawless cat wing? For a moment, I thought so.
Beginning with the shade "Burnt Orange" from the Anastasia Beverly Hills Modern Renaissance Palette, he took the palette's fluffy brush to my crease. I would have definitely chosen the same exact shade for a transition color so it seems someone paid attention to my previous demo. Thank god he didn't reach for my pricey It Cosmetics crease brush to do the job, because I don't know if my lid could have withstood the manhandling. At this point, I just had to intervene and give him a lesson on pressure and brush handling. Otherwise, so far, so good.
He pulled the Lorac Mega Pro 3 Palette out of my arsenal next, adding "Pomegranate" all over my lid and crease. I think he chose it for the name more so than for the color, because he took his time reading each of the shade names, something I don't think I've even done myself.
"Deep Fog" was his next choice from the palette, which I deemed strange. I would have never added such a harsh grey into the mix, but maybe he was going for a smoked out look.
However, my dad doesn't have a single blending bone in his body. He layered colors all willy nilly, using the same brush the entire time. With several dozen eyeshadow brushes in my collection, I was mortified he was married to the Anastasia brush like the other shaders didn't exist.
Tarte's Double Take Eyeliner was his liner of choice, a decision I supported.
Sadly, he didn't go for a cat eye though. So what was the point in the tape, you ask? Heck if I know. I suppose he wanted really clean eyeshadow lines. But boy oh boy was that liner work shaky. He told me he couldn't get the hang of using his right (dominant) hand on my left side. It showed.
3. Foundation
Using the Beauty Blender got my dad into a groove. He called this the "dab, dab, dab" part of the makeup application, which definitely made me burst out in laughter.
Believe me when I say that shade "18-sand" in the Clinique Beyond Perfecting Foundation is my true match. Leave it to my dad to pack it on so heavily that it looked several shades too orange and too light for my complexion however. I asked my mom if I was a pretty princess by now and she was too quick to reply that it looked like I was wearing a mask. Great, dad.
4. Conceal & Contour
Using L.A. Girl HD Pro Concealers, my dad applied my "war paint" as he likes to call it. He actually hit the key areas perfectly.
Too bad it wasn't blended seamlessly though. He could have at least gotten close to my under eye so it wouldn't seem like I was desperately missing something.
The contour went a little better. He minded my word of caution not to get too heavy handed with the "Espresso" shade. It's much darker than my skin tone so using it excessively quickly turns into a disaster.
It was no where near my usual standards, but I had to give my Pops his props. Here he was highlighting and contouring away and many women don't even dare to do it themselves. Kudos dad!
5. Baking
My dad was ready to move on to my glow before hitting a palm to the forehead and exclaiming, "I forgot to set it!" It was in this moment that I knew my dad was truly the right man for the job. He was actually going to bake my makeup and I was excited.
I had never even used the Maybelline Master Fix Loose Powder myself, so letting my dad try it out was a gamble. It wasn't my usual setting powder so I couldn't gauge if he was using too much.
That's when my dad hit me with some major terminology. "Woah, this is really matte," he told me. If only I could describe the face that I gave him upon hearing this statement. I think this #impressed Cam Newton GIF just about sums it up.
6. Highlight
Opting for the Anastasia Beverly Hills Sun Dipped Glow Kit was an obvious choice for my dad. He noticed how much of a dent I put in the color "Tourmaline" so he dusted a fan brush in it before hitting my cheekbones, cupids bow, and the bridge of my nose.
In his defense, I did say I wanted to glow to the moon and back — but I didn't intend for him to drag that highlight all the way down to my smile lines. I guess he was sticking to the sprit of overdoing things, if you couldn't already tell from my mega brows and '80-esque eyeshadow.
7. Mascara
I can't deny that I was eager to see if my dad would try his hand at applying falsies. Sure, it probably would have cost me an eye, but for the sake of our experiment I was willing to go the distance. He decided to play it safe and go with the Lancôme Grandiôse Extreme Mascara instead. His steady hands caught me by surprise. Even I accidentally smudge mascara on my bottom lashes from time to time, but my dad handled the task like a true pro.
8. Lips
Using the NYX Suede Matte "Club Hopper" Lip Liner, he lined my pout — if you want to even call it that. That line was worse than the eyeliner, even after he cleaned it up and started over a million times.
Liquid Lipstick wasn't exactly his forte either. Using the Milani "Matterialistic" Amore Matte Creme Lipstick, he gave me a rich pout, but it wasn't my favorite application, I'll admit.
That Milani metallic must have caught his eye, but not nearly as much as its scent. He instantly noticed its vanilla fragrance, which he thought was chocolate scented. That only got me a mini lecture about why I shouldn't wear scented lipsticks that just make my lips more appealing for the opposite sex. Dads.
8. Finished Look
I won't say that my dad did an utterly terrible job. In fact, for someone who can't tell the difference between a contour kit and blush powders, he did a pretty great job. Yes, my lipstick is smudged, my nose contour isn't quite right, and the liquids on my face are barely blended — but it's not half bad.
I won't be relying on my dad to do my face any time soon, however. The final result isn't nearly as well put together as my usual job. I'm going to need my dad to get accustomed with holding an angled brow brush and a lipstick doe foot applicator before I ever put his skills to the test again.
Images: Summer Arlexis (27)