Here's What Happened When My Grandma Did My Makeup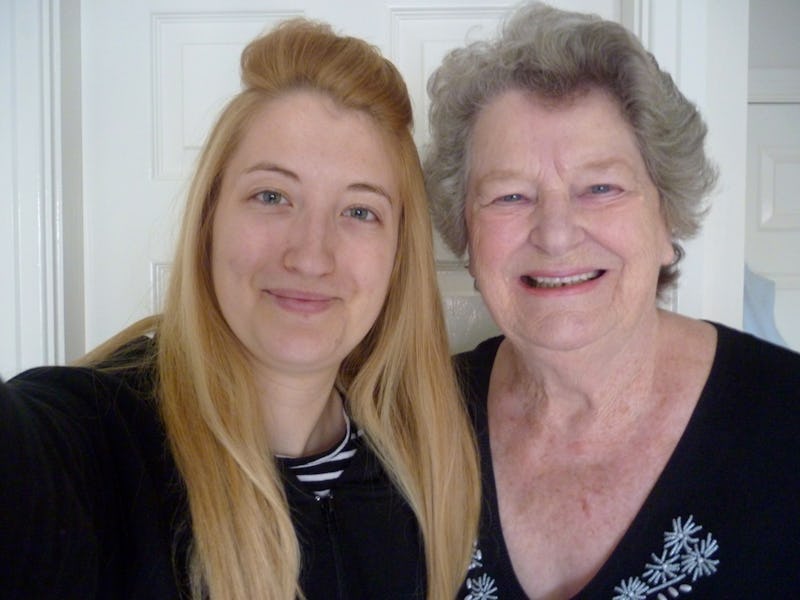 Since my teen years, I've been fascinated by all things vintage, whether it's clothes, homewares, or beauty trends. But I'm particularly fond of the 1950s. Because my nana was a young adult in that decade, I wanted a makeover from my grandma to really get into the spirit of the era.
As a member of a vintage girl band, I was super excited to see how my grandma would do my makeup. She takes pride in her appearance, primarily because she grew up during a time when women were encouraged to dress up in the latest styles and beauty trends before leaving the house.
This year, she will have been married for 57 years, and each morning she has followed the same routine. First she visits the bathroom, then she puts her makeup on straight afterwards. She's told me that back in her day, the majority of women would make sure they had their makeup on first thing in the morning before their husbands could see them. In my grandma's case, she wouldn't even take her children to school without putting her face on (unless she was ill). She mentioned that these rules of sorts even applied during childbirth. Usually, your husband would only come in after you had been all cleaned up, put some makeup on, and made yourself "presentable."
So with all of this in mind, here's what happened when my grandma did my makeup.
Before
Before we got started, I moisturized my face as I normally would before applying makeup to my skin.
I took a selection of makeup to my grandma's house, so she had a variety to choose from. She also had items from her own collection to utilize.
Step 1: Base Layer
To get the ball rolling, my grandma wrapped a towel around my shoulders and around my head. She said that back in her day, ladies would usually wear a makeup cape and a towel so that their makeup didn't go onto their clothing or into their roots.
My grandma started by applying her Leichner Camera Clear Tinted Foundation to create a base for the rest of my look. In her late teens, she attended Vogue Mannequin School in Leeds, England. Back then, the term "model" meant something entirely different, so being trained as a mannequin was basically like being trained as a modern-day model. The school instructed her to use Leichner Camera Clear Tinted Foundation, and she's basically been using it all of her life since age 16.
She told me that heavier base makeup, like Leichner, was popularized in the mid 1950s because there were no computers or editing software available to touch up photographs. Thus, all blemishes had to be covered. According to my gran, if you did have a blemish on your cheekbone, you would just use your eyebrow pencil to turn it into a beauty mark.
After this, my grandma brushed some Laura Geller Baked Elements Blush in "Florence" along my cheeks, reminding me to never apply blush under my cheekbones, unless I want to look like I'm actually blushing.
Step 2: Eyes
Lime Crime Venus ll Palette, $34, Amazon
Next up, my grandma tackled my eyes. She began by applying "Fly," a golden hued eyeshadow from Lime Crime's Venus II Palette, across my eyelid. As far as my grandma knows, eyeshadow didn't come into its own until the mid '50s and even then, there were very few types and a small variety of colors to choose from. After this, she used brown Colorsport 24 Hour Eyeliner along my upper lash lines and also to fill in my eyebrows a little.
She then applied Laura Geller At Long Lash Mascara in "Black" to my top eyelashes and de-clumped them with a small eyebrow brush. My grandma told me that her first experiences with mascara involved a "block" that you had to spit on and then use a mascara brush to apply. She said, "Sometimes you looked as if you had spider legs."
Step 3: Lips
Lastly, she very carefully applied her own rose pink lipgloss to my lips, along with a clear gloss on top. My grandmother informed me that in the late '50s, the trend was to wear natural makeup, so very bright lipsticks were not fashionable. However, in the late '40s and early '50s at the end of the war, bright lipsticks were in. She made sure to have a lipstick or a powder compact in all of her handbags, so she could always go into the ladies room and touch up her face no matter which purse she had on her.
Finished Look
My grandma seemed happy with her finished work, but she did say there was one thing she would have liked to do differently: Applying loose powder to my face after the base makeup and blush "to take the shine off." Unfortunately, she had neither powder nor a powderpuff.
Despite the missing loose powder, I loved how natural and traditionally feminine my finished look was and I felt it would be suitable for a variety of occasions. I'd definitely sport it again! But most importantly, it was so great to learn how my grandma used to wear her makeup and what the beauty trends of her time were. There's certainly a lot we can learn from our grandmothers, and this experiment was predominently an exercise in historical beauty education.
Hopefully when I am her age, I'll be teaching my future granddaughter all about contouring, strobing, and how to get Cara Delevingne's eyebrows. One can only hope.
Want more beauty tips? Check out the playlist below, and be sure to subscribe to Bustle's YouTube page for more inspo!
Images: Phoebe Waller