16 YA Authors Share Their Must-Read Books Of 2017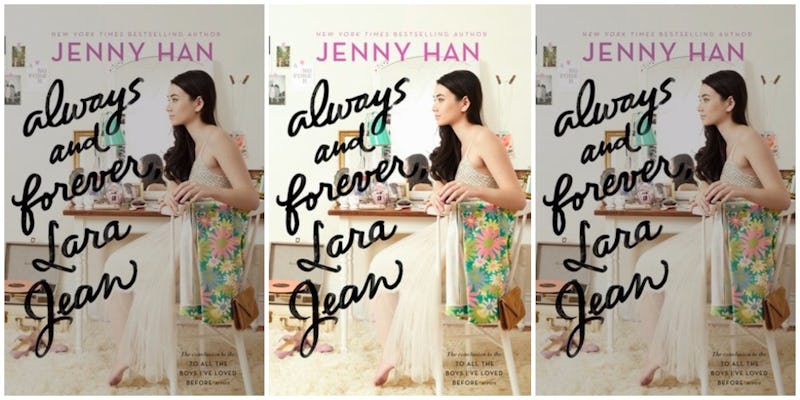 Say what you will about 2016 — and clearly there is plenty to say, most of it not so positive — it was an absolutely awesome year for teen reads, with YA triumphs like Nicola Yoon's National Book Award-nominated The Sun Is Also a Star, Heidi Heilig's swashbuckling The Girl From Everywhere, and Stacey Lee's inspiring historical Outrun the Moon hitting shelves. Still, we're glad to see 2016 go, largely because 2017 is chock full of awesome reads to come, from gorgeous, timely debuts like The Hate U Give by Angie Thomas to much-anticipated second books from authors like Adam Silvera, who returns with his sure-to-be-heartbreaking sophomore effort, History Is All You Left Me, and new series like Flame In the Mist from recent beloveds like Renee Ahdieh.
But don't take my word for it. You already added to your 2016 to-be-read pile with sure-footed recommendations from some awesome authors, so we've rounded up a few more amazing voices to chime in on what has to climb to the top of your 2017 TBR list. Herewith, some thoughtful picks from YA faves like David Levithan, Elizabeth Eulberg, Robin Talley, Danielle Paige, and more authors whose books you should already have on your radar.
1. Charlotte Huang, Author of Going Geek, Recommends:
What to Say Next by Julie Buxbaum
"Julie Buxbaum's What to Say Next is a wonderful, heartfelt story that follows the development of what appears to be a most unlikely friendship. In the aftermath of her father's death, Kit Lowell is obviously devastated. She needs something besides his absence to be different, and starts by sitting somewhere new at lunch. The spot she picks is right beside David Drucker, who before now has sat alone for all of his 622 days in high school. It's a strange choice for a popular girl, but it turns out David's blunt and truthful nature is the perfect counterbalance to her grief and intensity. As their connection deepens, they set out to find answers to the unresolved mysteries surrounding her dad's car accident. Readers will be charmed by this book's blend of humor and heart, and by two of the most endearing characters around. But they'll fall in love with the beautiful depiction of the universal truth at its center: finding a true friend, someone who really gets you, is one of life's most precious gifts."
2. Jodi Meadows, Author of The Orphan Queen Series, Recommends:
"Not to brag, but I'm midway through this book right now, and I just want to dive into it forever. There are so many perfect things about Wintersong — from the loving descriptions of music, the beautiful language, and the sometimes strained bond of sisters. This book is a magical blend of love, lust, and music, perfect for readers who want to sink deeply into a book and feel every moment. I can't wait for everyone to have a chance to read this."
David Levithan, Author of Every Day , Recommends:
"Martin Wilson's What They Always Tell Us is one of those debuts that has lingered long in my memory, and in the memory of many readers. It's one of those books where when you discover someone else has read it, you have to spend a few minutes talking about what it meant to you. Now, finally, Martin Wilson has a second book coming out in August, We Now Return to Regular Life . I'll be honest: I have no idea what it's about, and I don't really want to know until I'm actually reading it. But when a first novel is that good, you can't help but anticipate the second with glee."
Nova Ren Suma, Author of The Walls Around Us , Recommends:
"There is a powerful, gorgeous novel coming in early January from a new voice in young adult fiction: Kara Lee Corthron, a celebrated playwright making her YA debut with The Truth of Right Now . This book is about the complicated, undeniable connection between two teenagers in New York City. Lily, who is white, is struggling with depression. And Dari (short for Dariomauritius), who is black, is facing tension at home with his father and coming up against how he is seen out in the world, as a young black male. With an unflinching look at mental illness and at racism and its consequences, this book showcases Corthron's bold talents as a writer. I loved the interplay between the voices, and I loved how Corthron never shied away from hard truths and painful revelations. This book is raw, startlingly real, and deeply true. My heart aches just thinking about it."
"I just finished Library of Fates by Aditi Khorana and I loved it. I opened the book and was immediately transported to the mythical, magical country of Shalingar, where mystical vetalas, troubled oracles, irreverent goddesses, and megalomaniacal kings battle for control of love, fate, and an addictive substance called chamack. Add a twist of time travel and it's basically everything I ever wanted in a book."
"OK, here's what I need you to know about Adam Silvera: before he became a young adult novelist, this young adult (the jerk isn't even 30!) was a bookseller—which means he knows that novels can't just be fun to write, they also have to be fun to read. Critics and audiences seem to agree: his debut novel, More Happy Than Not, got universal raves, hit the Times bestseller list, and spoke to kids who crave witty, wiseass narrators who sound and look a lot like themselves. I can't wait for his sophomore release, History Is All You Left Me , which explores potentially 'heavy' topics like OCD and drowning and the drama of a new boyfriend, all told with Silvera's signature, deceptively chatty writing style. Careful: when you dive into an Adam Silvera book, your laughter is gonna sound a lot like crying."
Kelly Gilbert, Author of Conviction , Recommends:
"I can't wait for Julie Dao's Forest of a Thousand Lanterns — a reimagining of the evil queen from Snow White based on Asian folklore and mythology that promises to be lush and immersive and gripping. In order to become Empress of Feng Lu, Xifeng must unleash a jealous god on the world and set free the viciousness of her own soul."
Lee Kelly, Author of A Criminal Magic , Recommends:
"One of the 2017 books I'm most excited about comes out in just a few weeks. The Last Harvest by Kim Liggett is classic, spine-tingling horror at its best, and I guarantee you won't be able to put it down. Clay Tate is still haunted by his father's gruesome death a year ago, after his dad spiraled into insanity, claiming a town conspiracy of devil worship. As much as Clay wants to forget the past and move on, the sons and daughters of his town's most prominent families won't let him — and Clay soon begins to fear that his father was really onto something. It's creepy and twisty and gut-wrenching and the writing is absolutely stellar. You don't want to miss this one."
Caroline Tung Richmond, Author of The Darkest Hour , Recommends:
"I'm so very excited about this book — do you have an ARC? If so, will you take my left kidney in exchange? — and here are my top three reasons why:
1. I get to spend more time with Lara Jean Covey! I fell in love with Lara Jean and her quirky family in the first two books of the To All the Boys I've Loved Before series, and I'm absolutely giddy about revisiting them.
2. A biracial protagonist! Lara Jean is half-Asian and half-Caucasian, and I can't wait to share this series with my own daughter one day, who also happens to be biracial.
3. Peter Kavinsky. The world needs more Peter Kavinsky. End of discussion."
"At the top of my list of 2017 books that I'm looking forward to reading is The Hate U Give, by Angie Thomas. Angie's YA debut was inspired by the Black Lives Matter movement. Many authors that I admire (John Green, Jason Reynolds, and Adam Silvera — just to name a few) have been singing its praises and the first three chapters have me hooked. There are some books that come out when we need them the most and this is one of them."
Tiffany D. Jackson, Author of Allegedly , Recommends:
"I'd support any book by an author who has my mother's name, but this story is rich, powerful, chocked full of beautiful prose with Emmett Till's murder serving as a tense backdrop that grips you. A book for ALL ages."
Erin Bowman, Author of Vengeance Road, Recommends:
"I'm the process of reading an early review copy of this road-trip adventure through 18th century Europe, and the compelling characters and pitch-perfect banter already have me glued to the page. Queer rep front and center doesn't hurt either."
"My 2017 Must-Read (as in: YOU HAVE TO PICK UP THIS BOOK!) is Sarah Nicole Lemon's Done Dirt Cheap. It's a perfect mashup of Thelma & Louise alongside Sons of Anarchy. The two main characters — Tourmaline and Virginia — are nuanced and amazing. And the boys on their snarling Harleys? Too hot for words. If you're looking for that perfect modern fairy tale with a delicious dark side, this is the book for you!"
Dahlia Adler, Author of Just Visiting , Recommends:
"Reading The Upside of Unrequited by Becky Albertalli was probably the fastest experience I've ever had of falling in love with an entire cast of characters in a book. There is so much heart, so much personality, so much beautiful representation, and so much truth in this novel, but the best part of all was knowing how many teens who feel too fat, too awkward, too ignored, and too left behind are going to read this book and say 'Finally, finally, finally: I am the hero of a story.'"
Danielle Paige, Author of Stealing Snow , Recommends
"In the age of Stranger Things, I find myself longing for a YA thriller with a hint of alien DNA. The idea of a teen Mulder story is a dream come true! But you don't have to be a fan to access this story. It has ton a of Easter Eggs for the super fan, but Kami Garcia has crafted a suspenseful mystery that will engage any fan of the dark and twisty. Set in 1979, Mulder is living in DC with his dad for his senior year after his parents split up, and children start disappearing. He's haunted by his sister Samantha's disappearance and possible alien abduction, so when the kids start going missing he can't ignore it. The clues put him on the trail of a possible serial killer. It sets up his obsessive personality and the deep sense of loyalty and justice we see in Mulder as an adult on the show. And it puts him on the path to becoming a true believer in the paranormal.
"Garcia is a true master paranormal and YA. Beautiful Creatures (with cowriter Margaret Stohl) is one of my faves. And her latest, The Lovely Reckless, a sexy YA contempt about love and illegal car racing, has all the feels and edge that you want in a teen romance. But here in X-files, she finds yet another gear, weaving a deft psychological thrill ride while giving an iconic fan fave an origin story worthy of the complicated hero he becomes."
Robin Talley, Author of As I Descended , Recommends:
"It's hard to believe #1 New York Times bestselling author Julie Murphy could ever top Dumplin', but Ramona stole my heart before I'd finished the very first page of Ramona Blue. Super-tall and with bright blue hair, Ramona would stand out in her small Mississippi town even if she weren't into other girls (and totally open about that fact). And even when she's facing heartbreak while also trying to figure out where she fits in the confusing web of relationships among her tight-knit family, her hilarious friends, and her childhood BFF who just moved back to town, Ramona is strong, she's independent, she's talented, she's hella smart and hella queer — and she's one of the most powerful girl characters I've ever read in a contemporary YA. In fact, I'm jealous of her big sister Hattie, because I want to have a little sister as awesome as Ramona. Ramona Blue is the first book since I was a kid that made me want to read under the covers with a flashlight to see what happened next."