This Is The 2017 Hair Color Trend You Should Try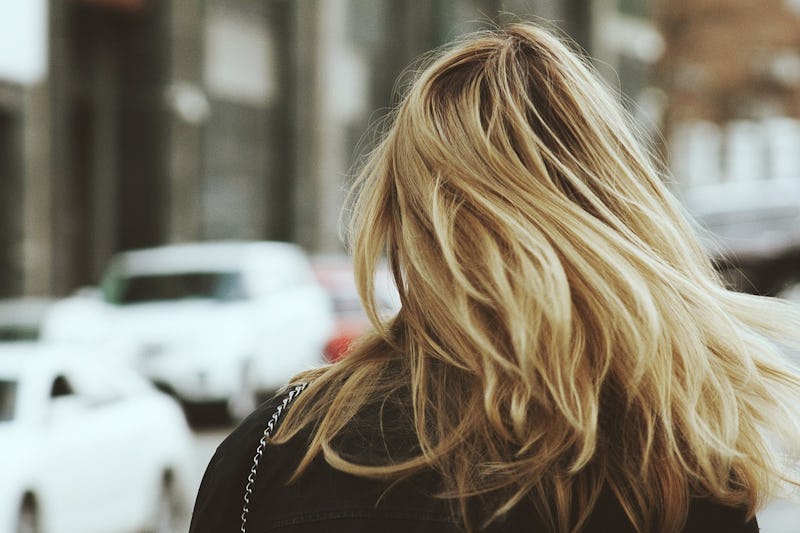 If the new year has you feeling like it's time for a change, one fun way to go about it is with your hair. But if you're not quite sure which direction to go, especially for your particular skin tone or current hair color, perhaps it would help to know what some of the biggest 2017 hair color trends might be. New hair for the new year and all that. So to find out some good places to start, I emailed with a few experts about which hair-dye techniques they predict will be huge this year, and who they might be best suited for.
George Papanikolas, Matrix Style Link Celebrity Colorist; the Renpure Style Team; and the Umberto Beverly Hills Style Team all let me in on some of the fun, new trends that you can try this year whether you're cool-toned, warm-toned, blonde, brunette, or a redhead. And regardless if you prefer to go bold or stay a little more natural with your hair color, there's a trend for you to try. Oh, and none of these styles are for certain seasons only, so you don't have to worry about damaging your hair with constantly changing trends. Nope— you have all year to play around with these eight 2017 hair color trends.
1. Nude Hair For Warm Skin Tones
"The nude hair color trend has an almost powdery, earthy, sandy tone that embodies both elegance and restraint," says Papanikolas. He explains that this coloring is perfect for neutral or warm complexions as it can wash out those with cooler skin tones. He adds that this trend is ideal for those who already have lighter hair as dark hair will need to be pre-lightened in order to achieve this tone.
2. Jewel Tones For Dark Hair
Unlike previous pastel trends, jewel tones don't require bleaching first, making it easier for those with darker hair to give this trend a go. And according to Papanikolas, you don't need to worry about picking a shade that complements your skin-tone. Rather, you should pick your favorite color that will best pair with your wardrobe.
3. Bronde For Light Hair
The golden-brown "bronde" shade will continue to be on-trend for 2017, says the Renpure Style Team. They explain that this hue is the perfect cross between blonde and brunette, "flatters most skin tones, and is an easy transition for beginners experimenting with hair dye."
4. Chocolate Mauve For Brunettes
Brunettes can easily switch up typical caramel and honey highlights for playful, mauve tones. And the best part, says Papanikolas, is that hair doesn't have to be pre-lightened and the color "gradually fades out so you don't have to worry about long-term commitment."
5. Copper Tones For Redheads
The Umberto Beverly Hills Style Team reveals that 2017 will see a "breaking away from traditional, neutral tones." For redheads, hints of copper will be the tone to try.
6. Pink Tones For Blondes
Also in breaking away from traditional tones, the Umberto Beverly Hills Style Team predicts blonde tones will lean in a muted pink, strawberry, or gray direction.
7. Tiger's Eye For Brunettes
According to the Renpure Style Team, "Tiger's Eye" will be the biggest trend since balayage. This trend features "rich browns and gold tones blended throughout strands, for a natural and authentic dye look." Papanikolas adds that this trend "can be adjusted warmer or cooler to suit your skin tone," and is "great for those who love low-maintenance color" because it grows out in a way where roots won't need to be touched up.
8. Pale Tones For Blondes
"Super pale blonde always gives the hair lots of pop and a youthful appearance," says Papanikolas. However, he explains that it's best for those who already have hair that is dark blonde or lighter. This is because the trend can appear harsh when starting with dark hair and even compromise the integrity of the hair from all of the bleaching that would be required.
But even though every trend for 2017 may not work for every hair color or skin tone, whether you like something bright and bold or something more natural and low-maintenance, there's a trend for you to try this year.
Images: Pexels/Pixabay