Packing Tips For Traveling Abroad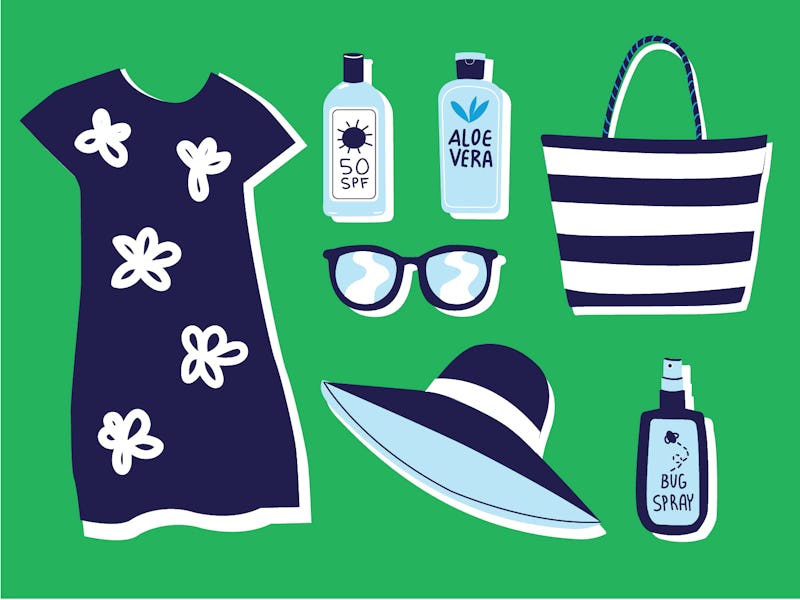 If you don't have a serious case of wanderlust, are you even a millennial? We kid, we kid. But let's be real — the picturesque photos of both popular and obscure landscapes constantly flooding our social media feeds are only fueling our desires to buy a plane ticket, stat. With travel and a general sense of adventure at the forefront of our 2017 resolutions, it's hard to ignore all of the incredible and unique destinations there are left to visit on our bucket lists.
The good news is, it seems that employers these days are more understanding than ever of our adventurous yearnings, offering unlimited vacation policies and even promised sabbaticals for deserving employees. That's why we've partnered with Icelandic Glacial to encourage you to follow your wanderlust dreams. We know the two most difficult aspects of planning a trip are deciding where to go, and what to pack. So to help you prepare for your future endeavors, we've handpicked three must-see destinations and provided a comprehensive guide to packing your backpack.
Of course, the bottled water, antibacterial hand gel, Advil, color copy of your passport, and ziplock bags are a given — but here's what else you'll need.
Adventure 1: ​Caribbean Island-Hopping
If there's one thing that everyone going Caribbean island-hopping is hoping for, it's sunshine. So here's a pro tip: pack plenty of bottled water to keep yourself hydrated, and sunglasses to avoid spending your entire trip squinting, seeing patchy blotches of black, or damaging those very eyes we need to see the beautiful scenery! Your eyes will thank you. On a similar note, you'll need plenty of sunscreen to keep you enjoying every second of your trip. And in case you slip up once or twice, we also suggest some aloe.
As for clothing, a loose-fitting, lightweight and comfortable "everything" dress is one of the best and most practical things you can pack. You can throw it over your bikini in the morning, and wear it with cute sandals (yep, add those to your packing list) at night. Pair it with a flexible, wide-brimmed hat that can be easily folded into your pack, and be sure to stash a beach-proof, cheap and collapsible bag for bringing to and from the ocean. Last, but not least, you'll want a thin, water and wind-resistant jacket for after dark.
Adventure #2: High Country Camping in Peru/Andes
When you're camping in the Andes, chances are high (pun alert!) that you could come face-to-face with some extreme natural elements, so packing a durable pair of hiking boots is a good place to start. Whether you experience hot sunny days near the equator or cold dark nights in a tent at the base of a volcano or crater, you will need at least one jacket that can do it all. Make sure you've got something you can throw over a quick-dry long sleeved shirt that is windproof, waterproof, and easy to layer. Pair it with an alpaca hat made by the locals, and a scarf that will keep you warm — and shield you from the wind — even after the sun goes down.
For those overnights in the great outdoors, you'll want a flashlight for obvious reasons, and a versatile knife to cut open, unscrew and create a lever for your cooking and wine-opening needs. A carabiner can free up space in your bag if needed, and a plastic bag is necessary to hold all of your dirty, or worse, wet, clothes. Last but not least, pack a first-aid kit. Many outdoorsy companies make mini first-aid kits that fit in a tightly packed bag. Having quick access to gauze and antiseptic can really help a small problem stay small.
Adventure #3: Western European & Cultural Escape
Whether you're exploring a grungy, hip neighborhood, stylish art galleries, or just walking through the park, a good pair of stylish walking boots are a must in Europe. They'll get you everywhere you want to go, and paired with a comfortable pair of jeans and a t-shirt, they'll help you look good while doing it. And while it never rains in our vacation fantasies, it certainly does in Europe, making a waterproof jacket an absolute must.
As for accessories, you'll want to pack some bold jewelry to rock throughout whatever art museum you land in, and a camera to capture those much-anticipated sightings. Yes, an actual camera. Your smartphone is great and all, but if you find yourself in Iceland's Blue Lagoon or watching the Northern Lights from Reykjavik, a smartphone camera just might not cut it.
For daylong escapades, we recommend bringing an expandable bag. After all that galavanting, you'll want a safe place to store water (may we suggest a bottle of Icelandic Glacial Water? It's only appropriate!), your wallet, and said camera. Plus, it'll double as a vessel for bringing back souvenirs. For reflecting on your favorite paintings, or just life in general, we also suggest packing a journal. After all, what better way to remember your incredible trip than to read your coffee stained and croissant-smudged reflections on the plane ride home?
Now that you're ready for the adventure of a lifetime, we only ask one thing: share the pictures on social media so we can see them for ourselves!
This post is sponsored by Icelandic Glacial.
Illustrations by Mary Blount.