What We Can Learn From Female Detectives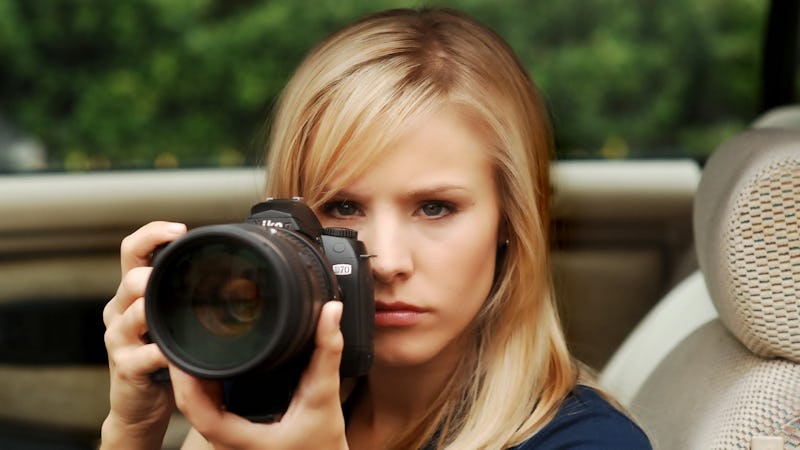 Since its release in the 1930s, Nancy Drew has shown girls around the world that you don't have to wait for guys to solve mysteries — you can just figure them out for yourself. Not only did the series reportedly inspire Hillary Clinton and Supreme Court Justice Sonia Sotomayor, but it showed generations of young women that Sherlock Holmes and the Hardy Boys aren't the only detectives in town. By the time our childhood rolled around, we had other detective role models like Harriet the Spy , Charlie's Angels, and Murder She Wrote . The detective work continues today on shows like Castle and Chicago PD and Veronica Mars .
I know I loved these mystery women. Here are just a few of the lessons I learned from them.
Always have your friend's back
Charlie's Angels proved more than just the fact that girls can kick ass. They also depicted the value of female friendship and teamwork. These ladies prove that working with other women not only gets things done in an efficient manner, but that it can also be fun.
It's never too late to make a major change in your life
In Chicago PD , Sophia Bush's character, Erin Lindsey, is a tough intelligence unit detective and one of the few females on the team. While she does everything in her power to get the perps put away and make things safe in Chi-town, we find out midway through the season [SPOILER] that Erin wasn't always a do-gooder. After getting into drugs as a teen, she managed to turn her life around by becoming the person who catches the bad guys.
High school reunions are always awkward
This isn't too surprising. Reunions are weird. Both Dr. Temperance Brennan from Bones and Veronica Mars showed us just how awkward it is to reunite with some of the people you wish you'd never had to share air space with in the first place.
You can't just shake off something you're good at
In the new Veronica Mars movie, we see Veronica trying to get her adult life in order by interviewing for a job at a major law firm. But when Logan is accused of killing someone, she can't resist going back and helping him out. Veronica shows us that sometimes you can't ignore the things you're good at. Sure, she'd probably make a kick ass lawyer, but she's clearly made for cracking cases.
Dating your coworkers is complicated
Richard Castle and Kate Beckett of Castle and Temprance Brennan and Seely Booth of Bones prove that you probably can't help getting close to a co-worker, especially when you're together all the time. But they also prove that things will get complicated once you choose to go there. While these couples' issues usually involve life-and-death situations, seeing their relationships unfold on the screen show that it's not easy getting involved with your partner in solving crime.
You can't let a bad experience define you
Olivia Benson has been the face of Law & Order: SVU for years. And man, they've really put her through the ringer: Now in its 14th season, we've seen her assaulted, shot at, and even raped. Sure, this is a TV show, but seeing the fact that she never quits is kind of inspiring. Benson not only rises above the issues — she also encourages victims to become stronger themselves by standing up to their attackers.
Image: UPN