This Is a Huge Double Standard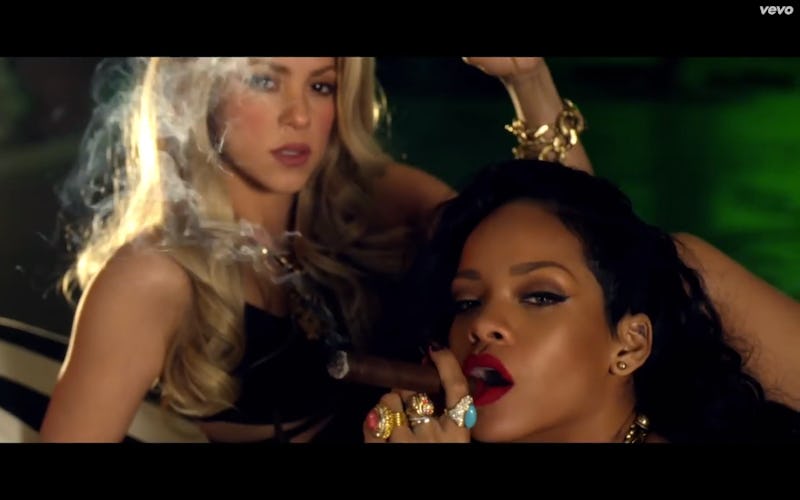 Comments in a recent Billboard interview from Shakira, who said her boyfriend, Gerard Pique, was very territorial made waves when they were unleashed onto the Internet, and with good reason — "territorial" sounds like a euphemism for "controlling." She quickly recanted via Facebook this week, claiming that her comment was intended to be "humorous," and that the two have "a beautiful relationship of mutual trust." Shakira further promised, "I'll be more careful when attempting to use my sense of humor, as clearly it can be easily misinterpreted!"
This is all well and good, until — as may people already have — we look at the full context of the "territorial" comment. Shakira actually says: "He's very territorial, and since he no longer lets me do videos with men, well, I have to do them with women."
This isn't a joke, this is a fact. This is why she and Rihanna are rolling on a bed together. This is why the video for "Can't Remember to Forget You" is not a plug for gay rights or the beauty of a lesbian relationship; it's an illustration of how, in Shakira's current relationship, she must use a female pop singer as a substitute for a male actor. This entire music video, in fact, demonstrates that the male gaze takes precedence over any potential lesbian romance. The strength of the women's relationship is undercut by the lyrics of the song itself, as they both sing, "I'd do anything for that boy."
How else does the male gaze dominate the conversation? From the start, both women are scantily clad and singing directly to the camera. We're invited to Shakira's boudoir, where her vocals and sultry rolls draw the viewer into her bed. Even when Rihanna appears, the two stars only make eye contact three times. I counted. The majority of their time is spent, again, gazing into the camera. This video is an invitation to a threesome, not a declaration of love.
The message is enforced by the bands of black and white on the bed they share, which serve as the bars keeping them apart. Their legs cross once, but this moment of implied intimacy is undercut by their "come hither" moves that speak to the camera, not to the other woman in bed. When they smoke cigars, it's as if they're saying, "We apologize for the lack of male members in this video. Please accept this Freudian substitute."
In short, this video helps us understand what "territorial" looks like. It's clearly not just a Shakira-and-Girard issue: it's a music industry issue. Women belong to their men, even when they appear with other women. To test this hypothesis, I propose a look at other celebrities who are married and continue to produce music videos: Beyoncé, P!nk, and Robin Thicke.
First, Beyoncé. The star married Jay Z in 2008, gave birth to Blue Ivy in 2012, and launched her "Mrs. Carter Show" in 2013. In her 2009 music video for "Irreplacable," Beyonce appears with a man who is not her husband. This is as close as they get, physically, before she sends him packing. It's a break up song, so it makes sense that we don't witness them in the throes of passion.
When watching Beyoncé's most recent music videos, however, I immediately noticed that she doesn't come into physical contact with any man who is not Jay Z. When there are men, in "Flawless," they keep a respectful distance as fans. In "Haunted," she allows a butler to light her cigarette while looking at her with lustful eyes. She immediately extinguishes their flame, however, by dropping the cigarette and grinding it out with her heel. Even when Drake features in "Mine," the closest the two come to even being in the same frame is this superimposed shot.
Married Beyoncé, of course, is still a sexual being. In multiple music videos she bares her freakishly toned post-baby body, but her sexuality is guarded by her marriage. Jay Z is the only man she will touch, and "Drunk in Love" makes it very clear that, when she is objectifying herself, she is doing it for him. It is as if, instead of a camera, these music videos were filmed through his eyes. Unlike Shakira, Beyonce can appear in videos with other men… to a certain extent. Both women seem to have a "hands off" contract, and when physical contact happens, it must occur with other women or their husband.
Let's take a look at P!nk. The star married motocross racer Carey Hart in 2006. She has since appeared in plenty of music videos, and I analyzed two of them, "Just Give Me a Reason" and "Try." The former was released on February 5, 2013, while the latter was released on October 10, 2012. Does married P!nk, like Beyoncé, keep her distance from the men featured in her music videos (if, of course, men appear in the first place)?
No — not at all. "Just Give Me a Reason" is similar to "Drunk in Love" because her husband is the man in the video, and the two share a kiss in a pool of water. I was tempted to write this off as sexuality-must-be-enacted-through-husband, but then I watched "Try." While P!nk and her costar never lock lips, there is arguably more chemistry in this intense dancing and fighting routine than in "Just Give Me a Reason." (Then again, I might just be in awe of P!nk's extreme athleticism.)
Either way, she is not afraid to be intimate in a music video with another man, which may speak to her confidence in her marriage to Hart or her overall "I do what I want" attitude. This video still plays to a heterosexual audience, but it does a better job than others at objectifying both men and women, while painting them as powerful actors in their own drama. And Pink, to some extent, has the freedom to perform her sexuality beyond the lens of her marriage.
Finally, let's take a look at the only male member of this (limited) list: Robin Thicke. "Blurred Lines," please step up to the plate. I apologize in advance to all the male pop stars who, out of respect to their "territorial" wives, don't perform in videos with women. Clearly, though, Thicke represents the opposite end of the spectrum.
When "Blurred Lines" was released, Thicke was still married to high school sweetheart Paula Patton. Now, however, they are separated, for reasons varying in the tabloids from Miley Cyrus at the VMAs, the fan he infamously "groped," or the simple fact that "Blurred Lines" treats women as playthings — whatever it was, his marriage was clearly not up to the onslaught of other women.
What messages can we take away from this limited analysis? For one, it seems that Shakira is not alone in her physical separation from men in her music videos. Beyoncé, while she doesn't explicitly state it, appears to also be keeping her distance out of respect for the sanctity of her marriage. And, unlike the other two women, P!nk is not afraid to appear with other men in roles that require a certain amount of physical intimacy (though, like Beyoncé, she allows for a crossover between life and art, featuring her husband in a music video).
Thicke, meanwhile, has (or, perhaps, had) no qualms about celebrating the abundance of other females in his life, a trait that may or may not have contributed to the crumbling of his marriage — but one that people didn't bat an eye at. If Beyoncé were grinding up on someone who isn't her husband in a music video, people would talk, because she's a woman.
Overall, I would argue this: in an industry that celebrates the nude or near-nude form, it makes sense to distance yourself from temptation. However, as P!nk has shown us, you can make tasteful, passionate art that extends beyond the artistic confines of your marriage — it is only when the lines are blurred, however, and your art becomes a celebration of temptation, that your marriage or relationship may face difficulties. If I were married to a singer, you bet I'd be worried about other people seducing them away.
It is a problem, however, when this jealousy isn't allowed to extend both ways, and is applied unequally to men and women.
Images: YouTube