'The Leftovers' Trailer Will Give You Chills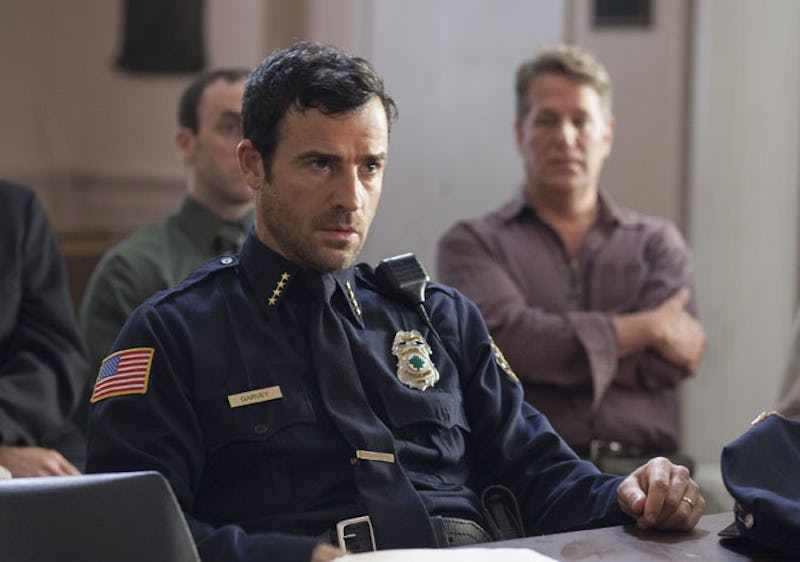 Most people were probably too nervous to pay much attention to the previews leading up to last night's Game of Thrones premiere, but if you happened to look closely, you would've gotten a sneak peak at one of the most anticipated shows of the summer. In the first trailer for HBO's The Leftovers , a new show created by Lost's Damon Lindelof, we get a look at a world decidedly un-Thrones like, but just as creepy, stressful, and compelling as anything you might find in Westeros.
Based off the bestselling 2011 novel by Tom Perrotta, The Leftovers follows police chief Kevin Garvey (Justin Theroux) while he attempts to maintain calm in the wake of a global Rapture that caused two percent of the world's population to suddenly disappear. Like the book, the show deals not with the Raptured group but the confused, grief-stricken, and angry people left behind, specifically the members of Garvey's suburban community.
This first trailer focuses on setting up the show's premise, showing archival-like footage of a world pre-Rapture and snippets of the chaos that takes over once the event occurs. It's short but effective, and the sound of a mom's scream after she finds her carseat-bound baby inexplicably missing is not going to leave your ears anytime soon.
Even if the trailer doesn't pull you in, though, the people behind The Leftovers certainly will. In addition to Theroux, who we're excited to see in a non-Aniston related spotlight, the stellar cast includes Liv Tyler, Amy Brenneman, Christopher Eccleston, Michael Gaston and Ann Dowd. Behind the scenes, there's Lindelof, best known for creating the creepily-great Lost, as well as Friday Night Lights' Peter Berg, who directed The Leftovers' pilot episode. Any project that brings together Lost, FNL, and Justin Theroux automatically has our interest, and with a plot as fascinating as this, The Leftovers looks like a must-see.
Watch the trailer below:
Image: HBO