You Won't Believe What Happened on 'GoT'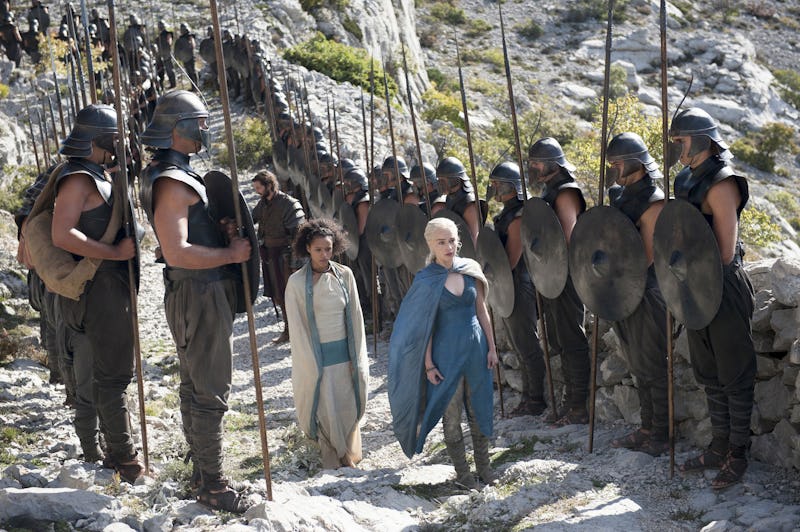 Winter is coming, ya'll — wait, it's here! I'm also here, giving you the Game of Thrones Season 4 live blog and exactly what's happening from a bonafide Throne-head's (that's right, I said it) POV as we launch into whatever's next for our beloved (and hated) medieval friends and enemies. It's going to be one hell of a season, considering where we left off. And, you know, how it is in Westeros.
Anyway, we've given you the heavy recap of where we left off — and we know we're in for a season with a new Daario (who is decidely less porny looking) AND a new Prince is in town, but other than that, lets give you the short update: Jaime's just arrived back in King's Landing minus one hand plus one Brienne, Arya just killed somebody and is off doing a Riverlands jamboree (a dark jamboree, that is) with The Hound, Cersei has to marry Loras and is drinking lots of wine, Jon Snow (WHO KNOWS SOMETHING!) is home in the North after getting bow-and-arrowed by Ygritte, Ygritte is mad, Joffrey is set to marry Margaery, Olenna Tyrell is a goddess who should have her own show, Sansa is sad because she's married to Tyrion whose beloved Shae is MORE THAN JUST A WHORE, Daenerys is a BAMF, Bran is warging it up, Hodor is Hodor, and pretty much all the Starks are dead. And Theon has no penis. It's in a box.
Cool? Cool. Now you're ready to go. LET'S DO THIS, WESTEROS. BRING ON THE DRAGONS!
(We know nothing, Jon Snow...)
9:02 Tywin Just Split The Stark Sword Into Two
They never had their own Valerian steel, so now they can do it. BUT WHATEVER, your numero uno swordsman has no hand. Also, Red Wedding flashbacks. YOU WILL NOT WIN THIS SEASON, LANNISTERS.
9:15 Hello, Prince O
O for 'orgasm?' Nope, for Oberyn. Oberyn has arrived in King's Landing, sexual fluidity and all (he likes boys, girls, and all of them at the same time!), but wait — he didn't show up in King's Landing just to hang out with the sexy folks. He's here for Joffrey's wedding. Ah, those Dornish men! OH! And he has a vengeance with the Lannisters because they slaughtered his family. When someone shows up with a vengeance and there's a wedding...you KNOW what happens. George R.R. Martin views weddings as the ends, not the beginnings. But ooohhh Oberyn — Pedro Pascal — you are indeed swoonworthy.
THE LANNISTERS AREN'T THE ONLY ONES WHO PAY THEIR DEBTS.
9:20 Danaerys and Dragons, Who Are Like Pets But Can Never Be Tamed
Not even by their mother!!! Hello, I am Daenerys and I free people and have dragons. Where is Daario? Where is my porn star? HIS FACE IS CHANGED!
Greyworm and Daario want to ride with Danaerys but Sir Jorah will protect her. The last man holding his sword can find a new queen to fight for! That's right, Mother O' Dragons.
9:22 Sansa Needs To Eat
Ugh, the Westeros tabloids might pick up on her if she gets too skinny. Anyway, she's really sad because she knows how Robb Stark was killed, and how her mother's throat was cut to the bone through her body. Tyrion feels apologetic and Shae? Shae is pissed. Tyrion and Sansa are sharing a moment, but not a bed, so I'm not worried.
Tyrion thinks Catelyn would want Sansa to carry on. And also, Sansa wants to be left alone. Leave her alone, guys.
9:25 Shae Is Horny But Tyrion Doesn't Wanna Do It
Aaand, cue The Clash: should I stay or should I go now?? (Should she stay or should she go?)
9:30 I'VE GOT THE GOLDEN TICKET! I Mean, Hand.
Jaime has a golden hand, which is good for looking not-handless, but not great for swords or sex. Jaime has pointed out that Cersei drinks more than she used to — but that's because everything has gone to shit in her life. Cersei also thinks Jaime should get the eff out of the King's Guard because, you know, he's handless. She also doesn't wanna do this thing anymore. SOMETHING'S CHANGED!! When you come back with no apologies and one hand, you can't expect things to be the same.
HE TOOK TOO LONG.
9:32 Look It's Tough Being A Wildling
But some folks are too scrawny to eat. Ygritte is mad and sad. THERE'S A CONFRONTATION! War is never over, you know?
9:35 JON SNOW IS BAAACK
Also, he is better than Sam at everything (except reading). According to Sam.
Anyway, Jon Snow is admitting to killing, and the Half Hand's Brother is pissed.
Jon Snow just admitted to breaking his vows in The Night's Watch. He must die!! But, someone points out that if they beheaded every man who lay with a girl the war would be fought by headless men. LOL, true. Horny Night's Watch guys.
Lest we forgot, Jon Snow has also been beyond the wall. He tells the Half Hand's Brother that there's a band of Wildlings! The orders are to attack Castle Black when Mance Rayder hits it from the North. STUFF IS HAPPENING. No olive branches here.
9:38 Oh, phew, no beheading of Jon Snow.
Yaaay say fangirls everywhere.
9:40 Here We Are In Highgarden!
Damn, Olenna, you're the best. Margaery, though, knows that Joffrey would have her wear a head of sparrow heads. True dat. Also, Olenna just called Brienne "marvelous" and "singular." Brienne wants to get real with Margaery — she's tellin' her what's up with Stannis and how Renly died. BUT JOFFREY IS OUR KING.
9:41 THE JOFFREY STATUE IS THE BEST THING EVER
9:41 JOFFREY IS POSING LIKE THE STATUE!!
9:42 Joffrey And Jaime — FACE OFF
Well, not really face-off, but Joffrey is showing Jaime who's boss and what a non-boss he is because someone forgot to write down all his great deeds! Also, he's 40. That's like, EPIC in medieval years, right? Also, anyone else digging Jaime's haircut? He cleans up nice, but I think I may personally be more into dirty Jaime.
9:44 Daario Wants Danaerys!
He also has strategies! He's also a gambler. He also has great facial hair. And then Danaerys takes his flowers that are for poisoning people, which I guess is a symbol for something.
9:45 Hanged Girl On A Cross...Uh Oh...
Not okay with the Mother of Dragons. She will see each and every one of their faces.
9:46 Where Have All The Stark Kids Gone??!?
I doubt that Jaime is singing that to the tune of Paula Cole, but Arya is probably dead (she's not!!!!). OH! Jaime thinks Brienne could be a Lannister. She's like, no.
9:47 Sansa Did Something Great!
Remember? When she saved that guy's life when Joffrey tried to punish him with excessive drinking on his name day? Now he gave her a necklace because she did something right! She'll wear it with pride. Aww, a happy Sansa!
9:49 ARYA AND THE HOUND
Are the BEST! I could watch this duo ALL DAY LONG.
HOLY SHIT THEY SEE PEOPLE — and they see POLLIVER. The guy who killed Lommmy!
(The Hound: "what the fuck's a Lommy!?") Also — Polliver took her sword, Needle! COULD ARYA GET IT BACK!?
The Hound says that cunts name their swords. Also, The Hound is effing hilarious today.
9:52 HOLY SHIT
THEY KNOW WHO ARYA IS.
9:54 Bring The Hound A Chicken.
Wait — they want a go at Arya in exchage for a chicken? No! Also, The Hound is ready to die for a chicken — or...SOMEONE IS. OH... SOMEONE'S GONNA DIE.
9:56 I See Dead People
You go, Hound. Also, this is GoT, you really thought it was going to be an episode without SOMEBODY dying?!
9:57 ARYA SLICES A HEAD
9:58 ARYA KILLS ANOTHER
9:58 SOMETHING WRONG WITH YOUR LEG, BOY?
ARYA then uses HER SWORD — Needle — that FINE LITTLE BLADE to kill Polliver once and for all! YES ARYA!!!
9:59 Arya Rides Away on A Horse
The Hound rides away eating a chicken.
The end.
POST SCRIPT: The Hound is the best character ever. Three cheers for Arya. But what's to come of Bran?! We haven't seen our not-a-biped visionary kid with great hair. And HODOR?! Well, Hodor. And that wedding! What's going to happen! I CAN'T WAIT TIL APRIL 13.
Also, I feel satisfied. Going to go eat some chicken now.
Image: HBO