Julianne's Haters Aren't Necessarily Wrong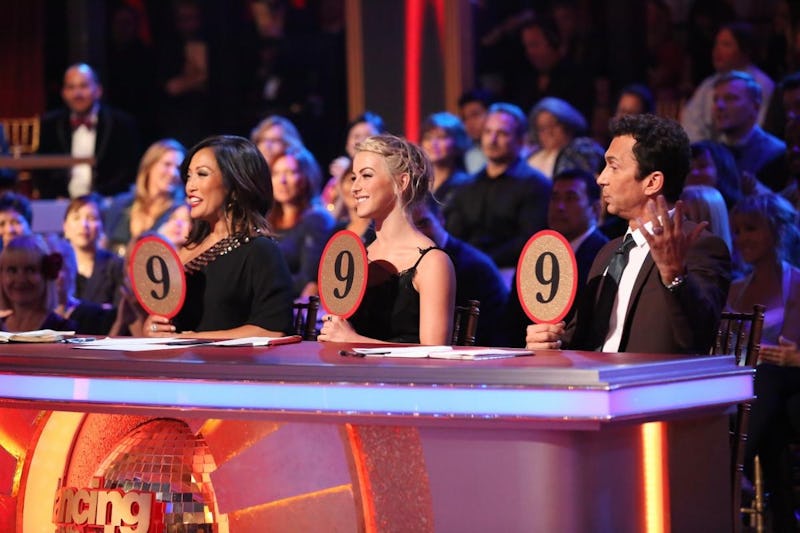 Oops, she did it again. Dancing with the Stars may have switched up their partners last night, but other things felt painfully the same. Guest judge Julianne Hough once again had some overly harsh comments for the dancers. Her judging stint last year ended with her calling out a furious Mark Ballas for overshadowing his partner and leading up to last night's show, Hough maintained that this next judging venture would be different. "You go in trying to give constructive criticism, but when the nerves get to you, you sometimes put your foot in your mouth, which I have done in the past," she said. "So this is my do-over." But when it came time to judge Maks Chmerkovskiy, Hough promptly forgot her mission and laid into him accusing him of "phoning it in" until he could get back with previous partner Meryl Davis. Then she added an apology that sounded a little more like a confusing threat, "I'm sorry; you're Mark this year."
Chmerkovskiy looked bewildered with the feedback and responded, "That was definitely not the case, but thank you."
Her comments made almost everyone in the room feel awkward, and Chmerkovskiy's partner for the night Danica McKellar actually laughed at the comments as though she couldn't believe this was happening.
Meryl Davis just seemed shocked and appalled that Hough said those things about her former partner.
Fans on Twitter weren't happy either and furiously tweeted that Hough shouldn't be allowed to judge anymore.
"I judge the same way I teach, so it all comes from love," Hough told Us Weekly after the Ballas debacle. "It's not to diss anybody. It's not to hurt anybody's feelings."
But whether her comments come from love or not, I'm not sure what Hough expects people's reactions to be. The fans kind of have a right to be upset because she just waltzed back in (dancing pun) and did the same thing to Chmerkovskiy that she did to Ballas, one year later.
These negative comments combined with fan outrage could jeopardize any future guest judging but since she creates drama, ABC might be eager for her to come back to help boost ratings. After all, ABC's really just in it for the viewer dollars, not the dancers.
Images: ABC; Martha Sorren