Katy Perry Dyes Hair "Slime Green": See Evolution of "Roar" Singer's Rainbow Locks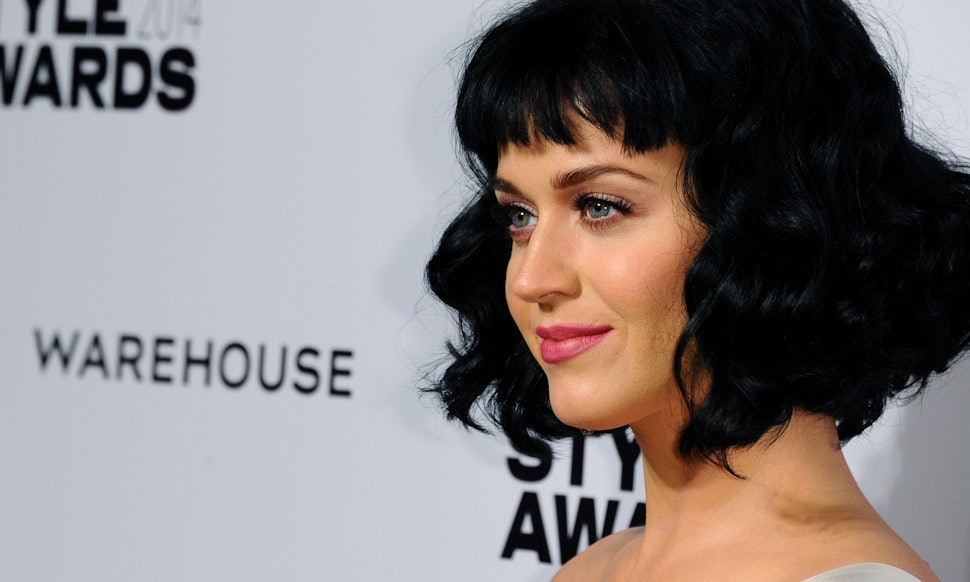 Anthony Harvey/Getty Images Entertainment/Getty Images
Katy Perry is a pop culture chameleon. She emerged into the songstress scene with freshly dyed black hair, hiding her blonde, homely looks. A black bob has been her go to ever since her 2008 hit "I Kissed a Girl" captured audiences attention. Since then, she's tried a handful of other colors as her musical career progressed from the wild to the goofy, from Smurfs to "California Gurls" and beyond. And with Tuesday's reveal of a green-colored 'do, Perry has officially dyed her hair every color of the rainbow. Take a peek back at the singer's wild evolution.
Slime Green for 2014
"SLIME GREEN FOR SPRING" Katy Perry captioned the Instagram of her latest hair undertaking. The singer dons a black-banged bob with curled green, slime green, tendrils.
Image: Katy Perry / instagram.com
Pumpkin Orange
Katy Perry went long and orange for her 2012 September issue of L'Officiel.
Not-So-Mellow Yellow
Walking the red carpet for The Smurfs premiere in 2011, Perry worked a short, sunshine colored 'do.
Gothic Purple
At the 2012 NARM Music Biz Awards, Perry wore some scary dark makeup, paired with a black cutout dress and deep purple hair.
Think Pink
Short and sweet works on the "Roar" singer, especially when her bob is as delicious as the cotton-candy that inspired the color.
Think Pink 2.0
Pulling an almost Britney Spears/Madonna kiss at the 2011 American Music Awards, Perry rocks this futuristic, pink up-do.
Purple Passion
Purple and pink hues were Perry's color of choice when married to ex-husband Russell Brand.
Blue Baby
The hair that started it all. Katy's infamous "California Gurls" weave was showcased at the 2010 MTV Movie Awards, accompanied by her bedazzled and sheer gown.
Pop of Color
Braided into her usual black locks, Perry opted for a pop of blue and pink framing her face in 2010.
Back to Black
In 2006, the doe-eyed Perry was rocking her "I Kissed a Girl" look of basic black, swept-back hair.