Here's What It's Really Like To Be on 'ANTM'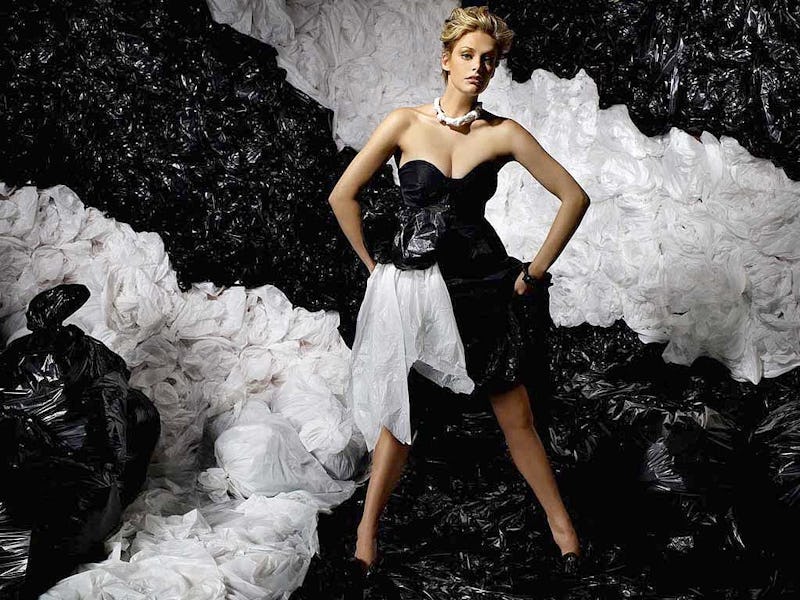 Being a contestant on America's Next Top Model was one of those experiences that's too big to be summarized by any one adjective. It was more than crazy, fun, stressful, or bizarre. It was ALL of those things —and a lot more adjectives I probably shouldn't print here.
I mean, who among us hasn't been changed by Tyra Banks' empire of smizes? Chances are, ANTM will always be the biggest part of my Wikipedia page. I'd like to change that someday by pursing a career as a comedian and writer — but I'm also glad to have a Wikipedia page* in the first place. I mean, as my mom used to tell me before she made me take my selfie, there are starving children in Africa who don't even have Instagram.
So, what was it like?
Well, I was basically in shock during filming. I'm usually outgoing but, in the Top Model house, I reverted back to the shy, awkward kid I was before my enormous boobs arrived and forced me to become a people person.
When the judges examined my photo during the first elimination, Twiggy said that I didn't look very plus-size as Tyra Banks said, "No, but she looks real size. She looks, like, me-size. Look at that thigh! That looks like my thigh."
And I didn't say anything. What could I possibly say to that? Tyra Freaking Banks just said my thigh looked like her thigh. Tyra Banks, the supermodel, whose thighs have been on magazine covers and music videos and runways.
....My thighs don't look like that
I remember the judges looking at me, expecting me to react as I just stood there, my brain quietly exploding inside my head.
Before ANTM, I'd never considered being a model — nor had I ever been west of Ohio. Being on a major television show with the most beautiful women I'd ever seen and meeting the aforementioned Tyra Freaking Banks is a hard experience to compress into a sound bite.
But the truth is, I love talking about Top Model. It's not like my memories of it have gotten any less surreal over time. What's more, the conversations about it usually start with people saying how much they love me, and who doesn't love hearing that?
So without further ado, here are the questions people always ask you when you've been a contestant on Top Model. And here are my answers.
WAIT, WHAT CYCLE WERE YOU ON?
I was on Cycle 9.
WAIT, WHICH ONE WAS THAT? WHO WON?
Saleisha won.
Um... Heather was on with me. You know, the girl with Aspberger's?
WHAT IS TYRA LIKE?
I only saw her once a week, and there were a lot of us and only one of her, but she was always very nice and insanely knowledgeable about basically everything. Tyra Banks should be the mayor.
WAS IT SCRIPTED?
No. Not at all. They didn't need a script because they knew what we were going to do before we did. And that was drama enough.
WAS IT FUN?
Oof. Yes. No. Sort of? Yes.
WERE THE OTHER GIRLS BITCHES?
And so was I. Everybody's a bitch sometimes. Now imagine the second you feel less than awesome there's a camera two inches from your face.
DID ALL THE GIRLS HAVE EATING DISORDERS?
No. In fact, they ate all my damn food. Don't eat the plus-size girl's food, dude.
DO YOU HAVE TYRA'S PHONE NUMBER?
I absolutely do not! Have you seen some of the girls on that show?
Would you give them your phone number?
IS MISS J REALLY LIKE THAT? IS MR J REALLY LIKE THAT?
Yup. And it's awesome. Obviously, they play it up for the cameras, but pretty much.
IS NIGEL HOT IN PERSON?
I guess? He doesn't do it for me, even a little bit. (By the way, this one doesn't always get asked, but when it does, it's always by people who are "totally joking" but actually seriously really need to know like RIGHT NOW.)
HOW DO YOU SMIZE? LOL JK BUT SRSLY SHOW ME
I don't know. It's a subtle art. Every time I try I think I look like this...
...And it comes out like this.
Maybe I should stop lying on the floor in little white dresses.
Shut up, Naomi. I don't want to hear it.
*Full disclosure: I don't have a Wikipedia page. I'm a footnote on the ANTM Wikipedia page.
Images: Bankable Productions