You Can't Miss Vicki's Reaction to the OC Newbies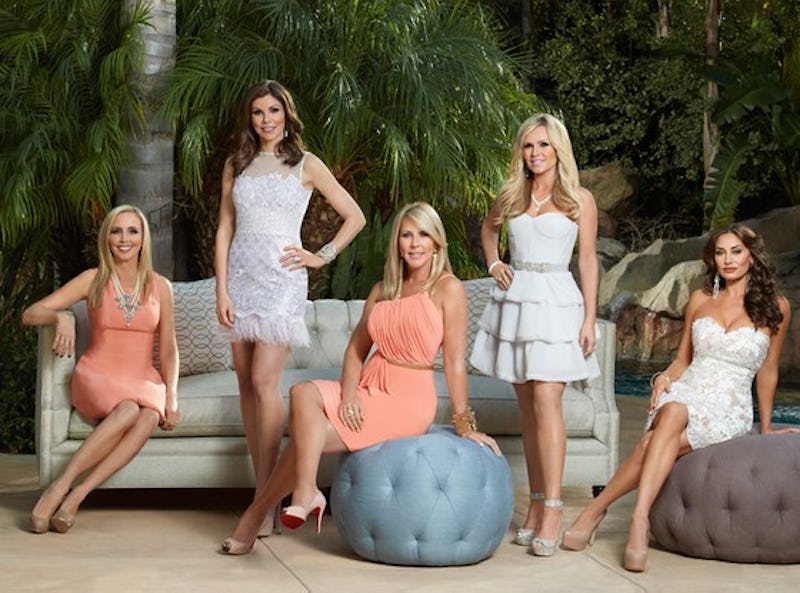 If the trailer is any indication, Season 9 of The Real Housewives of Orange County , will feature Bali, cowboy hats, and underground tornado bunkers. And if you're not home, or you're being held hostage when the season premiere airs at 9 PM ET on Bravo, you'll need to find your Real Housewives fix online and on demand.
Sadly, Heather McDonald will not be joining the OC housewives this season, even though she'd be absolutely perfect for it. Season 9 will reunite OC mainstays Vicki Gunvalson, Tamra Barney, and Heather Dubrow, but the veteran Housewives will also be joined by three new faces: Shannon Beador is a new-agey adherent of holistic practices like Feng Shui and avoiding processed foods — she also doesn't believe in Wi-Fi for some reason. Lizzie Rovsek is a former Miss Kentucky and swimwear designer who originally moved to Los Angeles to chase dreams of acting. Danielle Gregorio is a designer and philanthropist with an organization called Heels2Heal-OC that works to help "underprivileged, critically-ill, abused women and children."
"OG of the OC" Gunvalson has been on the show since Season 1, while Barney joined in Season 3, with Dubrow hopping on board Season 7. Check out below where to catch all of this season's new Housewives antics on demand, straight from the golden coast.
On Your Computer Screen
Log in in to the Bravo's digital on demand site BravoNow with your television provider to catch shows the following day. Among the thirteen accepted providers: Xfinity, DirectTV, Dish Network, and Cox. Hulu also airs new episodes the morning after, but the same pay-TV-provider login is required for older episodes. Hulu does not have rights to stream the show on mobile or television through their Hulu Plus app, so you're out of luck on the mobile front.
OR STICK TO THE BOOB TUBE
Catch up with all of the plasticky goodness via many of those same providers on a proper television screen. XFinity, Time Warner, and DirecTV (among others) offer the series in SD and HD through their video on demand services, usually by the morning after the episode airs.
HOUSEWIVES ON THE MOVE
iTunes hooks you up with a a standard definition season pass for $7.99 and a full high defintion at $9.99. Individual episodes are available, from $1.99 for standard definition to $2.99 for high definition.
Amazon's pricing is the same as iTunes for its episodic pricing, but a dollar cheaper for the season pass: $8.99 for HD, $6.99 for standard def.
Google Play's season pass is $19.99, with $1.99 per single episode.You can watch your newly acquired season on any HD enabled device through the Google Play Movies & TV app or through your browser.
Image: Bravo