This 'DWTS' Couple Will Absolutely Date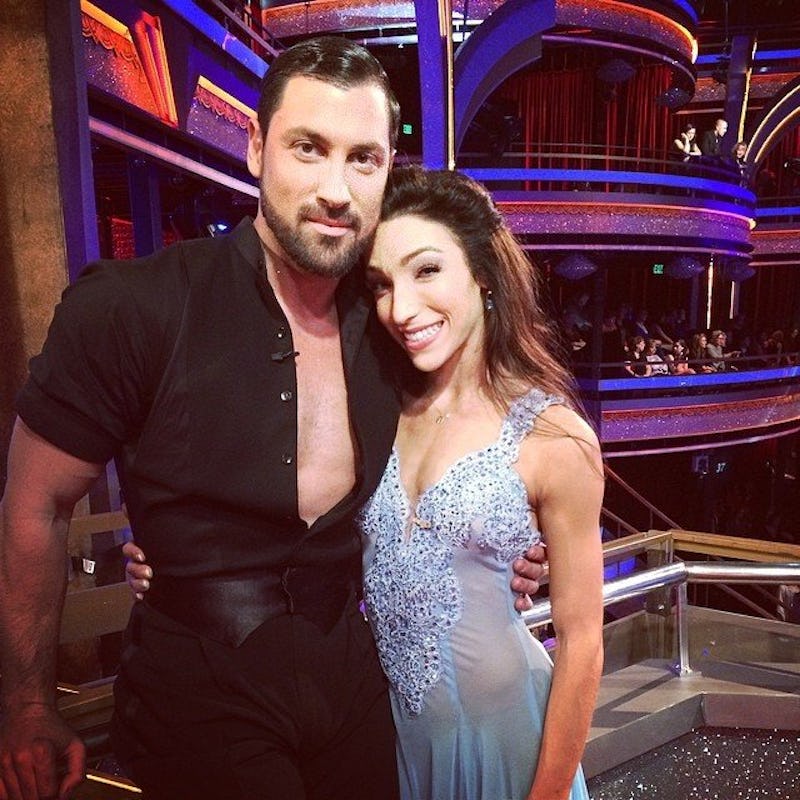 I know you've wondered every Monday since the beginning of March whether or not Dancing with the Stars couple Olympic gold medalist Meryl Davis and Maksim Chmerkovskiy are dating. And when you find out they're STILL not, you can think of a million reasons why they should be, right? The number one reason being how could he not fall/be in love with Davis? Even his brother, Val, knows they should be in love (even if he can't help from loving her himself). Maks and Meryl are DWTS Season 18's golden couple (ha), so when will they make it official?
Maks has been smitten with Meryl since Day 1 — his first words to the Olympian were basically testing out the water for a future proposal. And since then, the couple have wowed the judges and fans with their insane chemistry that threatens to explode all over the studio every week. They have everything going for them — so long as Erin Andrews stops making it so awkward every time she interviews them. I mean, they danced to the most romantic song of 2014 during Week 3. If that doesn't scream "WE'RE IN LOVE," I don't know what does.
Tiny, sweet, and wildly talented Meryl is the Beauty to Maks' 6'2", bad boy reputation Beast — with Disney on their side, how can they lose? Here are five reasons why the Dancing With the Stars couple will most definitely date.
Meryl's Changed Him For The Better
At the start of Season 18, Maks told People that viewers would see a much calmer, more relaxed version of the hotheaded star. And that was because he actually enjoyed rehearsing with Meryl every day — DWTS wasn't just about doing his job anymore. The DWTS pro and alleged bad boy that was once engaged to Karina Smirnoff spoke to Glamour about working with Meryl — and you tell me if this doesn't sound like a man in love:
I just want it on the record that most people don't know who I am. If you're watching me on TV for two hours, I may not like that person either. So you pass judgment on who you see on television. Everybody has a character. I'm not that guy. Meryl brings out the best in me, and I'm glad people see that.
Sigh, if she's able to reign in DWTS' resident bad boy, there must be something more there, right?
Maks also told Glamour that Meryl might just be his "perfect partner". He refused to confirm whether or not that also meant "perfect woman" but he did say that Meryl is an "amazing person." C'mon Maks, don't be shy.
They Share A Taste In Cocktails
The caption to this photo on Maks' Instagram might as well say, "We went on a date, were adorable, and drank bellinis." What it really says is, "Saturday afternoon Bellinis with @meryledavis at#NobuMalibu .... because why not??" Which might as well just be the same thing — they're also clearly both fans of Ray-Ban shades. Coincidence? More like symbol of soul mates.
This Moment (!!!!!!)
There are just no words for that type of chemistry? Right people? Maks told Glamour in early April:
She's definitely good for me. Getting Meryl this season really opened up my eyes of how important it is to have that chemistry with your partner on this show.
It just overwhelms the romantic lover of Dirty Dancing and Dance With Me in me.
They Danced To "All Of Me"
The performance included the aforementioned moment of what's obviously undying love. But on top of that — THIS IS ONE OF THE MOST ROMANTIC SONGS IN THE WORLD RIGHT NOW. I know Meryl dedicated this song to her and Charlie White's (they're not dating, btw) year leading up to their Olympic gold medal in Sochi, but still. John Legend can make anyone fall in love, and if Meryl and Maks weren't on the fast track to dating already, they would be after such an emotional and chemistry-charged performance during Week 3.
Maks Proposed At First Sight
First of all, they're Instagram friends, which is adorable. But, does anyone else remember the first time the pair met for rehearsals? The first words Maks said to Meryl on that fateful day were, "So, I love you and I would love to marry you." I mean, HOW ARE THEY NOT DATING ALREADY? He then asked her if she and Charlie were dating, calling it "the billion dollar question" that everyone's been asking her. When she said no? Game on for Maks.
Sigh — love. Watch their first moments here:
Perhaps they're waiting to be crowned winners of Season 18 to announce their long-time-coming romance? Maks & Meryl FOREVER!
Images: ABC (2), MaksimC/Instagram, MerylEDavis/Instagram