7 '90s Stars 'Mad Men' Season 7 Would Cast If They Know What's Good For Them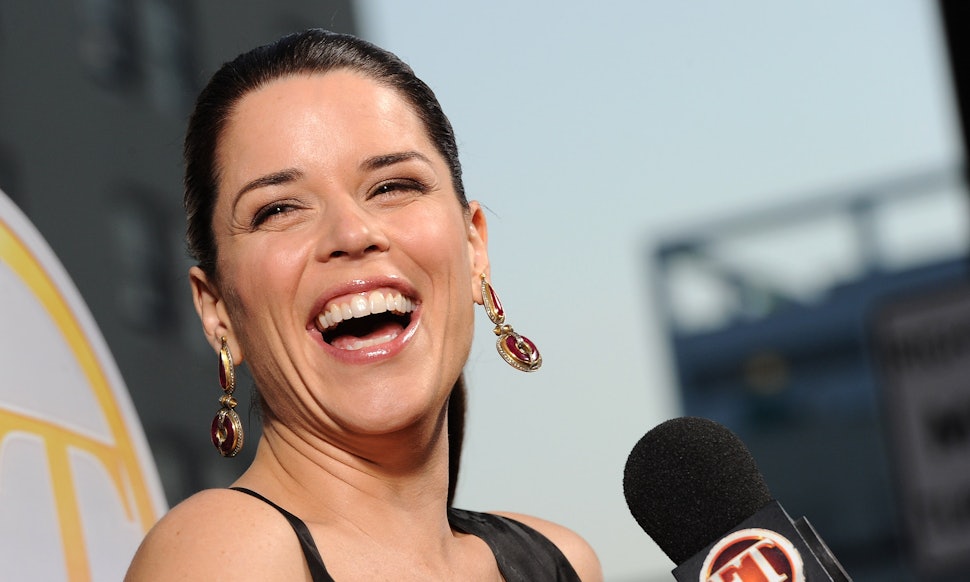 Kevin Winter/Getty Images Entertainment/Getty Images
Whoa, was that Neve Campbell?! That was pretty much the universal reaction when watching Sunday night's Season 7 Mad Men premiere "Time Zones." And, no your eyes did not fail you, that was Neve Campbell, star of Party of Five, Wild Things, and the Scream saga. (In other words, she appeared in essential '90s entertainment.) Campbell, who we last saw during a two-episode stint on Grey's Anatomy in 2012, played a beautiful widower who sat next to Don Draper on a redeye flight to New York City. While the notorious philanderer turned down her advances ("I could make you feel better," she cooed), the actress hinted to Entertainment Weekly that "perhaps" we'll see her character again.
Of course, Neve Campbell wouldn't be the first '90s star to get a revival on the '60s-set AMC drama. Over the course of six seasons we've seen Linda Cardellini (Freaks and Geeks), Larisa Oleynik (The Secret World of Alex Mack), Joe O'Connor (Clarissa Explains It All), Danny Strong (Buffy the Vampire Slayer), Dennis Haskins (Saved By the Bell), and Alexis Bledel (Gilmore Girls, which was technically the 2000s, but she still has the major nostalgia factor), among others.
While we have no idea which other guest stars could pop up in this, the seventh and final season of Mad Men (that Matthew Weiner sure knows how to keep something under wraps), we have our own wish list of '90s stars we think deserve a spot on the Emmy-winning series.
Mara Wilson
Honestly, Mara Wilson (Matilda, Mrs. Doubtfire, Miracle on 34th Street) could play anyone on Mad Men, just so long as we'd get to enjoy her inevitable live tweets.
Image: Sony Pictures Home Entertainment
Matthew Lillard
A mini-Scream reunion, perhaps? We'd cast Matthew Lillard (She's All That, SLC Punk, and of course, Scream) could play a dopey new doorman in Don's building who blows Mr. Draper's cover to Mrs. Draper when he sees him with a woman who looks a lot less like Megan Draper and a lot more like Sidney Prescott.
Image: Miramax
Claire Forlani
Claire Forlani has gone from '90s it girl (Mallrats, Meet Joe Black, The Rock) to Dewar's spokeslady. Since those ads are so memorable (seriously, what accent is that?) we think she'd be ideal to star in Don's next big commercial idea.
Image: View Askew Productions
Tatyana Ali
Come on, it's 1969, Dawn can't be the only woman of color working at Sterling Cooper Draper Pryce. Get with the times, guys. Let's have Tatyana Ali (The Fresh Prince of Bel-Air) play a junior copywriter who not only gives some diversity during the ever-evolving late '60s, but becomes the heir to Peggy's inevitable throne.
Image: NBC
Andrew Shue
Another man has to catch the eye of Megan this season, right? She can only put up with Don's B.S. for so long, no? Cue: Andrew Shue (Melrose Place) as one of Megan's NBC co-stars that she develops feelings for off-screen. That should cause more drama than, well, Melrose Place.
Mira Sorvino
Okay, yes, in an idea world, this season of Mad Men would feature both Romy and Michele (hello, they invented Post-Its) but since we're assuming Lisa Kudrow will be busy filming the comeback of The Comeback (fingers crossed!), we would love to see Mira Sorvino. The Oscar-winning actress (Mighty Aphrodite) could play Joan's funny new neighbor/babysitter to not only bring her comedic talents back to the forefront, but give poor Joanie a proper pal.
Image: Touchstone Pictures
Michael C. Maronna
The Adventures of Big Pete and Pete Campbell? Hey, why not! Actually, if we were to cast Michael C. Maronna (The Adventures of Pete & Pete) we'd probably make him a hippie musician that Sally Draper finds totally groovy and follows on tour throughout the '70s.
Image: Nickelodeon/TeenIdols4You