Miley Cyrus, Live From Her Hospital Bed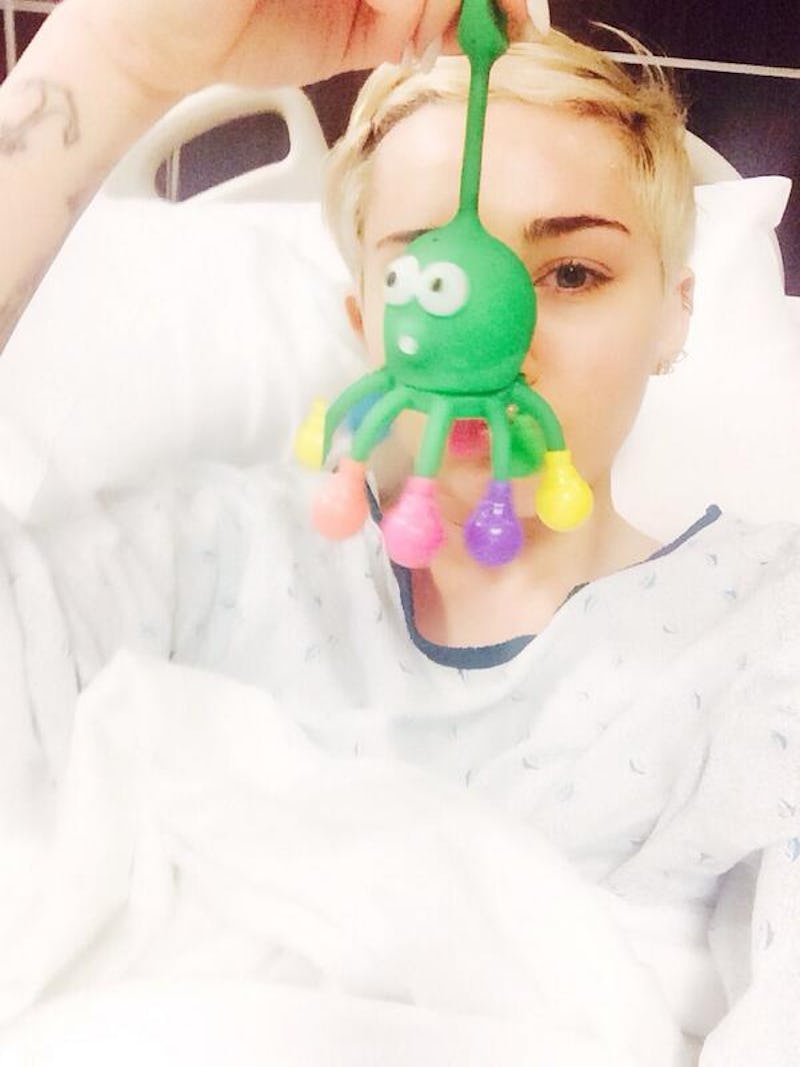 No need to wait for her reps to fill you in. Miley Cyrus is updating us about her hospital status, via Twitter. That's right — for exact, up to the minute reports (and opinions and emojis), all we have to do is just check @mileycyrus. It's there where we can even view her retorts to fans who are pissed that she's hospitalized. Fun times.
In case you missed it, Miley was hospitalized Tuesday for a severe allergic reaction to antibiotics. As a result, she canceled her show in Kansas City, and now, another show is getting canned, and she wants you to hear the news straight from the horse's mouth.
The "We Can't Stop" singer tweeted from her sick bed that she wanted to be the one to update her fans on her progress, and according to said Twitter updates, Miley's still stuck in the hospital and will be forced to cancel her show in St. Louis. Rather than allowing her reps to make some servicey announcement that alerted fans to the disappointing news, Miley herself was the one who let them down easy. As she points out in a tweet, a bunch of people might have already started making their way out to St. Louis to see her in concert, and the sooner they got the news that the show's been cancelled, the better.
Perhaps it's actually important to Miley to speak with her fans directly, rather than through some source, so that they know she truly cares about them. She doesn't want her fans who have been dying to see her Bangerz tour to think she's feigning illness, after all. In fact, she's legit miserable — you know, because the hospital television sucks (no Apple TV! HOW DOES ONE FUNCTION!?).
So what can we gather from this? The singer seems to really love her fans — and her phone, which she is obviously holding onto for dear life in her hospital bed.
As for me? I just hope her imaginary animals are okay. Sad emoji.
This is what Miley has to say — so far, at least:
Image: Miley Cyrus/Twitter