Mara Wilson Is Not on Board for 'Mrs. Doubtfire' Sequel but What About the Rest of the Cast?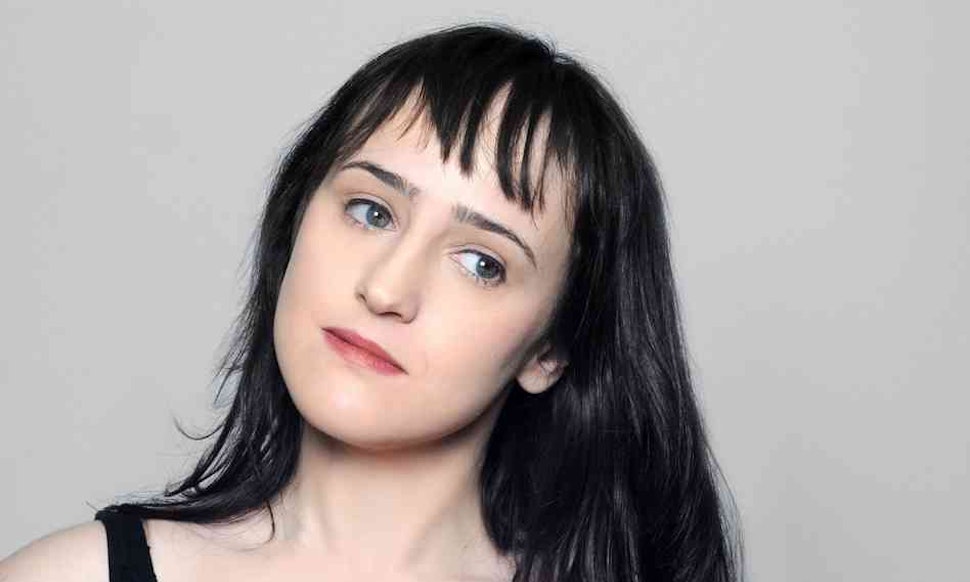 They're his goddamn kids, too, but it seems like the youngest of the Hillard kids won't be taking part in the recently-announced Mrs. Doubtfire sequel. The always-delightful and candid Mara Wilson, who played precocious youngster Natalie in the hit 1993 comedy, responded to the news on Twitter by letting fans know she has no interested in appearing in the follow-up, nor has she been asked.
"For the record, no, I do not have anything to do with the Mrs. Doubtfire sequel, nor will I," Wilson wrote. She later added, "Sequels generally suck unless they were planned as part of a trilogy or series. I think Doubtfire ended where it needed to end." Hard to argue with her there, no matter how you feel about this sequel.
The 26-year-old former child actress, who has given up acting and has since become a writer and playwright, tweeted "I'm glad I had the chance to be in it, and I'm proud of what we did, but I don't see how we could do it again." She later noted, "There are many, many reasons I don't want to be in Mrs. Doubtfire 2. But they haven't even asked me (yet), so no need to worry." Wilson later elaborated, "They haven't asked me to be in it, and I think it would be weird if they did! I don't act much and am not a cute little kid anymore."
But it seems like the most fervent Mrs. Doubtfire sequel supporters won't let up on Wilson. When one follower asked her "Why would you turn down a multi million dollar payday?" Wilson responded with, "A) It wouldn't be that much, 2) I have some standards."
So there you have it, you definitely won't see little Natty Hillard all grown up for the Mrs. Doubtfire sequel, at least not played by the person who originated the role.
But what about the rest of the cast? What's the likelihood they'll be asked and/or return? What's amoebic dysentery?
Images: Twitter; Getty Images
Robin Williams
Likelihood of Return: 10
Hellllooooo, Robin Williams is Mrs. Doubtfire, so a sequel without him would be pretty pointless. Thankfully the actor, now 62, is reportedly set to reprise the role.
Sally Field
Likelihood of Return: 6
Unless Miranda (Field) and Danny (Williams) got back together, which is highly unlikely, there wouldn't be much need for her in the sequel. That said, we've got to imagine she'll make a cameo.
Pierce Brosnan
Likelihood of Return: 5
It's not that we wouldn't want to see Pierce Brosnan on the big screen (he looks as good now as he did twenty years ago) but his character Stu probably wouldn't need to be part of the sequel. If you were purposefully given your food allergy by your girlfriend's ex-husband and a target in a run-by fruiting, you'd be hesitant to return, too.
Mara Wilson
Matthew Lawrence
Likelihood of Return: 7
Lawrence, like his on-screen sibling Mara Wilson, may not have even been asked to take part in the sequel yet. But unlike Wilson, Lawrence – who played soccer-loving middle child Chris – seems like he'd be more likely to want to take part.
Lisa Jakub
Likelihood of Return: 1
Jakub, like Wilson walked away from acting for good, so it seems like even if they do write a part for eldest Hillard kid Lydia, she won't take part in it. But, take comfort in this Mrs. Doubtfire fans, Jakub and Wilson are still close. Wilson tweeted that Jakub is her " sister-for-life."
Image: Moviefone
Harvey Fierstein
Likelihood of Return: 8
Someone has to keep making those faces for imposter-turned-public-TV-personality, so Daniel's brother Frank should be back to make that terrifying magic happen again.