Pastel Makeup: Not Just for Easter Eggs Anymore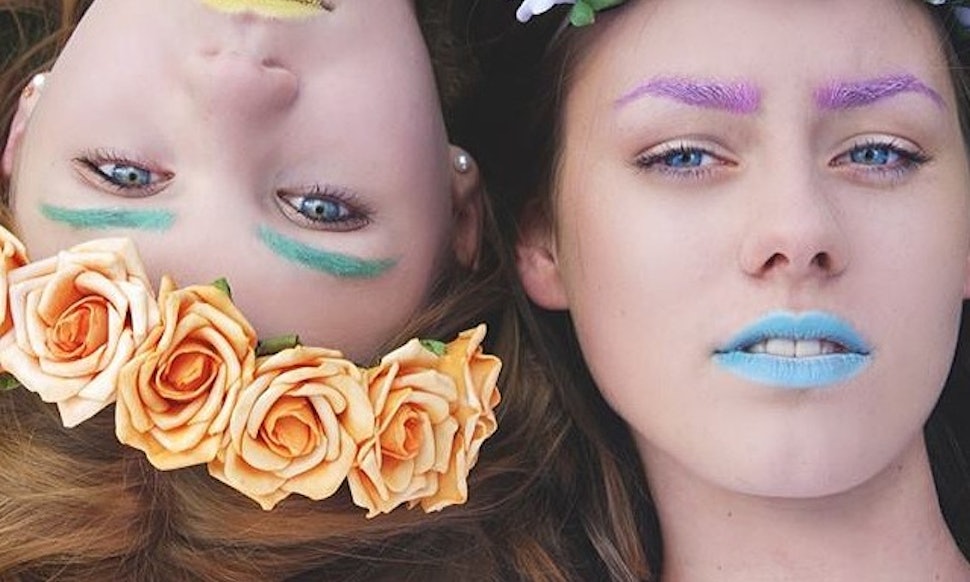 'Tis the season for a new Easter dress, a bonnet trimmed in flowers, songs about new life, and crocuses springing through cracks in the sidewalk. Maybe you're even lucky enough to have a mom/kid/friend who will join you in dyeing Easter eggs every shade of the pastel rainbow, in which case, these pale-hued makeup looks will make sure you look at least as good as your Easter basket. Why should the eggs co-opt all the color?
Image: @emmafaymua/Instagram
Lavender Hair
Lavender Brows
Set off your Easter eyeshadow with a brow worthy of all the attention. (Hint: hair chalk, take two.)
Image: @hethaartheater/Instagram
Coral Blush
Apply it extra high on your cheekbones for a really flushed look.
Image: @bombshellboutiqueofficial/Instagram
Coral Lipstick
Matte and patted on with a finger, please.
Image: @zoeygrossman/Instagram
Yellow Lipstick
Yellow Eyeshadow
It's like highlighter. Literal highlighter. You'll glow.
Image: @_sarahlivingstone/Instagram
Blush Eyeshadow
Skip the heavy eye makeup today and dust blush up to your brow bone.
Image: @lotstar/Instagram
Blush Nails
This color is barely holding on to its status as pink, and that's how we like it.
Image: @ellibelli91/Instagram
Mint Lipstick
It's a commitment, but so is everything worth having.
Image: @thelipstation/Instagram
Mint Under the Eyes
Use a warm color on your eyelid to contrast with the icy hue below.
Image: @eyeshadowjunkie/Instagram
Baby Blue Cat-eye
A heavy black cat-eye has no role in the Easter festivities, but you can keep your favorite flick if you just lighten up a bit.
Image: @fatimahearts/Instagram
Baby Blue Everywhere
Dust the palest blue eyeshadow above, below, and to the sides of your eyes. Stick to a pastel blue with lots of white in it, and you'll be safe.
Image: @2cmanage/Instagram
White Mascara
You won't look like a zombie if you don't act like a zombie.
Image: @_misty_castles/INstagram
White Eyeliner
Easter eggs look naturally good in this color, and you will, too.
Image: @zoeygrossman/Instagram