Has Naya Had Had It With Lea's Diva Behavior?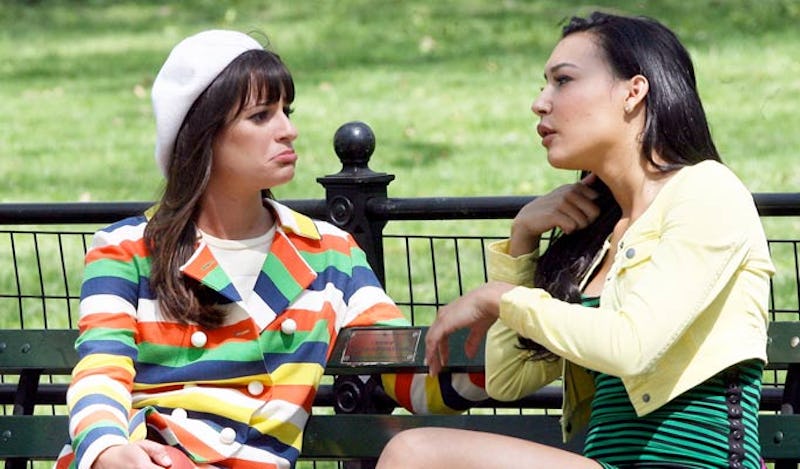 Is life imitating art? If you believe the recent reports about what's going down on the set of Glee, then the answer is... absolutely. According to TMZ, Naya Rivera and Lea Michele are feuding on the set of the Fox drama over — what else? — Lea Michele's diva behavior. According to TMZ's source, Naya — and the rest of the cast and crew of the Fox musical dramedy — were annoyed at Lea for holding up filming in order to deal with personal matters.
If Santana Lopez was in this situation, this story would end with Lea getting slapped across the face and verbally cut down to pieces. Naya, however, took a different route. Apparently, Naya was so pissed that she went and talked to producers about Lea's behavior. When Lea was told about Naya's conversation with the producers, Lea stormed off set in a huff... which is actually exactly what Rachel Berry would have done.
That's one version of the story, anyway. According to a source close to Lea, Lea was unaware that producers were getting involved at all. According to THIS source, it was actually Naya who was thrown off the set... which makes sense, considering that there have been rumors of Naya getting fired from Glee swirling for days. Yikes.
(Oh, and while we're speculating about what's going down on the Glee set between Naya and Lea, there was this juicy blind gossip item that many think is about Big Sean cheating on his former fiancee with none other than her co-star. Let's just say that, if true, things aren't looking too great for an amicable set.)
The weirdest part about all of this Glee controversy is that it comes on the heels of a major fight between Naya and Lea's characters on the show, Santana and Rachel. On the show, the characters got into a heated fight over Rachel's diva behavior and Santana snatching up Rachel's understudy part in Funny Girl. The tension between these two friends/roommates was so thick that it made everyone uncomfortable. Santana and Rachel made amends in the Glee episode "New Directions" (through song, of course), and it's too bad that the actresses who play the characters can't do the same.
If life is imitating art, let's hope that these two actresses buck up and make up soon. With all of the sadness that Glee has dealt with this past year, do we really need to see a petty fight between two young, talented actresses play out in the tabloids? No thanks.
Images: Fox; Tumblr