'The Good Wife' Wants Back In the Emmy Race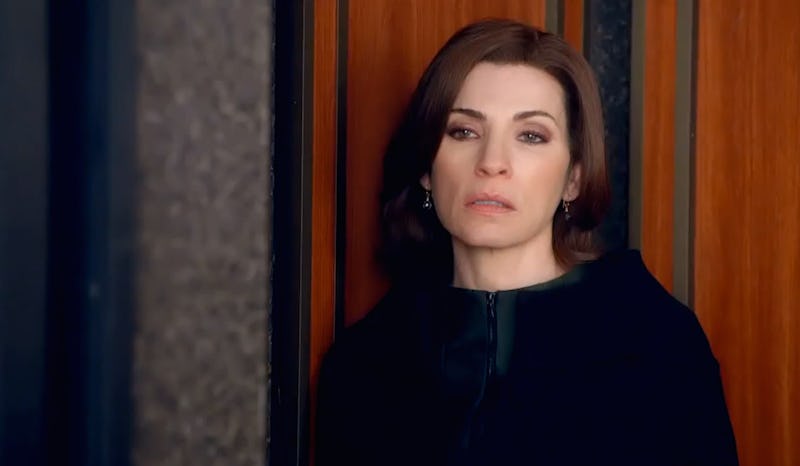 CBS' 2014 Emmy Awards campaign for its most critically acclaimed drama series, The Good Wife, has begun — but the network's brazen "anti-cable" angle is more than a little misguided. Included in CBS' recent Emmy mailer is an insert that suggests that The Good Wife deserves Emmy voters' attention simply because it produces 22 episodes a season — two or three times more episodes than many leading cable network drama series. It's definitely a bold move for CBS to challenge cable's recent domination of the Emmys in this manner, but hasn't anyone ever told them that more doesn't necessarily mean better?
The numbers don't lie — The Good Wife does produce an astonishing amount of episodes each year in comparison to its competitors: Showtime's Homeland will compete with 12 episodes at this year's Emmys, HBO's True Detective will compete with 8, and AMC's critical darling Breaking Bad will compete with only 7. CBS TV Studios president David Stapf told The Hollywood Reporter in a recent interview:
To maintain the kind of quality over the course of 22 episodes, and this year featuring two of the most talked-about, tweeted-about story points in recent television history, is definitely worthy of recognition — especially given that it is far more challenging to do so in the broadcast television universe.
Stapf makes some valid points: Julianna Margulies' character Alicia Florrick's departure from law firm Lockhart/Gardner at the beginning of this season was thrilling, and the death of Josh Charles' character Will Gardner shocked fans the world over last month. But as Stapf said, it's really difficult to maintain quality over the course of a 22-episode season, and The Good Wife doesn't always get it right.
The Good Wife may be in the middle of one of its finest seasons to date, but the show is definitely guilty of devolving into a paint-by-numbers, been there, done that, CBS-style legal procedural on occasion — and that's not cool. Unfortunately, probably due to network pressure, The Good Wife has gradually incorporated more traditional legal procedural elements throughout the course of its five season run. But fans of the show don't tune in to watch boring ripped-from-the-headlines cases — we tune in to watch the compelling characters interact with each other! We tune in to watch the engaging, season-long story arcs unfold. As Charles told E! in a recent interview, producing 22 episodes a season makes it nearly impossible for every episode to be a "home run" — so why doesn't CBS just order a shorter season?
There's no rule that says that each season of The Good Wife must contain 22 episodes. And while cable networks make their money from subscriptions and subsequently aren't as concerned with ratings or season lengths as broadcast networks, the fact remains: The Good Wife would be a much stronger show, both in terms of quality and Emmy competitiveness, if it only produced 12 or 13 episodes a year. CBS is currently the number one-rated broadcast network among adults — can't they afford to make the change?
So, no, CBS, producing more episodes alone does not make The Good Wife worthy of Emmy voters' attention. The often razor-sharp writing, however, does. And so do the consistently impressive performances from actors like Margulies, Charles, Christine Baranski, and Archie Panjabi. Why not highlight the show's greatest strengths during your Emmy campaign instead of tearing other networks down? Right now, it just looks like CBS has a major case of sour grapes.
While The Good Wife hasn't been nominated for Outstanding Drama Series at the Emmys since it's second season, both Margulies and Panjabi have taken home trophies in the past for their work on the show. Sadly, once a series falls out of the race for the top prize, it very rarely makes it back in (perhaps CBS is hoping that the controversy from this new campaign will propel The Good Wife back into the spotlight?). Even with its flaws, The Good Wife does deserves to compete against the best drama series on television today because it is one of the best drama series on television today — but not because it produces 22 episodes a year.
Images: CBS