Medieval Times... With Gucci and Lorde?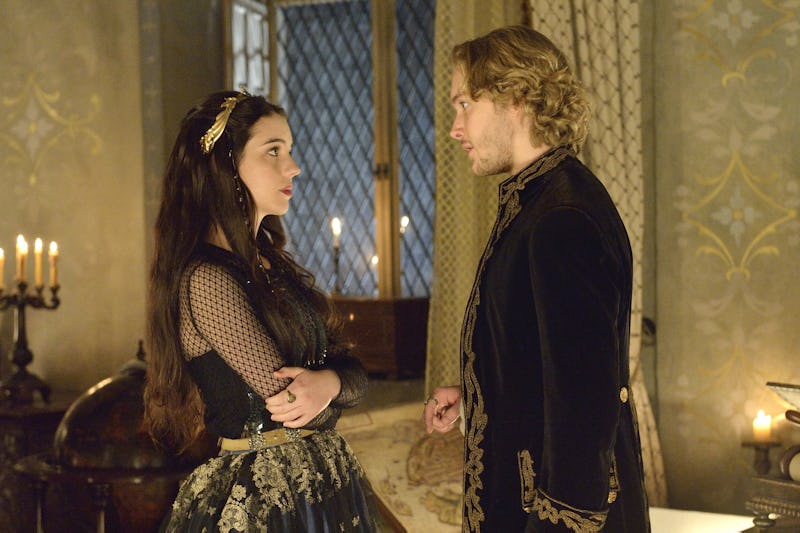 Reign has never been overly concerned with historical accuracy. It's made up, combined, and completely altered historical characters. It dresses its royals and ladies-in-waiting in layers of modern couture rather than crafting accurate period costumes. And its wardrobe department stocks more headbands than Gossip Girl ever did. Melding the modern with the medieval has been Reign's strategy all along, but this week's episode, "No Exit," was a prime example.
First, let's talk about fashion. One of my favorite Tumblrs at the moment is Fashion of Reign, where dedicated blogger and Reign fan Fahima actually tracks down many of the items featured on the show. Here are a few examples from tonight's episode alone:
According to Fashion of Reign, the top of Mary's gown in this scene is actually a (sold out) Gucci top.
As for Mary's lady-in-waiting/half-sister-in-law Kenna? She's owning the fashion scene of the French court in this Candela NYC Kennedy Dress.
In the last episode, Kenna wore a top from Free People for crying out loud. These girls are trendier than I will ever be for even one day in my life.
Basically, the girls of Reign could step right off of set and into a photo shoot for a high-fashion spread. It's never felt like anything other than a conscious, artistic decision and the costume department never deviates from the game plan, so it works.
And then there's the music. On Thursday night, Reign successfully brought pop music into its world. Let me set the scene: Lola and Julien tie the knot. It's a lavish affair, for a shotgun wedding. (But, really. She's pregnant… with someone else's child and he knows this and is totally okay with it, for reasons that are sure to prove nefarious; no one is that good-hearted, especially on Reign.)
Even though things are sure to go south for Lola (no one is ever happy on this show), she's the picture of a joyous bride on her wedding day.
And as Lola and her groom — who is also wealthy, but not a prince like the biological father of her child — dance and celebrate their union, a violin-heavy, instrumental version of Lorde's "Royals" plays in the background. (I searched far and wide for a clip of the scene online, but this gif plus the YouTube video below are the best I can offer you. Watch the episode on The CW's website if you missed it. It's worth seeing for yourself.)
Reign has proven over the course of its not-too-shabby first season that it's more than just soapy escapism. It's also a really interesting, highly-stylized take on historical fiction. From high-fashion, high-concept costumes (the show is seriously like fashion porn) to organic integration of modern music, Reign has a clear vision about its take on history, and the show's need to cater to a young, modern audience. But let's not get too highbrow about it; first and foremost, Reign is sudsy and scandalous in all of the right ways.
Images: The CW, Tumblr/Fashion of Reign