'Scandal' Ends Its Third Season With Great Ratings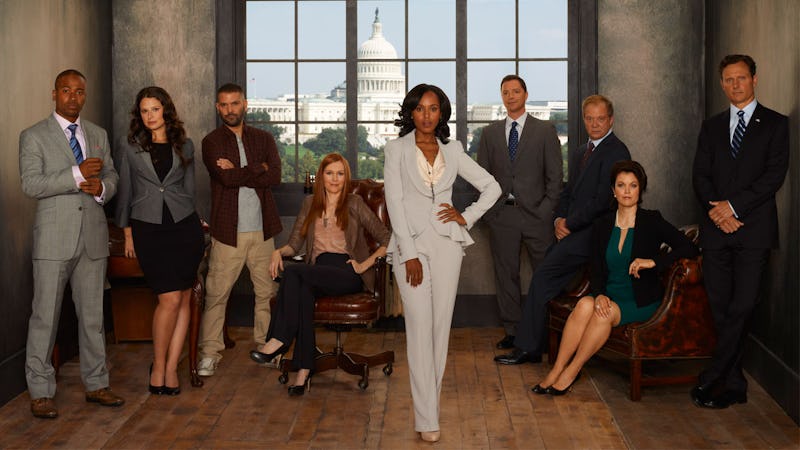 Gladiators, it seems that the world has finally listened to you. TV watchers everywhere have finally understood how phenomenal Scandal is. Thursday night marked the third season finale of the ABC series, and boy did it bring in viewers. Could it have been ABC's tagline for the episode that drew everyone in? ("Watch it live Thursday, or hate yourself Friday" was not particularly subtle.) The promise of a major twist? How about the fact that no character seemed safe after a particularly bloody season? (RIP, James.) Whatever it was, Scandal knocked it out of the park this time around, with the Season 3 finale bringing in the most viewers of a Scandal finale ever.
The little Shonda Rhimes show has finally joined the big leagues, with 10.5 million viewers watching the finale. According to ABC, the show has jumped 40 percent in viewership since Season 2, which makes sense considering the drama has really stepped up its game between seasons. (There is also more Jake in Season 3, so... yeah.)
The crazy amount of Scandal fans watching the finale also helped draw in more viewers for Jimmy Kimmel Live!, which brought in its most viewers ever last night. The talk show dedicated its half hour to all things Shonda Rhimes and Scandal, which is pretty genius, if you ask us.
It's easy to be sad that Scandal is over for the season, but with ratings like this, we imagine it will be around for quite some time. Perhaps in a few years we'll see Scandal rivaling Grey's Anatomy for longest-running Shonda show.
Image: ABC