Best 'Orange Is the New Black' News Ever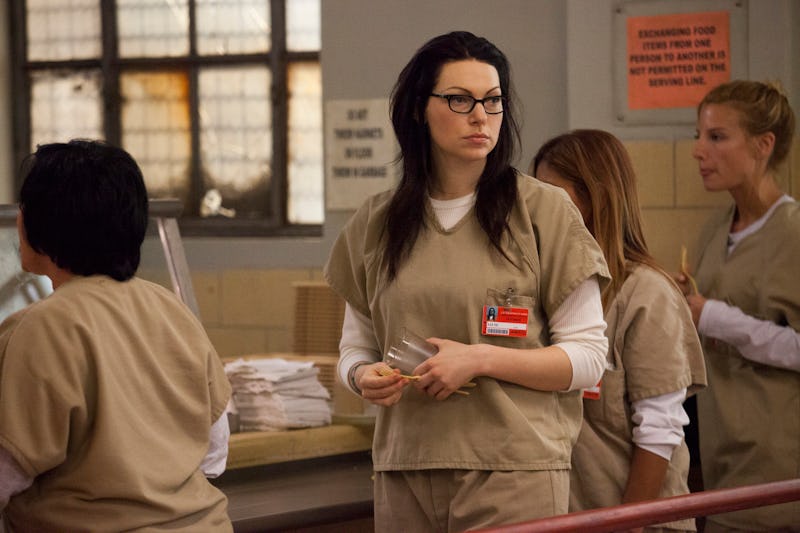 First, we were gifted with that full season two trailer last week, and now this — it truly is a great time for Orange Is the New Black fans. According to Vulture, series star Laura Prepon is set to appear on Orange Is the New Black full time during the show's third season, as opposed to the "few episodes" she'll appear on this coming season. Reasoning? Netflix has yet to officially comment on the change of heart, but Buzzfeed has this tidbit:
After Season 1 filmed, Prepon, who had only a one-season contract, decided she did not want to commit to being a series regular, and opted not to come back. After the show became Netflix's biggest hit, and the tidal wave of viewer sorrow nearly drowned Prepon, Netflix, and the show's creator, Jenji Kohan, the plan was rejiggered for Prepon to return for four Season 2 episodes (instead of a mere one), and to leave things open for heavier involvement in the presumed third season.
In other words, she realized that it would be the stupidest decision of her career to leave Orange Is the New Black now, and that this wasn't a season eight of That 70's Show situation where she really should've left when Topher Grace bowed out. Orange Is the New Black isn't That 70's Show, girl! This is a show to stick with for life.
This is all, of course, hinging on the assumption that Orange Is the New Black will be renewed for a third season, but...c'mon. It's that just a formality, at this point?
Image: Netflix; Imgur