Is Dany About To Shake Things Up on 'GoT?'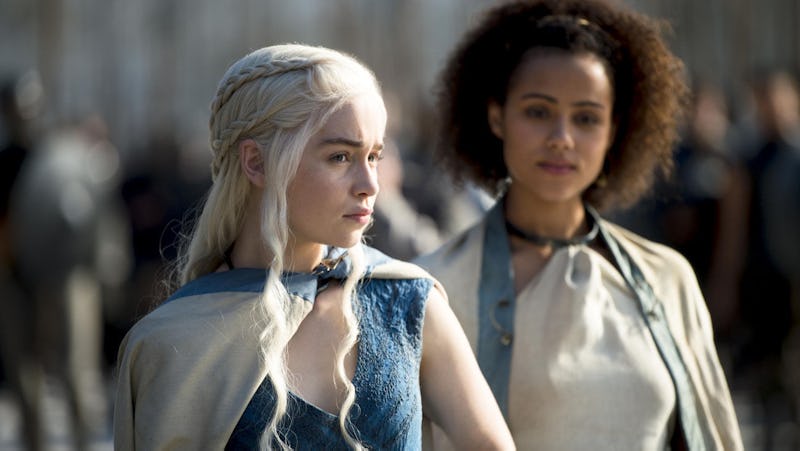 Like usual, Sunday's episode of Game of Thrones was jam-packed with action, from Cersei and Jamie's disgusting rape scene (really, guys? over your son's dead body?) to that poor village's Wildling-led massacre, so it was a nice surprise that the night's last few scenes were pretty calm, at least by Thrones standards. During last night's final scenes, viewers saw Dany win over a new army of slaves, which would've been excited if we hadn't seen her do that in every other episode this season and half of last. As great as Emilia Clarke is, it's gotten a bit boring to watch the same scene repeat itself week after week. Apparently, though, all that waiting is going to pay off, and sooner than we think; according to the director of Sunday's episode, Alex Graves, the last few episodes of season four are going to be all about Dany.
[Sunday's episode] "is really setting up for the last three episodes of the season," Graves, who is directing episodes eight and ten, said in an interview on Sunday. He added that those final Meereen scenes of last night's show act as "the beginning" to the rest of the season.
"You have all these beautiful scenes to play out, and then you get a big smashing end to the episode, which is like the opening sequence of a movie as the end," he said.
As for what that beginning leads to, Graves only revealed that "everything takes a turn toward the second half of the season," and that "the battle is coming and they realize they are going to have to do something."
Graves' statements was the second hint on Sunday that Dany's about to make some noise in King's Landing. Early in the episode, Tywin explained to Prince Oberyn that "a Targaryen girl has three dragons" in the east, and that "before long," she'll move towards Westeros. In other words, all that time spent watching Dany gather armies of slaves-turned-soldiers is about to pay off.
Sure, the development isn't totally unexpected — Thrones has been hinting at a major battle for episodes — but it's a relief to have Graves confirm, even vaguely, that Dany's role in the show is about to get an enormous expansion. Despite the great staging of the scenes and the strength of Clarke's performance, watching Dany spend episode after episode building up her support has been tiresome; it's about time that she puts her troops (and dragons) to use. Also, as great a show as Game of Thrones is, it's been frustrating, at least for TV-only fans, to watch the same handful of old, balding men (and occasional blond child) declare their rightful place on the Iron Throne. Dany's re-appearance will shake things up for the better.
There are still a few episodes to go in this half of the season, of course, so we might be stuck watching Dany catapult slave collars at potential troops for a little while longer. Thanks to Clarke's acting, the repetition of her character's scenes isn't nearly as grating as it could be, but still, knowing for sure that Dany's about to take down Westeros makes all that waiting a lot more bearable.
Image: HBO