'Glee' Could Have Used this Song a Year Ago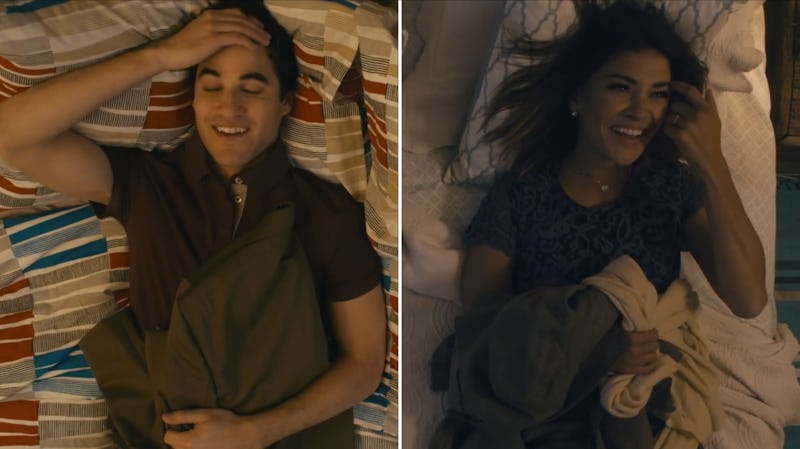 A Great Big World got their breakthrough as a band when Glee did a cover of one of their songs, so it's fitting that their latest music video should feature one of Glee's biggest breakout stars. The band is mainly known for their 2013 single "Say Something", the most popular version of which is a duet with Christina Aguilera, but their song "This is the New Year" was performed by New Direction in Glee's season four episode "Naked" as well as being featured on everything from One Tree Hill to Good Morning America. They're pretty much that band whose song has been stuck in your head for six months even though you don't know their name. Their music video for "Already Home" stars Darren Criss and Jessica Szohr and, to be honest, Glee could have really used it back in season four.
The video follows Criss and Szohr as two star-crossed lovers living on opposite ends of the country. The split screen shows them going through their days in identical motions, matching up with one another perfectly, until a fight leads them both to buy a plane ticket to fly out and see each other. Although they miss each other in the air and land at the same time, Criss crosses the split screen to kiss her, giving the video a happy ending. It matches perfectly with the lyrics of the song: "If only New York wasn't so far away. I promise the city won't get in our way."
If any of that sounds familiar, it's because it was the exact same heartache that Criss' character, Blaine Anderson, was dealing with through season four of Glee. Kurt was in New York and increasingly too busy for him and Blaine was visibly pining and having a borderline identity crisis in Kurt's absence. At one point, Blaine flew out to New York to surprise Kurt and, all right, it was only because Blaine had just cheated on Kurt the night before and was feeling guilty about it, but Criss performed an acoustic rendition of "Teenage Dream" for the occasion and I can't help wishing this song had been released for him to perform instead.
There's no room for the song on Glee now that Blaine and the rest of the cast have all moved to New York to start their lives as well, but it's definitely a missed opportunity on top of being an amazing song in general. Whether it will be as overplayed as "Say Something" still remains to be seen, but, considering Darren Criss' cover of "Teenage Dream" had the highest first-day sale for a Glee track back in 2010, it seems pretty likely.
Watch the music video below.
Image: A Great Big World/VEVO