The 'Southern Charm' Cast's Take On The Finale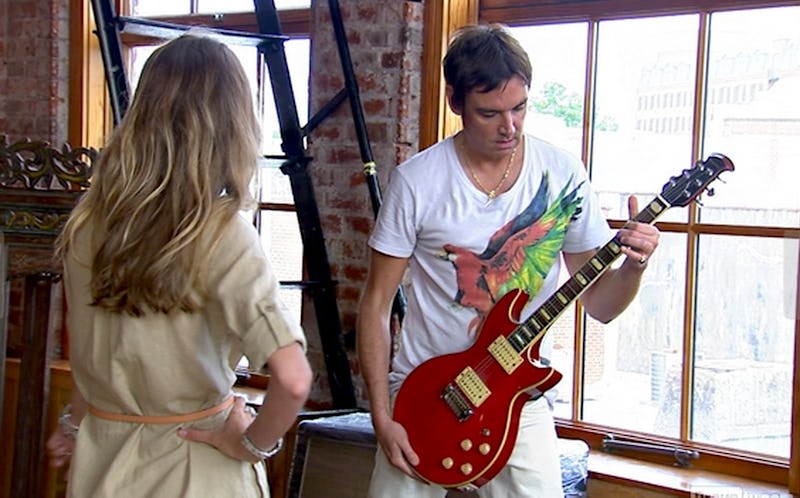 It might be a brisk 65 degrees in Los Angeles, but I can't stop sweating. Why? Because Southern Charm is over. NOOOOOOOOOO! Okay, okay. It isn't totally over yet: Next Monday, Bravo will air a reunion. HOT DAMN! Who has two thumbs and loves a reunion? This girl. Moreover, a reunion could very well mean Bravo likes the show/we're getting a second season. HOT DAMN, part deux! Whew. My sweat storm has subsided.
Monday night, the cast got together for a celebratory finale dinner at Whitney Sudler-Smith's house. But wait, there's more! The cast live-tweeted as they watched. Today, I am re-living the episode by combing through the cast's tweets. And yes, I am having a blast.
If we're to take anything away from the tweets, it's that the Southern Charmers really do like each other. They've always seemed to get along like gangbusters, and Monday night's series of lighthearted Twitter jabs only confirms my suspicions. (three words: Cameran Eubanks's tweets. Dude. She crushed the tweet game. Love her.) All of this could be an elaborate ruse (their friendships could be totally fake and for the show. Stranger things have happened), but I choose to believe otherwise. I choose to believe they are pals through and through. I choose to believe Cameran tweets from a place of love and friendship.
Let us now embark on a voyage! A voyage through the Southern Charm Twitter seas!
First things first, you must prep that dinner:
Thomas Ravenel thought he got a parking ticket before the dinner:
Well, that was a good surprise.
AUUUGH I WANT TO BE A PART OF IT :
Wait, this is totally Patricia Altschul's place, yes? Because this doesn't look anything like Whitney's naugahyde stabbin' cabin:
Or did Whitney move into a new place? HM HM HM. Don't worry, I'll keep my eyes peeled for any and all info.
After dinner, what'd they do? Uh, doye. They watched the finale together:
Cameran knew what the people wanted:
Everyone's favorite non-couple:
Cameran's got jokes:
Jokes for days:
Jokes on jokes on jokes:
Forgive me, because now I can't stop thinking about Lilly Pulitzer douche bags:
A Lilly Pulitzer douche bag would be pretty cute. Well, as cute as a paisley-covered douche bag can be.
Yeah, Cam's got jokes. But she's also got sweet tweets:
Kensington most certainly is a cutie patootie.
AHAHAHAHAHAHAHA:
Whitney tweeted what all of us were thinking:
Patricia Altschul got in on the tweetin' fun, too:
She RT'd and @-replied like a champ:
Hold up, Craig Conover. Were you hiding in my living room while I watched the finale? Because you're basically describing me:
Because I was like this:
And this:
And this:
Lots o' feelings over here.
Cameran's thoughts regarding T-Rav and Kathryn?
So nice. Classic Cameran!
Um:
I will not rest until I go to Medieval Times with Shep Rose and Craig.
Images: Bravo; 4gifs.com; watermelongifs/tumblr; wtfjenna/tumblr