How to Handle the HBO/Amazon Prime Mashup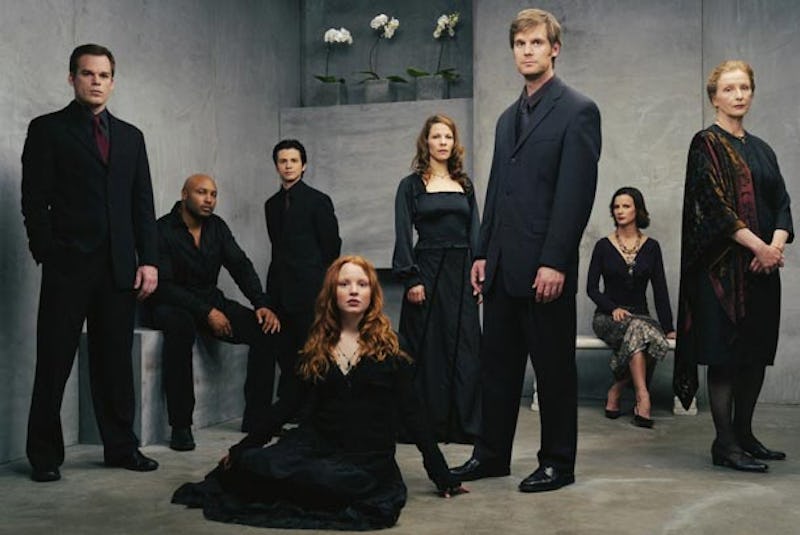 Forget the late night wars or the boy band wars, it's all about the streaming wars. Amazon Prime officially upped the ante against Netflix when it was announced Wednesday that HBO inked an exclusive deal with Amazon Prime that will allow subscribers to stream some of their most popular shows. Starting May 21 series such as Six Feet Under, The Sopranos, The Wire, True Blood, Boardwalk Empire, Enlightened, Flight of the Conchords, Deadwood, Big Love, Family Tree, Eastbound & Down, Rome, and Treme, among others, will become available to Prime subscribers.
In addition to those shows, subscribers will get other HBO programming like their award-winning miniseries Angels in America, Band of Brothers, The Pacific, and John Adams, as well as original movies including Game Change and documentaries such as When the Levees Broke. (Seasons of shows still early in their run like Girls, Veep, and The Newsroom will become available on Amazon Prime approximately three years after they have aired.)
This is a big deal for few reasons, including the fact that it will mark the first time HBO programming will become available on an online-only subscription streaming service. (Well, one that isn't HBO Go, anyway.) But it's a really big deal for anyone who never had HBO or never had the chance to catch up on some of the biggest, buzziest shows of the past 15 years.
Since there will be plenty to watch, we're here to help you narrow down what to stream from 10 of our favorite HBO shows headed to Amazon Prime.
Six Feet Under
Let's start at the very beginning. We've been told that's a very good place to start. And honestly, it's no better place to start with Six Feet Under, which has a thrilling, captivating pilot on par with the likes of The Sopranos (see below) and Lost. Of course, if you get sucked in to the darkly funny drama (you will) make sure you make it to the very end. The only thing better than the Six Feet Under series premiere, is the series finale.
Boardwalk Empire
Dying to know what the big shocker everyone was talking about a few years ago? Then prepare to have one of the almighty spoilers in your arsenal by watching the Season 2 finale "To The Lost."
The Sopranos
Like Six Feet Under, the premiere and finale bookends of The Sopranos are worth watching, so is everything in between. Not only do you get to watch one of the best performances of all-time, television or otherwise, thanks to James Gandolfini, but one of the best crime sagas of all-time, television or otherwise. Still, if you want to get an idea of the show, and the very essence of Gandolfini's brilliance as crime boss Tony Soprano, check out the Season 1 episode "College."
Big Love
Everyone likes a good road trip episode, and the polygamy drama Big Love is no exception. The Season 3 episode "Come, Ye Saints" finds the Henrickson gang on the road and we promise you, it will make every trip you ever took with your family seem sane.
The Wire
People are serious about their Wire season rankings, and everyone has a different one, but for our money, it doesn't get much better than Season 4. (We're not alone.) But, honestly, you should watch all five of them, in order. You won't be sorry, especially when you no longer have to answer the question, "Wait, you've never seen The Wire?!"
Treme
While Treme wasn't as effective or as pivotal as David Simon's The Wire (see above), the post-Katrina New Orleans-centered drama still works as an important document of America in the 2000s. Case in point, the Season 1 finale "I'll Fly Away" and the Season 4 premiere "Yes We Can."
Enlightened
The tragically short series only had two seasons, so you don't have much of an excuse to not watch the entire thing. But if you're going to watch at least one episode to get an idea of what the moving dramedy is like, then watch Season 2's Mike White-centered "The Ghost is Seen" and be prepared to have your heart broken in the best way possible.
Flight of the Conchords
Get ready to discover your favorite new songs by your favorite New Zealand two-man band. Since you may already be familiar with their tunes from various episodes like "Hiphopapotamus vs. Rhymenoceros," "Too Many Dicks on the Dance Floor," "If You're Into It," check out the Season 1 episode "What Goes On Tour" for some of the show's funniest visuals (the guys try leather suits on for size) as well as some underrated numbers like "Rock the Party."
True Blood
If you wanna know what the fuss surrounding the Bill/Sookie/Eric love triangle is all about, then you should watch Season 1's "Burning House of Love" (Bill and Sookie's first sex scene) and Season 4's "I Wish I Was the Moon" (when Eric and Sookie first hook up) and decide for yourself which pairing is hotter.
Family Tree
Family Tree, we hardly knew ye, but the gleefully silly theater troupe-themed episode "Treading the Boards" still makes us laugh just thinking about it. Plus, we'll always have a place in our hearts for a hand puppet monkey named Monkey.
Image: HBO; DeathStarBeats.tumblr.com; HBO [2]; Enlightenedgifs.tumblr.com; Fangathon.wordpress.com