What's Next For 'Parks & Rec'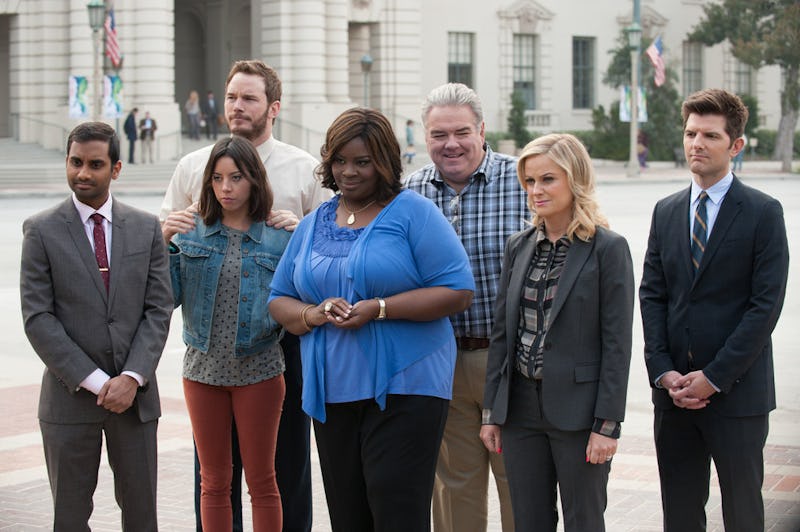 Leslie Knope and her band of misfits will close out the sixth season of NBC's comedy with heart, Parks and Recreation Thursday night with a huge one-hour episode. We won't blame you if you're already experiencing separation anxiety, but quell some of those fears by looking at what the future holds for the city of Pawnee and its quirky residents when Parks & Rec returns for Season 7.
In many ways, in great part thanks to the departure of Chris Traeger (Rob Lowe) and Ann Perkins (Rashida Jones) and Leslie's pregnancy, it's felt like the sixth season was leading up to a series finale rather than a season finale. But thankfully, NBC announced last month that Parks & Rec will return for a Season 7, so the show will go on. We're estimating, based on four out Parks and Rec's six season premieres, that we can expect the series to make its debut later this year towards the end of September. However, Alan Sepinwall at HitFix also predicted that Parks & Rec's season might be shorter and final, much like 30 Rock's last season.
But the show's not over yet and here's what we can look forward to:
Baby Talk
Leslie and Ben Wyatt (Adam Scott) are preparing for triplets, and will spend at least some time in Season 7 dealing with the decisions she makes in the finale. But don't look for her to have raging hormones. The show already did a similar storyline with Jones' now departed character, and Parks & Rec co-creator Michael Schur assured fans during a recent interview with Entertainment Weekly that things would be different this time around. However, the premise does set up a prime reason for Chris and Ann to make a brief return. Asked about a possible appearance of Rashida Jones, Schur told TVGuide:
In the future, when it becomes a little more real, that will probably happen. But Rashida doesn't make any more appearances in the season, sadly. She's off doing 12 other things and conquering Hollywood. It would be a fair assumption that at some point Leslie will be seeking Ann's advice on raising a kid.
Would Mouse Rat please come to the stage. Mouse Rat… Mouse Rat...?
Don't expect to see much of Chris Pratt in the upcoming season. Pratt's star power has skyrocketed in recent months and he has a few movies (like Guardians of the Galaxy and Jurassic World) that are either slated to theaters or in the process of filming. Movies mean press runs and press runs mean very little Andy Dwyer. April (Aubrey Plaza) may make mention of his shenanigans off-screen. But Dwyer screen-time way well be hard to come by. The guy's only got so much time, after all.
He won't be the only one missing. There have been rumors that Season 7 will be the NBC show's last hurrah, and oftentimes finales bring out old characters for guest appearances to close out the series. But it seems Mark Brendanawicz is gone for good. Paul Schneider, the actor behind the character, told ScreenCrush, "I'm not interested in going back... I've never been contacted about that nor have I any interest in going back."
The More Things Change…
There has been quite a bit of change throughout the series, but through it all, the characters have remained their lovable selves. Andy's made strides but you can still count on him to do something completely out of left field. Leslie is the same overachiever she always was. But with the babies, her focus may change a smidge. We're sure whatever she does, she'll ace it. Even the town itself has changed; Pawnee merged with bordering town Eagleton, but Councilman Jamm (Jon Glaser) is trying to pull them apart yet again. All that transformation aside, the heart of the show won't make any sudden changes in its seventh and quite possibly, final season. Schur told E!:
I think that the biggest question for season seven will be how do you continue to honor the characters and their lives and what they want in life while still keeping everybody in a sphere where they actually get to interact with each other.
So, even if Season 7 is the season in which we say goodbye to Leslie, Ron, and the rest of Pawnee, we can be sure we'll be saying goodbye to the series we love and not some shark-jumping permutation. Waffles all around!
Images: NBC (2)