This 'Hart of Dixie' Duo May Be In Trouble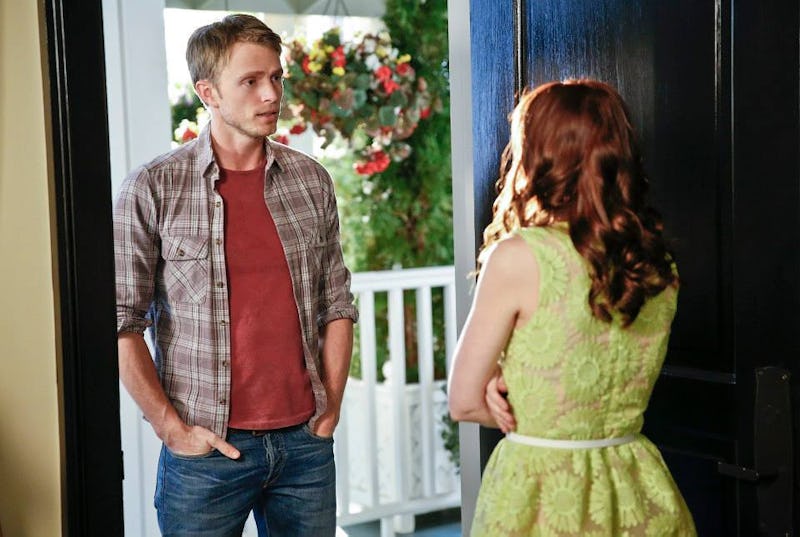 Here's what we've all been wondering since Zoe's ex Joel hopped his flight across the pond — are Hart of Dixie's Zoe and Wade going to get back together? Actually, let's be serious, we've been wondering that since Zade broke up in the first place. Hart of Dixie's tried it's hardest to reconstruct some relationships in the wake of Zade's meltdown at the end of Season 2, but it hasn't really worked out. And since the show put the kibosh on AnnaBeth and Lavon's relationship, Wade's relationship with Zoe's cousin Vivian is really all fans have. But will they last now that Zoe, Wade's obvious true love, is single again?
The synopsis for Hart of Dixie 's Apr. 26 episode, "A Better Man," doesn't make the future of Wavian (Vivade?) look too promising. In fact, it looks pretty bleak for the pair, because we all know that deep down, Zoe is still hung up on Wade Kinsella. I mean, who could blame her? Apparently and unsurprisingly, Zoe's going to end up in the middle of Wavian (that just has a nice ring to it, right?) and things are going to get awkward because, of course they will. Here's the full "A Better Man" synopsis:
IN THE MIDDLE — Zoe (Rachel Bilson) finds herself in the middle of Wade (Wilson Bethel) and Vivian's (guest star Lauren Bittner) relationship, putting her in an awkward position. Things between Lavon (Cress Williams) and AnnaBeth (Kaitlyn Black) are getting worse and starting to affect the town. Lemon (Jaime King) is upset when she receives a less-than-perfect health inspection grade and devises a plan to get it changed. Meanwhile, George (Scott Porter) needs a distraction and begrudgingly agrees to go on a date with a Bible School teacher. Tim Matheson also stars. David Paymer directed the episode written by Jamie Gorenberg (#319).
Now, I would totally be rooting for Zoe and Wade to get back together if I thought that it'd be better for him than dating Vivian Wilkes. But I really don't believe that and I can't 'ship something I don't believe in — sorry, guys. Since Wade got together with Zoe's long-lost cousin, he's matured a lot — he RSVP'd to his first party during last Friday's episode because of Vivian, for crying out loud. And it's obvious that Wade realizes himself that this relationship is good for him. Remember how childish and lame he was while he was dating Zoe? He cheated on her and she spent the majority of their relationship trying to change him. They just weren't right for each other at the time.
So is Wavian in danger of a break up? Not necessarily. If we look at the words used in the synopsis, Zoe's not putting herself between the pair, she's just going to find herself there. Which basically means that either Wade or Vivian is going to confide something in Zoe that she has to hide from the other. Or Zoe might reveal that Wade cheated on her to Vivian during a cousin-bonding-moment. Either way, I highly doubt that Zoe would be so bold nor heartless that she'd make a pass on her cousin's boyfriend — especially since Vivian clearly likes him a lot.
Considering Zoe just got her heart broken, I can't see her wishing the same fate on Vivian. They're family, after all. And even though we don't want Vivian and Wade to break up, it's obvious that his relationship with Vivian is a means to an end that will make him a perfect guy for Zoe in the future. Because we all know that a Zade relationship living happily ever after in Bluebell is how Hart of Dixie will definitely end. Until then, we'll just have to keep 'shipping Wavian — at least it's better than George and Lemon rekindling their romance.
Image: The CW, Rebloggy