Inside the Adorable Minds of NYC's Bodega Cats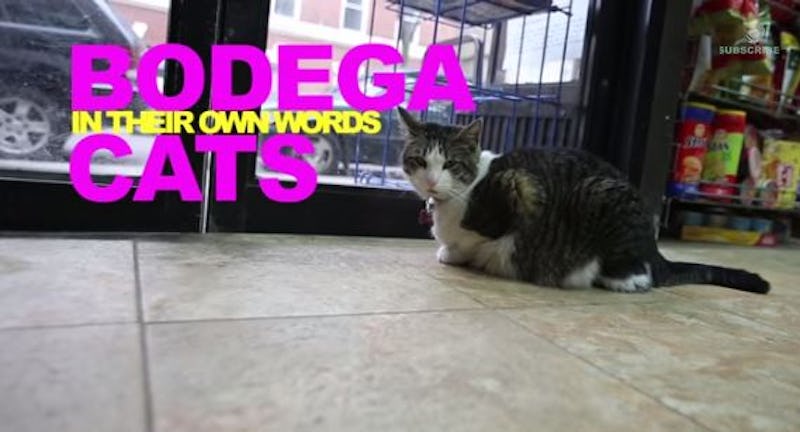 I'm not sure how it is in other cities, but when you live in New York, bodega cats are pretty much the best thing about late night grocery runs. Every bodega in the city seems to have its own resident cat, each with their own distinct personality. And guess what? I've you've ever wondered what all these bodega cats would say if they could speak, you're in luck: This adorable "Bodega Cats In Their Own Words" video reveals all!
Public radio station WNYC recently went on a mission to suss out exactly what goes on the minds of New York's bodega cats, documenting their findings on YouTube for all the world to see. Of course, it's not actually the bodega cats talking; rather, the owners of their respective bodegas have supplied the voices for black-and-white beauty Sheeba and the gorgeous, green-eyed Victoria. The resulting video? Might just be my favorite thing ever.
Bodega cats have been featured in amazing videos before; one of my personal favorites is this little gem from 2011, which gives them the Richard Attenborough treatment in their own nature film. I'm kind of hoping that one day, someone does a full-length documentary feature about them — that would definitely be one of those things at which I would willing toss every dollar I have, yelling, "TAKE MY MONEY! TAKE IT!" And for the curious, yes, I have huge plans to go visit the popup cat cafe currently in residence at 168 Bowery this weekend. Because cat cafe.
Happy Friday, everyone!
Image: WNYC/YouTube