6 Holistic Wisdoms from the 'RHOC' Newbie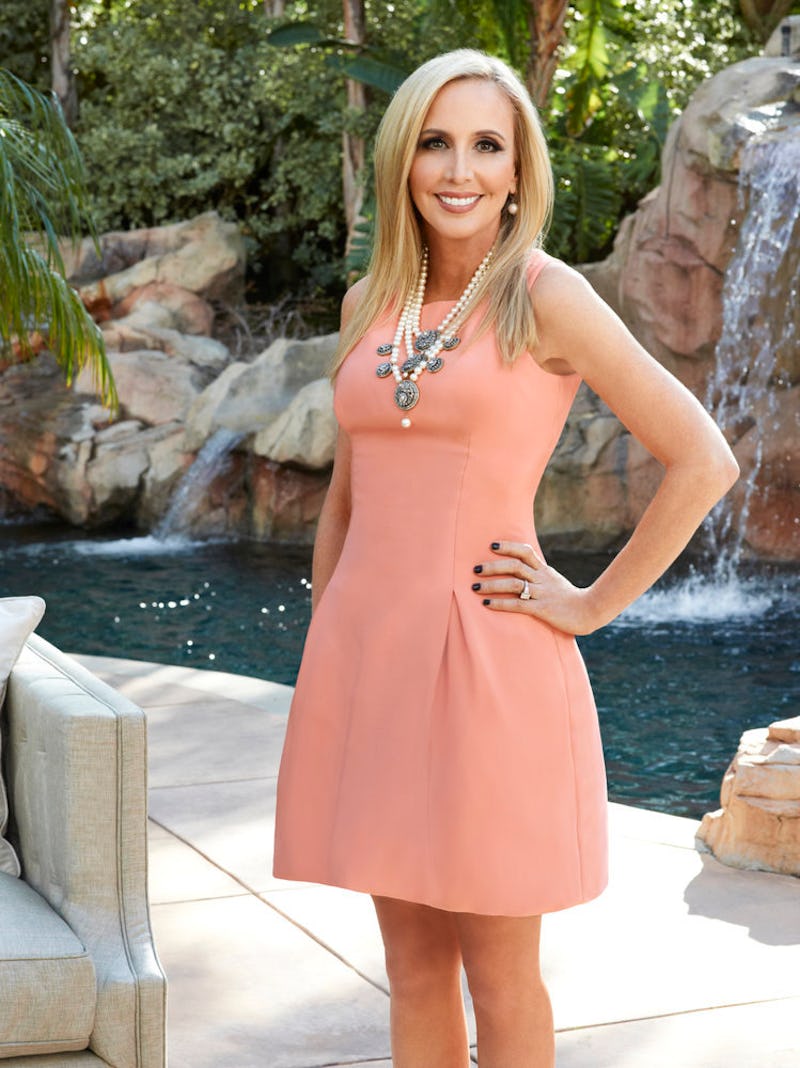 The cast members on everyone's favorite Bravo franchise are like snowflakes: No two Real Housewives are alike. Each has her own unique way of meeting new friends, entertaining guests, and resolving conflicts. The Real Housewives of Orange County 's new cast member Shannon Beador is no different.
Only two episodes of Season 9 have aired so far, but we already feel like we know that special something Shannon brings to the RHOC table. In addition to being a lifelong Californian with a husband and three daughters, Shannon is all about living a holistic lifestyle. While most Real Housewives use some, shall we say, chemical enhancements to look rejuvenated, Shannon does whatever she can to be healthy physically, mentally, and spiritually in a natural way (except for when she's driving her carbon-emitting Cadillac Escalade, arguing with her husband, or swigging her cocktail).
As we can see, living holistically is hard work and takes commitment. Luckily, we've got Shannon to give us tips on how to find some peace of mind amid all that Real Housewives drama. Here are the six best holistic wisdoms we've learned from Shannon so far.
1. A Happy Home is a Green Home
When Shannon had her gorge OC home built, she hired a green consultant to help her keep all of the toxicity out of her living space. This means her home has no toxic paint finishes, no fiber glass in the insulation, and perhaps most shockingly, no WiFi. Dun dun duuuunnn. Nobody ever said living holistically was going to be easy.
2. Cell Phones are Bad for You
Like every pre-teen today, Shannon's 12-year-old daughter Sophie wants a cell phone, especially because everyone else in her grade has one. Citing countless reports she's read, Shannon says, "when you put a cell phone to your head, you're radiating your brain." If that means Shannon doesn't own a cell phone herself, she's going to miss out on some essential mobile plotting, scheming, and stirring up drama with the other Housewives.
3. Get Poked and Prodded by Someone with the "Healing Hand"
Shannon visits her energy medicine specialist Dr. Moon at least three times a week. Apparently, a little bit of acupuncture in your arm can do wonders for your heart, and you can tell someone's emotions just from feeling around their body. During that visit, Shannon didn't have any sadness or anger, but she did have some resentment in her gall bladder. Time to fix that by spinning some magnets with your hands, amirite, Dr. Moon?
4. Marshmallow Isn't a Dinner
At Tamra's Spooky Party, Shannon gives the presentation of the coffin-shaped sandwiches and candied apple cupcakes an A+, but she's not as thrilled with the food itself. In fact, she doesn't think it's food at all. "Marshmallow isn't a dinner. Watermelon isn't a dinner," Shannon says. "What am I supposed to eat?" Doesn't Tamra know you can't be holistic without eating a whole meal?
5. Make Sure You Have Enough Lemons
Want some good energy in your home? Of course you do! Then follow Shannon's lead and have nine lemons in a bowl on your dining room table at all times. A feng shui consultant advised her to keep nine, not eight and not 10, but nine, of the sour fruit on display always. And make sure no one steals them to marinate fish, as Shannon's husband David attempted to do before being corrected.
6. Have a Diamond-Bright Smile... Literally
Shannon once had little fragments of jewels put in her teeth that were said to be healing. They're a little pricey (Shannon said the first two cost about $20,000), but if your dentist consults his psychic network of friends and decides to give you the jewels on the house because you saved a nation in your past life, just go with it.
Image: Ruth Martinez/Bravo; brokegifs/Tumblr