You Don't Need to Travel for Stunning Beach Bars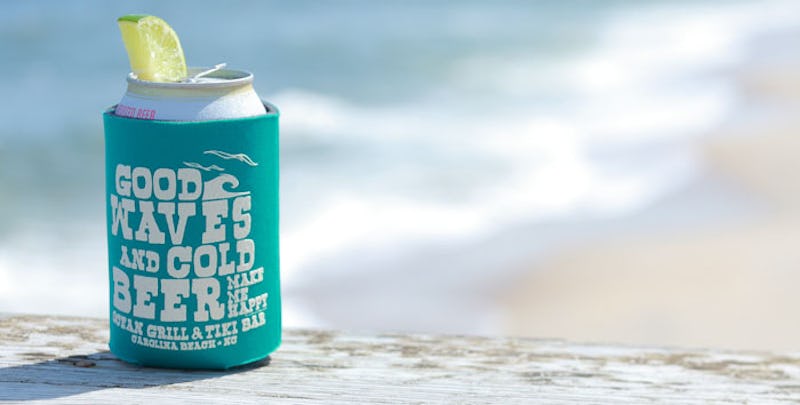 You don't have to travel to the Caribbean, Thailand, or Bali to find the quintessential beautiful beach bar. Coast to coast, the U.S. of A. has drop-dead gorgeous beach bars for us right at home. Whether you're looking for cooler weather in Oregon or Alaska (yes, Alaska) or the white sand beaches of Hawaii or California, beach bums can find a place to grab something to eat and sit with a tropical cocktail almost anywhere.
Prefer the local, down-home vibe of a dive? Or do you want to rinse the sand out from between your toes and relax in a swanky lounge? What about something in the middle, where it's no shoes, no shirt, no problem, but you can still get a good meal? You can find whatever you're looking for right here in America, and they all have stunning ocean views — some even let you dig your toes in the sand. So save your international plane-ticket money and put it aside for more margaritas.
You can argue that West Coast is the best coast or that the navy waters of the North Atlantic is where you heart lies, but you can't argue that these 13 bars don't sound downright awesome.
The Barefoot Bar at Duke's, Waikiki Beach, Hawaii
What should you drink? One of Duke's house Mai TaisWhat should you eat? Hula Pie, billed as "what the sailors swam ashore for in Lahaina." Macadamia nut ice cream atop a chocolate cookie crust, topped with chocolate fudge, whipped cream, and macadamia nuts
Duke's is named after Hawaii native Duke Paoa Kahanamoku, who is known as the Father of International Surfing and represented the U.S. in the Olympics for more than 20 years. But the Barefoot Bar at Duke's is even more inspired by his carefree attitude and good humor, giving locals and tourists a no-nonsense place to grab some great food and cocktails.
The Beachcomber, Wellfleet, Massachusetts
What should you drink? The Goombay Smash, made with spiced and coconut rum and pineapple and orange juicesWhat should you eat? A cup of New England clam chowder and some freshly shucked oysters from the raw bar
For beach bums more attuned to the North Atlantic, there's The Beachcomber on Cape Cod, which is populated by a steady stream of cars pulling right up on the sand. It's been open for more than 50 years, from Memorial Day to Labor Day, welcoming locals with live music and easy, fresh eating.
Palm Pavilion Beachside Grill & Bar, Clearwater, Florida
What should you drink? The Chunky Monkey: coconut rum, banana liqueur, light crème de cacao, piña colada mix, a dash of nuttiness, and a floater of dark crème de cacaoWhat should you eat? The Famous Palm Burger, which was rated Best Burger on the Beach
The laid-back Palm Pavilion has gorgeous views of the Gulf of Mexico and is known as the bar in Clearwater "where the locals hang out." The Palm Pavilion says, "there's live entertainment most days, as long as we can find the extension cord."
Pacific Coast Grill, Cardiff by the Sea, California
What should you drink? Your favorite red or white from the extensive wine listWhat should you eat? Macadamia-crusted Dungeness crab cakes with passion fruit butter sauce, and fire and ice kiwi salsa
Pacific Coast grill takes beachside dining upscale. Though the dinner may be pricey, consider it a cover charge for some of the most gorgeous sunset views of the Pacific.
Sand Bar at Gumbo Limbo, Naples, Florida
What should you drink? A traditional frozen margaritaWhat should you eat? Lobster quesadillas, stuffed with lobster, peppers, jack cheese, cilantro sour cream, and mango papaya salsa
Gumbo Limbo is located on the grounds of the Ritz-Carlton, so you know it's going to be classy. But the Sand Bar takes it down a notch, allowing diners to walk right up off the beach for a cocktail and a sandwich while still maintaining the Ritz's level of, well, ritzy-ness.
The Rusty Nail, Cape May, New Jersey
What should you drink? "The Hammer": Gosling's Black Seal rum, Cruzan coconut rum, passion fruit puree, fresh lemon and pineapple juices, all served in a coconutWhat should you eat? The Jersey Clam Bake: 12 clams, 6 mussels, 6 shrimp, red-skin potatoes, grilled corn, and clam broth
Like a true old-school beach bar, the Rusty Nail let's you gorge on fresh seafood on picnic tables. The Nail, as locals call it, is an iconic surfer bar that made a name for itself in Cape May back in the 1970s as a place for surfer dudes and beach babes to grab a drink.
Talon Beach Bar, Sitka, Alaska
What should you drink? A hot toddy or toasty coffee cocktail to keep you warm on cool nightsWhat should you eat? Loads of Alaska King salmon
A beach bar in Alaska? Take one look at the views and you know it's for real. Talon Beach Bar is the only open-air bar in the whole state, and it's well-prepared for chilly weather with a fire pit, heat lamps, and warming cocktails.
Beach Tree Bar, Big Island, Hawaii
What should you drink? Tom's Pink Shirt, which uses guava liqueur, fresh Waimea strawberries, and house-made sweet and sour made from agave nectar and fresh lime juice
What should you eat? Take advantage of the Italian-fusion menu with spicy lobster spaghetti with fresh tomato, Swiss chard, and sea urchin
This Four Seasons beachside restaurant gives an Italian spin to classic seafood dishes. The Hawaiian beach house decor is what the Four Seasons calls "barefoot elegance," which is the best kind of elegance, if you ask us.
Wayfarer Restaurant and Lounge, Cannon Beach, Oregon
What should you drink? A 'Rita bucket, a beach pail filled with a classic margarita on the rocks with as many — or as few — straws as you want
What should you eat? The hot Dungeness crab sandwich off the Cabana menu
The Wayfarer offers fresh, locally inspired cuisine that plays homage to Mother Nature by using seasonal, sustainable ingredients, which seems to fit the bill for the gorgeous views of Mother Nature visitors enjoy while eating.
Ocean Annie's, Myrtle Beach, South Carolina
What should you drink? An Electric Lemonade: Vodka, gin, triple sec, lime, sour, and Sprite
What should you eat? One of the world-famous burgers brought in from River City Cafe
There's always a band playing in this lively boardwalk spot. Locals and tourists can be seen having a blast, dancing all day, holding summer-inspired cocktails, and easy, delicious food. The stunning views are just a bonus.
Flora-bama, Pensacola, Florida
What should you drink? Any ice-cold domestic beer in a canWhat should you eat? Fish bites with tartar sauce and lemon, so you can eat on the move
Make no mistake: This is a dive, but it's a proud dive — and one with a spectacular view. Located on the Florida-Alabama border, Flora-bama plays host to an annual Mullet Toss (the fish, not the haircut), many live bands, a chili cook-off, and a polar bear dip. It's always a party at the Flora-bama.
Moonshadows, Malibu, California
What should you drink? A crisp glass of prosecco will suit this classy barWhat should you eat? Moonshadows is known for its Asian-inspired cuisine, so try the wok-sauteed Thai Red Curried Tiger Shrimp
You might just have a celebrity sighting at Moonshadows, which is known as a hot spot for its stunning views, the sound of the waves crashing, and its classy yet casual ambiance. You can come in as early as brunch, but as the sun goes down, DJs will keep the night going spinning music.
Ocean Grill and Tiki Bar, Carolina Beach, North Carolina
What should you drink? One of the many local North Carolina brews on tap, such as a Blowing Rock Summer AleWhat should you eat? Share the half-pound of peel-and-eat shrimp, served with drawn butter and cocktail sauce
Hurricane Fran couldn't stop the Ocean Grill and Tiki Bar. While the Ocean Grill offers panoramic views of the ocean, out on the 1994 hurricane's remnants of Center Pier stands the Tiki Bar. After a long day at the beach, the Tiki Bar offers a casual spot for an ice-cold beer and a front-row seat to watch the sunset.
Images: Ocean Grill and Tiki Bar; Duke's Waikiki; Pacific Coast grill; Gumbo Limbo; the Rusty Nail; Talon Beach Bar; Four Seasons Resort; The Wayfarer; Ocean Annie's; Flora-bama; Moonshadows/Rocco Ceselin; Ocean Grill and Tiki Bar