The Truth About Jenna King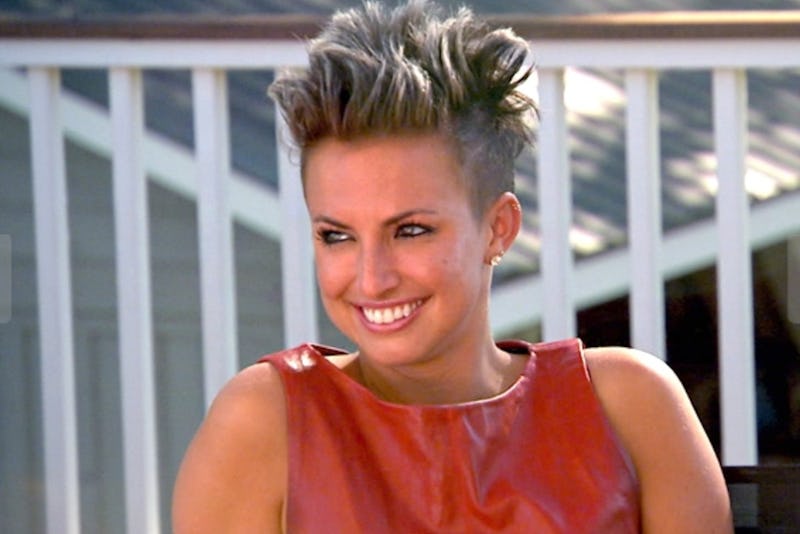 Now that Southern Charm's first season is over, the truth is starting to come out about the show's cast members. Or at least the wild, unconfirmed speculation is coming out. According to an article on Mail Online, Jenna King's life was a lie on Southern Charm . Reportedly, the reality star got her money by questionable means, didn't live in the home that was show on Southern Charm, and doesn't even like Charleston that much. Gasp!
On the show, King was purposely vague about how she was able to live in a large, four-bedroom, four-floor home and afford designer clothes. During one episode, a friend of Whitney Sudler-Smith asked King about how she was able to afford everything and she responded simply, "With my bank account." On another episode, King alluded to her wealth coming from her boyfriend Lou, who works in real estate and lives in New York. King and Lou are now split up, but she said of him on the show, "[I] would have married Lou seven years ago. It's not about money for me at all." At the reunion, King revealed that she and Lou had broken up and was open about Lou buying her expensive things particularly Christian Louboutin shoes.
It seemed clear, because she literally said so herself, that her affluent lifestyle was courtesy of Lou, but Mail Online claims otherwise. Reportedly, King's home was not owned by either King or Lou and was rented by Bravo. A Charleston "real estate professional" told Mail Online, "The house was temporarily rented last year just for the Bravo shoot. They used it for some interior and exterior shots and Jenna had absolutely nothing else to do with the property. She never lived there or owned it." This isn't exactly surprising. Reality TV isn't entirely real, so King not living in the house seems about right.
But wait! That isn't the only problem found with King's life on Southern Charm, apparently she also lied about where she was from. King says she's from Sumter, S.C., but is actually from Wedgefield, a small town of only about 3,000 residents. Wedgefield residents don't seem to understand why King would do this. Well, one of them isn't, but the town only has 3,000 so we can assume he speaks for everyone, right? (Just to be clear, that's sarcasm.) Daniel Goodman told Mail Online, "I told people if I were ever to get famous I wouldn't claim Sumter, I'd claim Wedgefield... She's scared of what she came from."
Perhaps the most ridiculous claim is that King made some of her money through gambling. This was gathered from King responded to a question about her money on the reunion show by saying, "I'm really good at rolling the dice playing Craps." Obviously, that was a joke because she's trying to say Lou (and maybe Bravo) gave her all her money without coming right out at saying it.
As I see it, King was pretty open about Lou buying her things, so what difference does it make if the house was rented by Lou or rented by Bravo. Plus, she probably just said she was from Sumter because it's nearby and no one will know what she's talking about if she says Wedgefield. King, who is now dating Ronnie Radke, a musician, continues to travel all over the world and spends her time in L.A., not Charleston. (The horror!) Regardless of how she was getting money before, she's now making her own from Southern Charm. She seems happy with her life, so her only real offensive seems to be not giving Wedgefield enough shout outs. Rep Wedgefield a little more, Jenna!
Images: Bravo; Jenna King/Instagram