What's The Deal, Ken Cosgrove?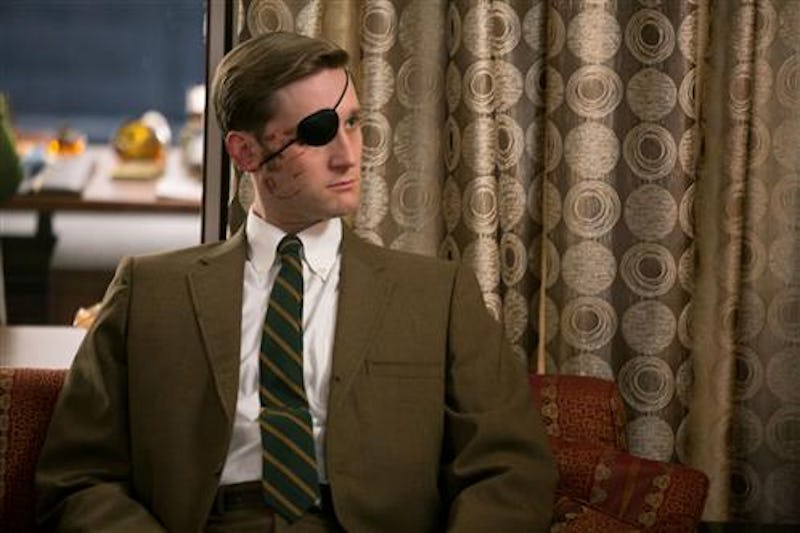 The eye-patch-donning accounts man turned executive can't seem to catch a break. Mad Men's most underrated ad man, Ken Cosgrove has been having an increasingly rough go of it through the company's many mergers and acquisitions. The growing pains of SC&P haven't been easy, with the whole escape-from-New-York plotlines being tossed around. Both Season 7 and Season 6 had us pining for more of a Cosgrove fix, as we saw less of him while he was spending time with the firm's latest motor client Chevy in Detroit. (Though that hunting accident brought him back to New York within the safe confines of the concrete jungle. Bummer for him, lucky for us). Even though he's sort of an ad-age pirate now with that eye patch, we still love him anyway.
Perhaps one of the most exciting things about Ken Cosgrove is how much his character has developed over the years. Superfans will recall a Season 1 Ken that was little more than a part of Pete's entourage, engaging in the same cavorting and carousing while hitting on Peggy during her first day. He's somehow managed to grow beyond that, into a rich and genuine character we're just dying to see make it big.
Here are some ways ol' Kenny's situation could improve throughout Season 7 — then maybe he wouldn't be so down.
1. SOME GREATER LITERARY SUCCESS
While he hides under a pen name so as not to lose his job, Ken is a gifted writer with stories published in the likes of The Atlantic. As the Sterling Cooper ship sinks, we'd love for him to be able to jump to a career as a full-time author.
2. SOME MORE SWEET TAPDANCING SKILLS
Seriously, why did it take some "creative stimulant" (it was cocaine right? We all know it was basically cocaine?), to see this side of Cosgrove? While he can't remember if he learned the skills from a mother or an ex, him throwing some major sass Don's way about getting shot in the face while expertly tapping was just the best. Here's to hoping we see more snazzy stress-dancing in the future.
3. HE TAKES MORE TIME FOR HIMSELF
Kenneth is probably one of the most genuinely overworked people in the company, given he doesn't Draper it up with excessive booze, affairs, or just plain contemplative staring off into the distance type activities. Aside from his marriage and his writing, he's all work 24/7. We hope that once the baby arrives he'll be able to reap some of what he's sown.
4. MORE EPIC COSGROVE SHADE
While he doesn't get involved in petty office politics or resent others successes like a Pete or a Harry, homeboy can definitely throw down some massive shade when he wants to with just a look. I'm sure Season 7 will treat us to another taste of that almost silent, but totally deadly expert level trolling.
5. BUILD A BETTER FAMILY THAN ALL OF SC&P COMBINED
"I learned it from watching you" is not the Ken Cosgrove dictum. A Columbia boy from rural Vermont, he quietly follows the beat of his own drummer, including where his relationships are concerned. One of his best all-time Mad Men moments ever is telling Don how much Cynthia means to him, only to have Don give him a puzzled puppy look, as if to say, "Genuine human connection does not compute." With a baby on the way, I'm pretty sure he's going to be the most genuinely happy person ever to be associated with the words Sterling Cooper.
Images: Jamie Trueblood/AMC, Tumblr, Imgur, Giphy (1, 2,), Tumblr, Tumblr