Glen Coco Really Needed Those Candy Canes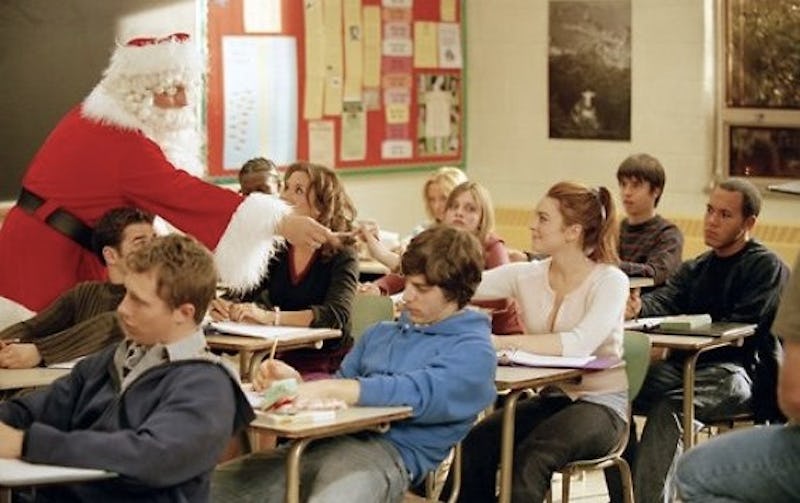 When Glen Coco received four candy canes he made history. The phrase "You go, Glen Coco" is still echoed around the world and it doesn't matter that Coco is a totally nonsensical last name. But you might be surprised to hear that the actor behind the candy-grams was even more excited to receive them than Glen Coco himself. He was a starving artist with a dream and that dream was some free food from a movie set. Mean Girls ' David Reale wrote about his role as Glen Coco and the way he made his way into one of the most quoted lines in film history for Dazed Digital. (Okay, it's no "Here's looking at you, kid," but people say "You go, Glen Coco" a lot.)
Reale originally auditioned for a different part in Mean Girls and wasn't cast, but because the film was being shot across the street from his Toronto apartment, he wandered over one day with his eye on the craft service tables. He writes, "I was 19-year-old actor with no money so eating was daily mission... I sort of hung around with the background performers and ended up getting lunch because everybody just assumed I was actually hired to be there."
But then, everything changed in one brief moment. "At one point the director recognized me from my audition and, as a consolation prize, said something like 'Hey, I'm going to put you right in the front on this next scene and you'll have a name and everything.'"
And that name was Glen Coco.
He continues, "Tina Fey wrote the line, Daniel Franzese spoke the line... I just sat in a chair and tried not to stare at Lindsay Lohan." Since then, Reale says the response has been overwhelmingly positive with fans sending him "You go" messages on Twitter on a daily basis.
Since his pivotal role in Mean Girls — for which he wasn't even credited! — Reale has continued acting with appearances on Skins, Queer as Folk, and the 2009 film Chloe along with his Mean Girls costar Amanda Seyfried.
It sounds like the message of Glen Coco (or, the message that Glen Coco received, rather) resonates strongly with Reale: "If a hungry teenager can wander in off the street, get a free meal, sit in a chair, say nothing, and become part of an internet sensation that has people from all over the world saying nice things to him on a daily basis then anything is possible. Four for you...four for all of you. YOU GO!"
You heard it from the man himself, we go! We all go!
Image: Paramount Pictures