Once Again, Life Imitates Art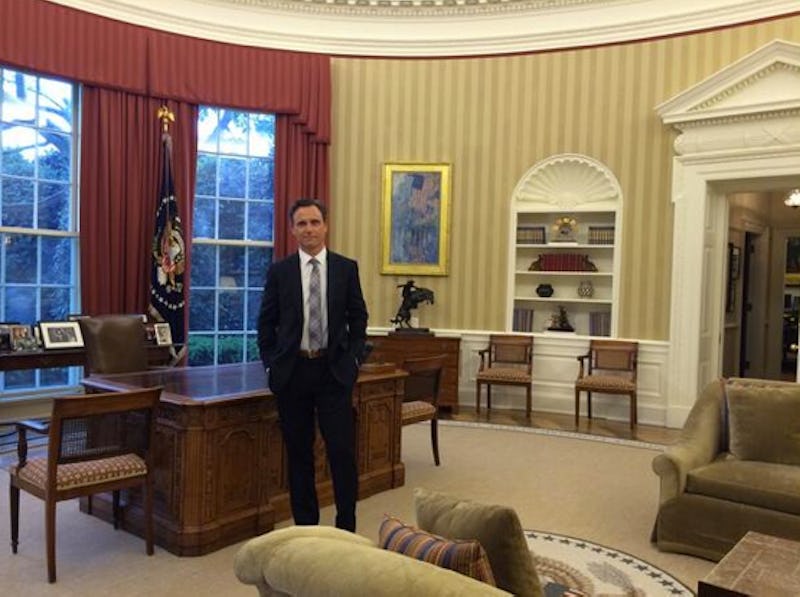 The annual White House Correspondents' Dinner will be broadcast on Saturday night, and, while he was in town for the occasion, Scandal star Tony Goldwyn stopped by the Oval Office for a visit. Obama has appeared on Saturday Night Live and a number of talk shows, but this may be the first time a "president" who had his election rigged has set foot in the Oval Office. We're 95 percent sure. It'd almost be like George Clooney scrubbing in for an emergency appendectomy.
We, of course, have a number of questions for Goldwyn, now that he has been to the original room. How similar is Obama's office to your set version of his office? Do they both smell of scotch, despair, and the tatters of the American dream? Goldwyn might answer these questions on Twitter, when he's not too busy taking photos in the largest set of any modern American drama.
After all, he even retweeted a photo of NBC Capitol Hill Correspondent Kelly O'Donnell in which they stand in front of the White House seal (they should really hire a new graphic designer, because it's just a big white house). Either he's a supremely nice person who isn't too consumed by his own ego, or he's interested in actually running for office in the near future. If Reagan could, so could he. And once you've smelled the real scotch decanter, it's nigh impossible to turn back.
Here's Goldwyn in another White House location, courtesy of the almighty Twitter.
In addition, here's Kerry Washington's response to the original tweet. I can imagine her giggling over this while sipping from a wine glass with the diameter of a regulation-sized basketball.
In honor of this series of photos, I propose that "fauxtus" always be employed in when referring to Goldwyn's portrayal of the tormented president, Fitzgerald Grant. The character's name alone summons up The Great Gatsby, illusions of belonging despite a flawed Midwestern background, and the corrupt advisors who plagued Ulysses S. Grant during his presidency, leading to exposures like the Whiskey Ring scandal.
In fact, the nomenclature is tying it all together. Thanks to the White House Correspondents' Dinner and subsequent photo opportunities, it is very clear that Tony Goldwyn is, in fact, a reincarnation of our eighteenth president. Welcome back to your office, Mr. Grant, and may you enjoy your whiskey in peace this time. It may always, however, be associated with a Scandal.
Image: Twitter